waaseyaa'sin Christine Sy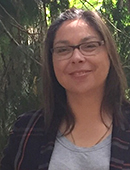 Position
Assistant Professor
Gender Studies
Credentials
PhD Indigenous Studies, Trent University
Contact
Office: CLE B121

Joined UVic Gender Studies in 2016

waaseyaa'sin Christine Sy is a new Assistant Professor in Gender Studies, focussing on indigeneity and decoloniality. Formerly a counsellor for Indigenous and non-Indigenous youth in conflict with Canadian law, she comes to the academy as a second career. Over the next few years, she will be teaching Indigenous Feminisms; Gendering Indigenous Relationships with Land; Gender, Power and Difference; and, in recognition of her predecessor Christine Welsh, Indigenous Film, Auto/biography and Literatures. Her PhD research in Indigenous Studies theorizes the historical and epistemological contours of Anishinaabe womyn's economic governance of the sugar bush in the Great Lakes Region, in the production of maple sugar, through a queer, indigenous materialist, feminist lens. This knowledge bundle supports the re-generation of Anishinaabe personhood, relationality, and nationhood in critically gendered ways which are grounded in Anishinaabe meanings and practices of sovereignty. Christine is dynamically active in indigenous literary arts, is committed to the re-generation of indigenous land-based sustenance relationships, and is mother to a teenage bear who plays volleyball and queer cat who fetches.
Research Interests
anishinaabewakiziwin, anishinaabe giikendaasowin
Anishinaabeg womxn's history + endurance; Anishinaabeg sur-thrivance
intersections of indigeneity, gender, land across historical contexts
indigeneity, gender, decolonization, futurity
indigenous/anishinaabe feminist and "material" feminist theories and praxis
indigenous material and cultural production
Courses Designed/Taught
GNDR 100 Gender, Power and Difference
GNDR 203 Indigenous Women in Canada
GNDR 308 Indigeneity, Gender and Land
GNDR 310 Indigenous Feminisms (formerly GNDR 219)
GNDR 340 Indigenous Cinema Decolonizing the Screen
GNDR 341 Indigenous Women's Autobiographies
GNDR 343 Indigenous Women Writing Resistance
Selected Publications
Sy, W. C. with Aja Sy. "on anishinaabe parental kinship with black girl life: 21st century (de)colonial Turtle Island." In Intergenerational Indigenous Feminisms, eds. Sarah Nickel, Amanda Fehr, and Erica Lee (Winnipeg: University of Manitoba Press, forthcoming)

Sy, W. C. "Considering Wenonah, Considering Us." In Keetsahnak: Our Missing and Murdered Indigenous
Sisters, eds., Kim Anderson, Maria Campbell, and Christi Belcourt. Edmonton: University of
Alberta Press, 2018: 193-214.

—. "Relationship with Land in Anishinaabeg Womxn's Historical Research." In Reshaping Women's History: Voices of Nontraditional Historians, eds., Julie A. Gallagher and Barbara Winslow. Chicago: University of Illinois Press, 2018: 222-236.

—. "Introduction." Part II: Unsettling Aging and Activism. In Aging Activisms: Older, Bolder and Changing the
World, eds., May Chazan, Melissa Baldwin, and Pat Evans. Toronto: Women's Press, 2018: 74-79.

—. "my umbilical cord, map trail seasonal camps: a poetics of work." Republished in Best Canadian Poetry in
English. Guest editor, Hoa Nguyen. Toronto: Tightrope Books, 2018: 57-61.

—. "go" and "ceas ceremony." ndn country. Guest editors, Katherena Vermette and Warren Carriou. Prairie Fire and CV2, 2018: 150-153.