waaseyaa'sin Christine Sy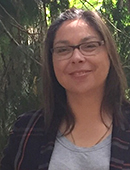 Position
Associate Professor
Gender Studies
Contact
Office: CLE B121
Credentials
PhD Indigenous Studies, Trent University
Area of expertise
Anishinaabe knowledges, Indigenous land-based practices, gender and decolonization

Joined UVic Gender Studies in 2016

waaseyaa'sin Christine Sy is makwa odoodem (Bear Clan) from obiishkikaang Lac Seul First Nation in northwestern Ontario and Island Lake, a forested and lake-d area north of bawating Sault Ste. Marie, Ontario. Beginning as a Lecturer in 2016, she was promoted to Assistant Professor in 2018 and contributes research and teaching in the area of Indigenous gender studies; she also teaches the foundational introductory course. Her research is couched within the realm of gender and Indigenous peoples' relationships with the more-than-natural world as well as their politicized constructs (e.g. land, water, air, space). Concerned with the global and settler colonial erosion, extinguishment, attenuation, and transformation of Anishinaabeg womxn's economic sovereignty and security in their own territory, her present research, grounded in land-water based manifestations of Anishinaabeg sovereignty, tells critical literary, archival, and living stories about Anishinaabeg womxn's dynamic relationships with the sugar bush across region, historical period, and structural locations through Anishinaabe feminist interpretive lenses. Her scholarly and creative commitments to her own nation are tempered with priorities in striving to be responsible to and in good relation with the Lekwungen and WSÁNEĆ lands, waters and peoples from/with whom she and her family obtain their good life.   
Research Interests
anishinaabewakiziwin, anishinaabe giikendaasowin through a gendered lens
Anishinaabeg womxn's history, labour, and material and economic-social security
intersections of indigeneity, gender, land across historical contexts
Indigenous/Anishinaabe feminist theories and practice
Indigenous feminist/gendered literary, material, and cultural production
Courses Designed/Taught
GNDR 100 Gender, Power and Difference
GNDR 203 Indigenous Women in Canada
GNDR 308 Indigeneity, Gender, Land
GNDR 310 Indigenous Feminisms 
GNDR 340 Indigenous Cinema: Decolonizing the Screen
GNDR 341 Indigenous Women's Autobiographies
GNDR 343 Indigenous Women Writing Resistance
POLI 464/533 | Law 343 Indigenous Law and Policy
Selected Publications
Dissertation
"Following ininaahtigoog Home: Anishinaabeg Womxn iskigamiziganing |Following Our Trees Home: Anishinaabeg Womxn at the Sugar Bush." (Peterborough, ON: Trent University, 2019)
Chapters
 "On Being with (a photograph of) Sugar Bush Womxn: Towards Anishinaabe Feminist Archival Research Methods." In, Colonial Legacies and Decolonial Activism in Indigenous Photography, eds. Hilde Wallem Nielsson and Sigrid Lien, (Vancouver: UBC Press, 2021)
"(Making) Star Worlds from within Anishinaabe'aadiziwin." In, Indigenous Celebrity, eds. Jennifer Adese and Rob Innes, (Winnipeg: University of Manitoba Press, 2021)
Sy, w. C. with Aja Sy. "on anishinaabe parental kinship with black girl life: 21st century (de)colonial
Turtle Island." In Good Relation: History, Gender, and Kinship in Indigenous Feminisms, eds. Sarah Nickel and Amanda Fehr (Winnipeg: University of Manitoba Press, 2020)
"Considering Wenonah, Considering Us." In Keetsahnak: Our Missing and Murdered Indigenous
Sisters, eds., Kim Anderson, Maria Campbell, and Christi Belcourt, (Edmonton: University of
Alberta Press, 2018)
"Relationship with Land in Anishinaabeg Womxn's Historical Research." In Reshaping Women's
History: Voices of Nontraditional Historians, eds., Julie A. Gallagher and Barbara Winslow, (Chicago: University of Illinois Press, 2018)
Poetry, Performance, Photo Essays
"anishinaabeg gender & sexuality: an essay." Yellow Medicine Review, Fall 2020, forthcoming.
"living in the round." Canthius: Feminism and Literary Arts, Issue 8 (2020): 16-21. First published in
anishinaabewiziwin, February 15, 2016. Performance. Creekside Concerts. Victoria, BC. July 31, 2020. First performed at Peterborough Film Festival. Peterborough, ON. February 16, 2016.
"my umbilical cord, map trail seasonal camps: a poetics of work." Republished in Best Canadian
Poetry in English. Guest editor, Hoa Nguyen, (Toronto: Tightrope Books, 2018): 57-61.
"Grandmother." Audio Poem. Commissioned recording. Aging Activisms. (2016): 4:52 min, https://www.agingactivisms.org/grandmother-waaseyaasin-christine-s. First published as text in anishinaabewiziwin, May 8, 2016.
"chi gizhep michi saagiig mishkodehns dagwaagig." Photo Essay. kimiwon. pipon (winter) 2013, Issue 5: 28-31.
Personal Blog Posts
"My #Canada150 Response: #AppropriationPrize140." Creative Prose. anishinaabewiziwin. (736 words; 1134 views as of Oct. 2020), May 12, 2017, https://giizismoon.wordpress.com/2017/
05/12/my-canada150-response-appropriationprize140/           
"Indigenous Histories Through a Gendered Lens." Short essay. anishinaabewiziwin. (1002 words; 407 views as of Oct. 2020), Nov. 12, 2016, https://giizismoon.wordpress.com/2016/11/12/
indigenous-histories-through-a-gendered-lens/
"From 'Decolonizing Education' to 'Traditional Anishinaabe University': A Photo Essay."
anishinaabewiziwin. (5937 words; 1260 views as of Oct. 2020), Dec. 16, 2012 
https://giizismoon.wordpress.com/2012/12/16/from-decolonizing-education-to-
traditional-anishnaabe-university-a-photo-essay/ (Peer reviewed)