2021 Report to Donors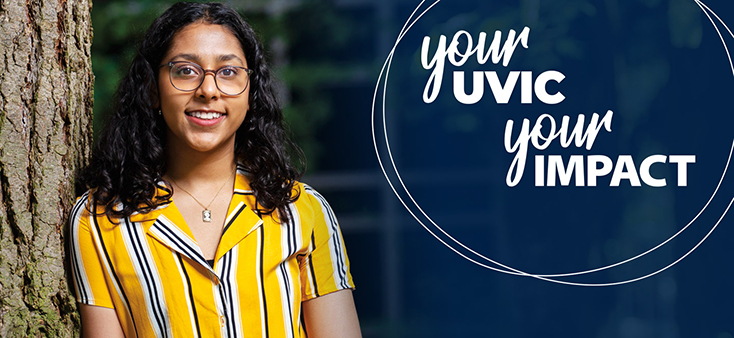 As a woman of colour, I want to champion equality in the field of engineering, with the hope that in the near future the '30 by 30' goals will be met nationally, if not globally." - Karnika Sitolay
Connected through giving
As a donor to UVic, you are connected to thousands of students, researchers, other donors and the wider community. All those connections start with your gift. Your generosity, your impact, your community.
Explore the 2021 Report to Donors through stories and highlights below, or download the report.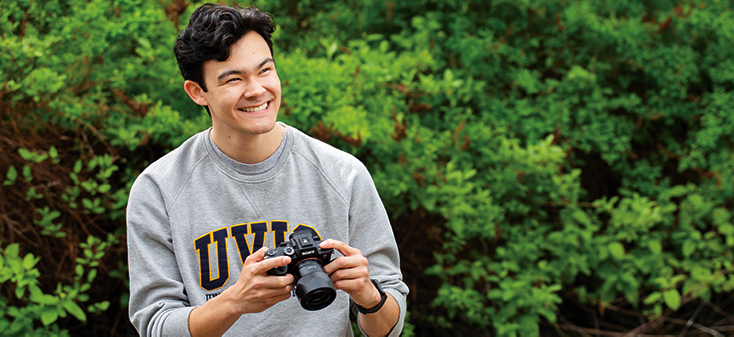 Maintaining cultural connections—virtually
During his internship with the Office of Indigenous Academic and Community Engagement, Devin Owpaluk helped with the roll-out of virtual cultural resources and student engagement activities. A partnership with the Mastercard Foundation funded five student internships, as well as 150 emergency and technology bursaries to support students through challenges created by the pandemic.
The internship wasn't just about gaining professional skills. It felt like a way to support fellow students through a hard time. I'm so grateful I had this opportunity to give back and connect more with my Indigenous community." - Devin Owpaluk
Read more about the impact of this partnership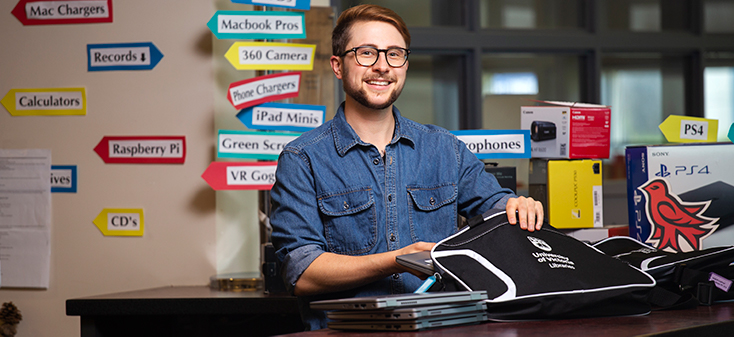 Digitizing and enriching library resources
The COVID-19 pandemic meant users suddenly needed enhanced access to quality digital material quickly and efficiently. Support from donors allowed UVic Libraries to increase its digitization capacity, extend the mail-out service of print resources to graduate students across Canada and purchase 70 laptops to loan out.
This service has allowed me to be mobile while doing school, volunteering online and applying for jobs and scholarships. It has also saved me significant financial stress, and has given me a safe place to store my work and data even when I work from home. It's been an absolute life-saver for me." - Andrea Janse van Rensburg, a fourth-year student who relied on laptop loans in the spring semester.
Read how donors bolstered UVic Libraries' pandemic response plan
Giving across the university
Of the $28.6 million in donor gifts this year...
28% went to student awards
22% to chairs and professorships (two new chairs and one professorship were established this year)
20% to programs (includes mental health programming, lecture series, Vikes athletics and more)
18% to buildings
11% to research (helping fund strategic research areas like climate solutions and health initiatives)
1% to the library.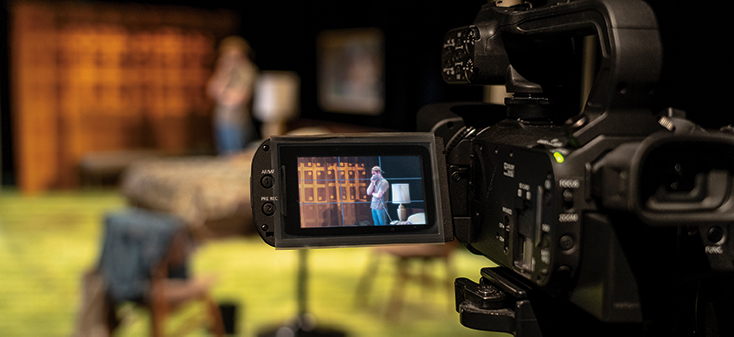 "We pay it forward"
Alumna Anne McLaughlin's ties to the University of Victoria run deeper than most. For the past 33 years, Anne has been a generous donor, and this year was no exception. Recognizing the unique challenges brought on by the COVID-19 pandemic, Anne spread a large contribution over several areas, including the theatre department. By funding livestream equipment for the Phoenix Theatre she helped provide valuable learning opportunities for students and ensure the shows could go on, despite the pandemic.
[The pandemic] was really tough on students because a lot of university is the life beyond the classroom. You've got to keep the Phoenix [theatre] going, and if they aren't able to have people in person in the audience, you have to help them do what they have to do." - Anne McLaughlin
Learn more about Anne's support for UVic students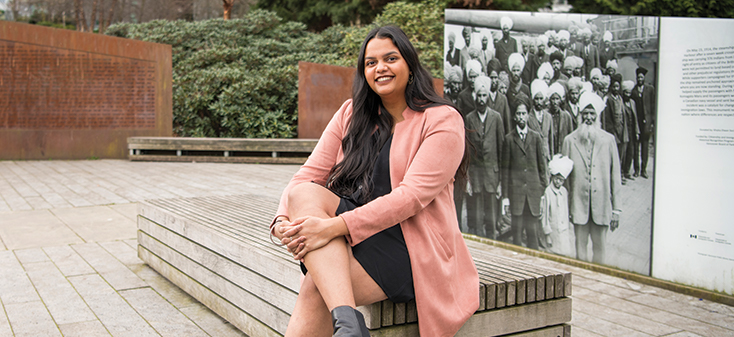 Moving from learning to action
As awareness of pervasive racial inequality rises, donors are taking steps to address these issues through scholarships and bursaries that aim to reduce barriers to education for students from certain groups. There was a wave of new donor-funded awards established at UVic last year specifically for students identifying as Black, Indigenous or Persons of Colour (BIPOC). 
Baneet Hans is the first recipient of the new Scotiabank Scholarship for Law students. Baneet says this scholarship will help her build a career that supports marginalized groups and combats racism. "It takes the pressure off and makes it easier to pursue the avenues of work that I'm passionate about," says Baneet.
I can't expect the face of the legal profession to change if I myself am not willing to occupy spaces that make me uncomfortable. This scholarship helps as my peers and I blaze a path towards a more diverse legal field."—Baneet Hans
Read about donors taking steps to address racial inequality through awards
The donor community
2,441 Ring Road Loyalty Circle Members
406 Monthly Giving Club Members
309 T.S. McPherson Legacy Society Members (donors who have left a gift in their will)
Donors who gave this year
A total of 4,962 donors made a gift in 2020/21.
2,190 of those donors are alumni
678 of those donors are faculty/staff
1,731 of those donors are gave for the first time.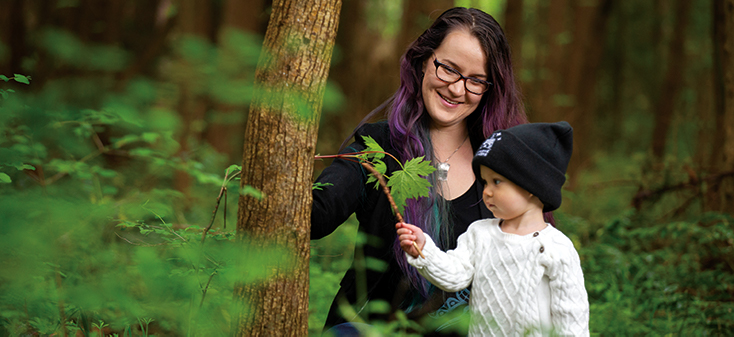 Restoring the natural flow of language transmission
Keisha Everson, whose traditional name is La̱lx̱sa̱n Dala'og̱wa, has made learning and teaching her grandmother's language a priority in her life. While completing her master's in Indigenous Language Revitalization, Keisha received a donor-funded award created in memory of her former professor, the late Dr. Trish Rosborough. The award deepened Keisha's resolve to help revitalize the Kwak̕̕wala language within her family and community. "It was really validating of the work I am doing, have done and will continue to do," says Keisha.
If I don't learn Kwak̕̕wala, then that disruption continues. And I'm not ok with that. It's hard work, but it will only get harder for future generations. I'll do anything I can to make sure my son grows up hearing the language." - Keisha Everson
Read more of Keisha and Trish's story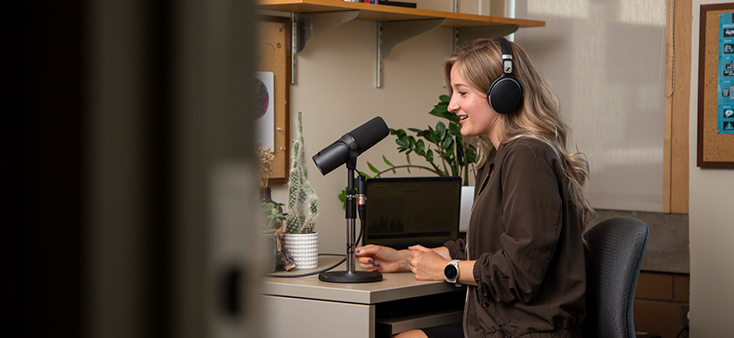 The healing power of music and connection
UVic's research partnership with the Voices in Motion choir is helping reveal how lifestyle interventions can help people with dementia and their care partners. A digital health research scholarship gave master's student Cynthia McDowell the time and resources to dive back into the project data to better understand the effects on participants' cognitive function. She is now sharing the findings with community.
"It is important to me that I not only pursue my academic ambitions and research goals, but also turn the research into clinical application and help targeted populations. Receiving this award has enabled me to do that." - Cynthia McDowell
More on how this scholarship is supporting Cynthia's research
Understanding your support
$28.6 million total received in donations in 2020/21 (a 50% increase from last year)
$11.7 million directed to the endowment (the current value of the endowment is now $525 million)
$5.4 million to capital (including $5 million for the National Centre for Indigenous Laws)
$11.5 million to annual (these donations can be spent right away).
Thank you
During this extremely challenging year, support from donors has helped UVic adapt and meet the changing needs of students, researchers and the wider community. You've shown generosity and loyalty, along with the will to take positive action and drive change.
Now it's time to look forward.
In my term as president, I'm committed to engaging deeply with communities locally and globally. I will focus on sustainability, advancing equity, diversity and inclusion, and widening access to education. Our strong donor community will be a key partner for the UVic I envision—and I'm excited to imagine what we can achieve together.
With gratitude,
Kevin Hall
President and Vice-Chancellor 
Download the 2021 Report to Donors
We want to improve the way we share information. Does this email help you better understand the impact of your giving to UVic?