Timothy O'Gorman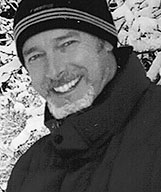 Position
Operations and Production Manager
Technical Specialization
Contact
Office: Phoenix Building Rm. 110
Credentials
Diploma of Arts, Camosun College
Brief Biography
Originally from Victoria, Timothy has over 40 years of experience in professional theatre.
The early years were spent working as a technician for both the old Bastion Theatre and the still thriving Belfry Theatre. He went on to become a Stage Manager for the ambitious but short-lived Shakespeare Plus Festival in Nanaimo and as a touring Stage Manager for Bastion Theatre's Youth Tour.
He left Victoria for Vancouver in 1986 to Stage Manage a North American Tour with Green Thumb Theatre for Young People, for whom he eventually became Production Manager. Other Vancouver credits include Tech Staff and Stage Manager at EXPO 86, Stage Manager the Arts Club Theatre, Production Manager/Technical Director for Gateway Theatre, Special Teams for Vancouver Fringe, among others. In 1994, he left Vancouver for Toronto, working for two seasons's as Production Manager/Technical Director for the Blyth Festival, Production Manager for Tarragon Theatre, PM/TD in a freelance capacity in Toronto's vibrant independent theatrical community, as well as Production Stage Manager for the commercial production of John Roby's The Old Man's Band at Waterfront Theatre. 
Moving to the Shaw Festival in 1996 - his favourite professional experience to date – he became Technical Director on a team of three TD's, where his primary responsibility was for all productions in the Festival Theatre. In 2000, he went to the Stratford Festival of Canada as Technical Director in the iconic Festival Theatre, but Victoria called him home in 2001. Credits since then include Technical Director for three seasons with Pacific Opera Victoria, Stage Manager for the Belfry Theatre and General Manager for Story Theatre Company. He also became a first–time father in 2003 (best production yet!). 
Since joining UVic in 2006, Timothy has managed to maintain a professional profile with various projects outside of the UVic including: Technical Director for Vancouver Opera's 2007 production of Magic Flute, Technical Director for Force of Nature; The David Suzuki Movie, Production Manager for the internationally acclaimed Aventa Ensemble's productions of On This Planet and Marilyn Forever (which toured to Australia's Adelaide Festival in February 2015), and as Technical Consultant for Pacific Opera Victoria's 2013/14 Season.
Timothy is grateful to be able to share his knowledge with students at the Department of Theatre as both an Instructor in Technical Theatre and as the Technical Director for all Phoenix productions.