Brian Richmond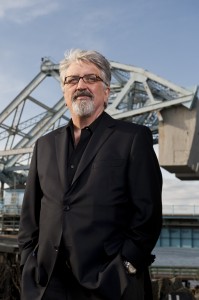 Position
Professor
Theatre
Contact
Office: Phoenix Building Room 146
Credentials
Area of expertise
Performance: directing, dramaturgy, acting
Areas of Research & Creative Activity
Acting, directing and producing.
Courses
THEA 321/322 Acting III & IV
THEA 367 Producing Non-Profit Professional Theatre in Canada
THEA 431/432 Directing III & IV
Brief Biography
The former Chair of the Department of Theatre, Brian served from 2001 -2008. During this time he directed ten productions for the department including; Frogs, Per Gynt, The Resistable Rise of Arturo Ui, The Fever, He Who Gets Slapped, Guys and Dolls, Tyrants, Wind in the Willows, Dark of the Moon and Romeo and Juliet.
Brian received his training as an actor at Burnaby South High School, Vancouver's Holiday Theatre, and at the École Lecoq in Paris. Changing his focus to direction and dramaturgy in the mid-1970s, he has since created over a hundred and fifty professional productions for most of the major theatres across Canada as well as theatres in Europe, the United States and Mexico. As dramaturge he has nurtured many of the leading playwrights of his generation. As a teacher he has taught for numerous institutions including McGill, Concordia, Simon Fraser, York, Waterloo and Toronto universities as well as the National Theatre School of Canada.
Brian is the Founding Artistic Director of Saskatoon's Persephone Theatre, and has also served as A.D. for Montreal's Playwrights Workshop, Thunder Bay's Magnus Theatre, and Toronto's Theatre Passe Muraille. A four-time nominee for Dora Mavor Moore Awards for Outstanding Direction, Brian won this award for his 1988 production of Fire. He has also won Dora Awards for Outstanding Production (Fire, as well as Lillies, 1991). Brian is also the Founder and Producing Artistic Director of Victoria's Blue Bridge Repertory Theatre (BBRT). Founded in 2009, BBRT is a company that offers the audiences of Victoria and its visitors contemporary visions into the great works from the past, as well as offering early career professional theatre artists the opportunity to work alongside some of the leading theatre practitioners of the day.
Brian has received numerous senior artist grants for his creative work from the Canada, Saskatchewan, Ontario, and Quebec Arts Councils as well as from a broad range of Canadian foundations.
Other recent professional achievements
Blue Bridge Repertory Theatre

Director: Uncle Vanya (2013), A Closer Walk with Patsy Cline (2012, Of Mice and Men (2012), Fire (2011), Miracle on 34th Street (2011), Who's Afraid of Virginia Woolf?(2011), It's A Wonderful Life (2010), Hank Williams – The show he never gave(2010), A Streetcar Named Desire (2010), Death of a Salesman (2009).
Actor: Henry Higgins, My Fair Lady (2013), Macy, Miracle on 34th Street (2011), Potter, It's A Wonderful Life (2010)

Persephone Theatre - Director:  Hank Williams – the show he never gave (2012)
Vancouver Playhouse - Director: Trying (2005)
Infinitheatre/November Company at the Monument Nationale, Montreal - Director & Dramaturge: Small Returns (2004)
Belfry Theatre - Director: Proof (2003), Honour (2005) 
Florida Studio Theatre - Director: A Lesson before Dying. Director (2001)
Recent awards and honours 
Victoria Critics' Spotlight Award for Best Professional Production, Who's Afraid of Virginia Woolf? (2011), A Streetcar Named Desire (2010), Death of A Salesman 2009), Proof(2003). 
Victoria Critics' Spotlight Award for Best Community Production, Dark of the Moon(2009), Wind in the Willows (2008)
Victoria Critics' Spotlight Award for Best Direction; A Streetcar Named Desire (2010),Death of A Salesman (2009), Dark of the Moon (2009).
Alumni Award - Burnaby South Secondary School (2007)
Nomination, Dora Mavor Moore Award for Outstanding Director, The Dogpatch (2000)
Nomination, Dora Mavor Moore Award for Outstanding Production, The Dogpatch (2000)