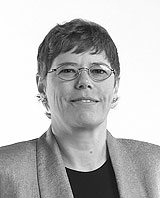 Position
Emeritus Professor
Theatre History
Contact
Credentials
PhD Northwestern University
Areas of Research & Creative Activity
I study American Theatre History with a particular emphasis on the late 19th century. I am particularly interested in popular entertainment forms such as circus, Wild West shows, melodrama, minstrel shows, etc. and their interaction with American culture. It is my contention that Buffalo Bill's Wild West is responsible for many of the elements of the myth of the American West and I believe other popular forms of the time exerted similar influences on other American myths.  
I am also interested in directing. While I very much enjoy working with American classics (because of their relationship to my research), my favorite playwright is Tom Stoppard. I have directed several of his plays and would like to continue to do so. I have a side interest in existentialism and would like to direct a piece by Beckett at some time in my career.
Brief Biography
Dr. Sarah Blackstone served as the Dean of the College of Humanities and Fine Arts at California State University, Chico from 2002 until 2007.  She took over as Dean of the Faculty of Fine Arts at University of Victoria in July of 2007.  Sarah received her BA in Theatre with Honours from the University of Wyoming in 1976 (Phi Beta Kappa), and her MA in Technical Theatre from Kansas State University in 1979.  She completed her Ph.D. in Theatre History at Northwestern University in 1983.   
Dr. Blackstone has taught at the University of Central Arkansas, the University of Washington, and Southern Illinois University, Carbondale, where she also served as Chair of Theatre.  She has published two books: Buckskins, Bullets and Business: A History of Buffalo Bill's Wild West (Greenwood, 1986) and The Business of Being Buffalo Bill (Praeger, 1988).  She has also published in Theatre History Studies, The Journal of the Circus Historical Society, Great Plains Quarterly, and Theatre Insight, and has articles in several collections of essays.  
Selected Professional & Creative Achievements
Sarah is a member of the advisory board for the Museum of Repertoire Americana in Mt. Pleasant, Iowa, has served as the Vice President of the American Theatre and Drama Society, and as President of the Theatre History Forum of the Association for Theatre in Higher Education. In 1993, Sarah was named an Outstanding Alumni of the College of Arts and Sciences at the University of Wyoming, and in 1996 she was named a Faculty Woman of Distinction at Southern Illinois University.
Selected Publications
Books:
The Business of Being Buffalo Bill: Selected Letters of William F. Cody 1879-1917. Westport, CT: Praeger Press, 1988.
Buckskins, Bullets, and Business: A History of Buffalo Bill's Wild West. Westport, CT: Greenwood Press, 1986.
Selected Articles and Book Chapters:
"The Museum of Repertoire Americana", Theatre Survey, Spring 2000.
"Lost Voices: Women Writing Melodrama", Cambridge Guide to American Women Playwrights, ed. by Brenda Murphy, Cambridge University Press, 1999.
"Outside the Gates: Buffalo Bill and the Columbian Exposition", The Bandwagon Magazine: Journal of the Circus Historical Society, July/August, 1997.
"White Slavery Plays of the 1910s: Fear of Victimization and the Social Control ofSexuality", Theatre History Studies, June 1996.
"Simplifying the Native American: Wild West Shows Exhibit the 'Indian'", Staging Difference:  Cultural Pluralism in American Theatre and Drama, Peter Lang Publishing, 1995.
"Alexander Byers: Play Pirate Extraordinare", Theatre History Studies, June 1994.
"Custer Joins the Wild West Show", Custer and His Times-Book III, Custer Battlefield Association, 1986.
"Buffalo Bill's Wild West - Images a Hundred Years Later", The Bandwagon Magazine: Journal of the Circus Historical Society, Nov/Dec, 1983.