Real-life learning through co-operative education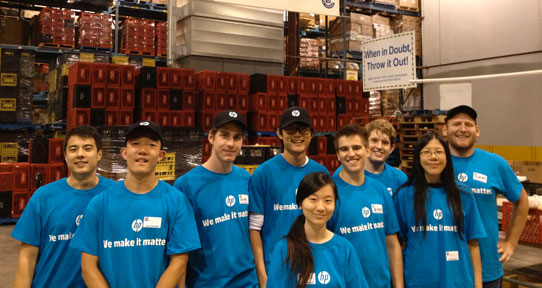 What is the Computer Science Co-operative Education Program?
Our program offers you the option to combine paid work experience with your academic studies.  Co-operative education is an integrated learning strategy that lets you alternate your academic terms with paid work terms in your field of study. As a UVic co-op student, you will gain the practical experience, contacts, and confidence to excel in the workforce after graduation. 
Contacts
Sheryl Thompson, Co-op Coordinator
Student #'s ending in 0-4
Office: ECS 216
250-472-5812
sthompson@uvic.ca
Mostafa Rahimpour, Co-op Coordinator
Student #'s ending in 5-9
Office: ECS 212
250-472-5822
mrahim@uvic.ca
Karae White, Career Educator
Office:  ECS 210
250-472-5825
karaewhite@uvic.ca
For more information, please visit the Engineering & Computer Science Co-operative Education Program & Career Services website.
Requirements for co-op designation
You can apply to the Computer Science Co-op Program after you have completed CSC 110, Math 100 and:
completed at least 4.5 units on your last academic term
have attained a minimum grade of C+ in any Computer Science courses and a minimum of C in any Math or Stats courses taken on your last academic term
have no F, E or N in any courses taken on your last academic term
You must be a full time UVic student majoring in computer science or a combined computer science program. Please note that transfer students must have completed at least one academic term at UVic.
Admission
There are two admission periods per year: September 1-22 (fall intake) or January 1-22 (spring intake). You can apply by logging into the Co-op & Career Portal during the admission periods. Use your UVic Netlink ID and password. Once logged in, click "Co-op" on the navigation menu. Then follow the prompts to complete your application.
PLEASE NOTE: You will be unable to apply using the above method if
You have previously been or are currently in another co-op program at UVic
You are NOT in the Faculty of Engineering
You are trying to apply outside of the admission periods
If you are unable to apply through the Co-op portal, please contact your co-op coordinator:
If admitted to the program, you will need to sign a copy of the Terms and Conditions form at the start of your program (NOTE: this PDF is provided as a reference only - completed forms must be submitted through the Co-op and Career portal).
For more information, please visit:
To graduate with the co-op designation on your degree, undergraduate students must satisfactorily complete four work terms in addition to your academic studies.  Undergraduate students who choose to complete less than four co-op work terms may participate in the work experience program.  The work experience program allows you complete a minimum of two work terms instead of four. 
Computer Science Co-op Newsletters

UVic is one of the few universities to offer a co-operative education experience for graduate students and our department has a large and active graduate level co-operative education program.
Co-op offers discipline-related work experience alternating with academic terms. The final result is an extremely valuable degree with intellectual and theoretical depth plus practical experience.
Requirements for co-op designation
To graduate with the co-op designation on your degree, MSc students are required to complete at least two work terms (8 months) and PhD students are required to complete at least three work terms (12 months).
Graduate students are normally expected to complete your required graduate level course work in the first two academic terms prior to enrolling in the co-op program. Graduate students require permission from their supervisor to enroll in the co-operative program for each term.  The program is open to international students on a study permit.
Admission
Admission applications are due by September 15 AND January 15 every year, for the possibility of a co-op work term in the following session. The typical schedule for admission into the graduate co-op program is:
1st term is application, training, and admittance
2nd term for job search
3rd term becomes the first work term
Please visit the Engineering & Computer Science Co-op website to learn more about the Co-op education program for graduate students.  
Gain work experience
You will gain relevant work experience, enhance your classroom learning and apply your academic knowledge in real-world workplaces.
Benefit from one-on-one guidance
A co-op coordinator will help you polish your resume, practice interview skills, search for a job, prepare for the workplace and develop competencies.
Explore job opportunities
Co-op will help you discover your strengths, explore potential career options and clarify your long-term career goals.
Develop competencies
During your work terms you'll work towards goals that relate to various competencies, also known as professional knowledge, skills and attributes. You'll work with your supervisor to assess your competency development at the beginning, mid-point and end of your work terms.
Connect with employers
You'll establish a network of contacts and references in your field. You may even graduate with a permanent job offer from a previous co-op employer.
Help pay for your education
The salary you'll earn during your work terms can help you finance your study terms.
Graduate with an advantage
If you successfully complete the co-op program, you'll earn a co-op designation on your degree. On average, co-op graduates find permanent employment faster, are promoted sooner and earn higher starting salaries than non-co-op grads.
Our computer science co-op students work for employers in business, industry, government and not-for-profit organizations in Victoria, across Canada and around the globe.
Learn more about hiring a co-op student.
Connect with your computer science career educator for help with:
career questions
work search help
interview skills
resume feedback
career planning
preparing for graduation
Karae is available to meet with all computer science students, whether in the co-op program or not.
Karae White, Career Educator
Office:  ECS 210
250-472-5825
karaewhite@uvic.ca