May 29, 2023
University of Victoria researchers across disciplines are teaming up to staunch the loss of lives from toxic-drug poisoning, including forging state-of-the-art techniques to check drugs
Located on the corner of a busy row of shops in Victoria's North Park neighbourhood, Substance Drug Checking's storefront exudes a cheerful, friendly vibe. Five cartoon images resembling the colourful Care Bears, each representing local peer outreach groups, beam smiles from the front window. The slogan, "We take care of us," is painted underneath. Pink paper hearts are pinned around the window's Substance logo, each one etched with handwritten messages from a community art project. Among the faded shapes are photos of loved ones lost to drug poisoning, putting faces to a crisis the scale of which is hard to comprehend. Since opening its storefront at the corner of Cook and North Park nearly two years ago, Substance has become a life-saving service and visible symbol in the fight against toxic-drug poisoning, which is now the leading cause of unnatural death in the province. More than 11,000 people have died in BC from toxic drugs since April 2016, when the government declared a public-health emergency. That includes a record 2,272 people last year. First Nations and Métis people in BC are disproportionately affected. Across the country, more than 30,000 people have died, and the crisis shows no signs of abating. 
That reality has pushed UVic researchers from wide-ranging disciplines such as social work, chemistry, computer science, nursing and public health to work together with people who use drugs and community partners such as SOLID Outreach Society, AVI Health and Community Services, and Island Health to create services and generate research to save lives. 
Everyone associated with this crisis has a story of loss, including me. In May 2020, in the early months of the COVID-19 pandemic, my brother, Ian, died from fentanyl poisoning. He was 39 years old, the second of four siblings, son to Ann and Bernie, an ironworker, second-generation Irish Canadian, loved by his friends and family and valued by his mixed martial arts community. 
Since my brother's death, I've been caught in a push-pull relationship with this crisis, compelled to investigate it but also overwhelmed by the scale of loss. Anything I write cannot convey the grief and pain losing Ian has caused. I grapple with the fact that pandemic restrictions designed to keep us safe created the very conditions that led to his death—social isolation, the closure of health and support services and an increasingly volatile and toxic illicit drug supply.
Every month, I listen to the BC coroner's grim monthly death toll and try to keep hope.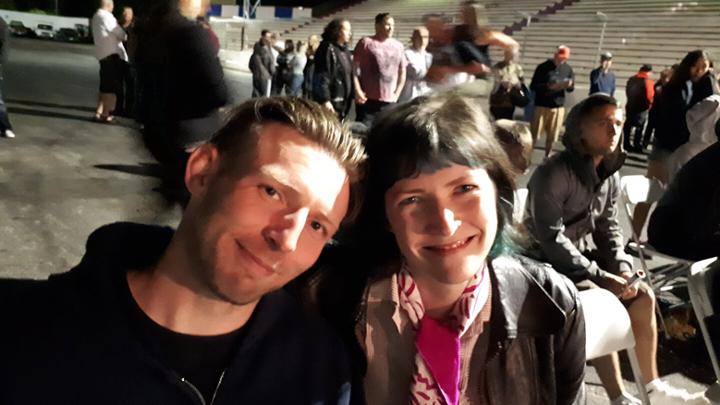 UVic-led drug-checking
It's just before noon, opening time, in mid-March when I walk through Substance's doors. During the pandemic, the team worked at the back of overdose-prevention sites and in hotels, so when SOLID Outreach Society offered the use of the storefront they jumped at the chance.
Harm-reduction worker and social-work alum Kayla Gruntman, BSW '22, stands behind a glass display case that includes pamphlets, naloxone kits and other harm-reduction tools. Behind her, chemistry grad Miriam Sherman, BSc '21, is hunched over a mail-in sample from Port Alberni, ready to extract a small amount of "down," a term for opioids, to be analyzed. The sample is the size of a matchstick head.
Gruntman explains how Substance's walk-in service works: Clients bring in a small sample of their drug, identify what they think they bought ("down" such as fentanyl, or other common drugs such as cocaine, methamphetamine, or MDMA, commonly known as ecstasy or molly), and leave it with the Substance team. The whole process is anonymous, free and confidential. The client is given a nine-digit code, which they can punch into their phone or online usually within 20 minutes to access the results. 
While they wait, a technician will take the sample and mix it with a solvent. The sample is then blotted onto paper and run through the gold-standard of drug-checking instruments, a Paper Spray Mass Spectrometer, a powerful and precise machine that detects chemicals at trace concentrations and quantifies them. The one at Substance was developed by UVic and Vancouver Island University to operate outside of a lab and provide results in real time. To the untrained eye, it resembles a huge printer. 
Results include the sample's main active ingredients, fillers or cutting agents, any unexpected drugs, and the presence of fentanyl. Clients can access harm-reduction resources and support services, if they choose. "We don't push sobriety as the only goal," Gruntman says. "We're always trying to make the space open and safe for everyone. I think we do a pretty great job of being non-judgmental and welcoming." 
The Substance team is busy: their team of 14 staff and students analyzes around 200 samples every week. Led by UVic social-work professor Bruce Wallace and chemistry professor Dennis Hore, Substance started five years ago with funding from Health Canada to develop drug-checking innovations to build on BC's harm-reduction response. The BC model, as it is commonly called, includes overdose-prevention sites, supervised-consumption sites and take-home naloxone kits to help reverse the effects of an opioid overdose.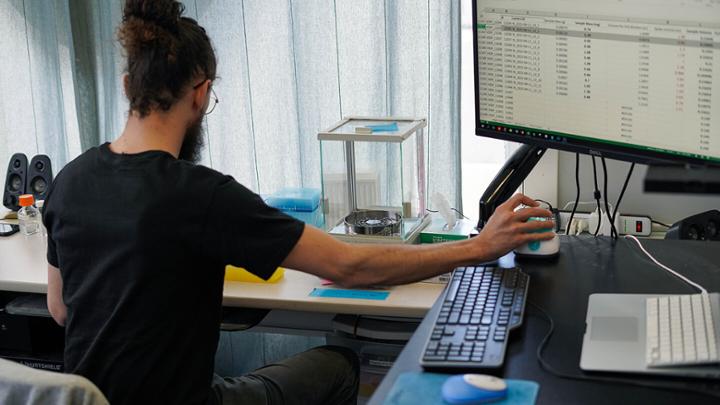 Drug checking is becoming part of that model, with portable technology such as Fourier-transform Infrared spectrometers in use at various supervised-consumption sites across the province. The Substance team recently received three years of funding from Island Health to continue offering drug checking with partner sites on Vancouver Island. And BC's Ministry of Health is providing a grant to the Substance team to look at how they can scale up and implement their drug-checking innovations across the province. 
"One of the things our project shows is that UVic has a role," Wallace says. "We can play a real, significant role to push the response to this public-health emergency."
At its core, harm-reduction services are based on a respectful relationship between service providers and people who access health and social services. It's about meeting people where they're at and helping people—in this case people who use drugs—to minimize negative health, social and legal consequences. 
Trust plays a big role in drug checking, and Wallace notes that a three-year pilot project in BC to decriminalize small amounts of hard drugs will alleviate some people's concerns about bringing in substances for checking. (The Controlled Drugs and Substances Act exemption, which runs until 2026, removes criminal penalties for people who possess 2.5 grams or less of certain illicit substances, including cocaine, opioids, methamphetamine and MDMA for personal use.)
"Drug checking is really unique in that we are engaged with the drug way more," he says. "People have to take the drug out of their pocket and put it in the hands of a UVic student or grad and say, 'Can you tell me what's in this?' There's a lot of trust needed. There's a lot of gratitude."
Wallace, a scientist at UVic's Canadian Institute for Substance Use Research (CISUR), has worked in inner-city harm reduction for decades. He says Substance provides information to service users so they can make informed decisions. 
To help with this goal, the team produces weekly and monthly reports about their testing so people know more about the substances in their region. For example, in February, Substance analyzed 677 samples from across the Island. The median fentanyl concentration found in opioid samples was 9.2 per cent, with a maximum of more than 80 per cent. This information is crucial in an unregulated drug market, where fentanyl concentrations of 2 per cent can kill someone without tolerance. 
Although Substance started as a partnership between social work and chemistry at UVic, Wallace says computer science has taken on a crucial role. The Substance team uses machine learning to analyze findings, as well as an app that generates the nine-digit codes, all of which were designed at UVic. 
While Paper Spray Mass Spectrometers are used elsewhere in lab settings, Wallace says Substance's set-up is unique. "We've been able to integrate this as a street-level response," he says. "I don't know of any other group doing this as a point of care, as you wait, in North America."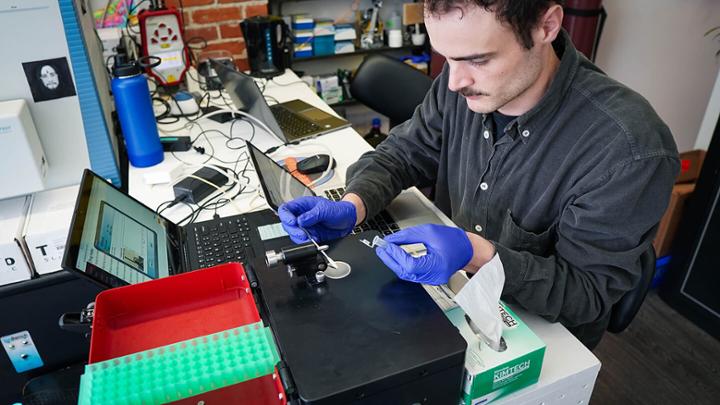 BC leads with prescribed safer supply
At the time, May 2020 was the worst month in BC's years-long overdose crisis. That month alone, 173 people in BC died, including my brother. Since then, I've watched that number be eclipsed, as the monthly tolls continue to climb higher. I have attended protests demanding an end to this crisis, carrying placards bearing Ian's name. I've attended vigils. I've met many others, mothers, siblings, children, friends and colleagues who have lost loved ones. My social-media feed has become a kind of doom-scroll about the crisis. I feel a certain sense of shame that my brother is being remembered mostly for how he died. 
Although the pandemic worsened the toxic-drug crisis, it also opened the door to one of the biggest steps in addressing it: prescribed safer supply. BC is the first province to offer prescribed safer supply, formally implementing a Health Canada pilot that ran in three provinces in the first two years of the pandemic to save lives and protect people from contracting COVID-19. 
Karen Urbanoski, a Canada Research Chair in Substance Use, Addictions and Health Services at UVic, says BC is the only jurisdiction to roll out the program across the general population, not just at specific shelters or sites, as in other provinces. Urbanoski, along with fellow CISUR scientist and alumna Bernie Pauly, PhD in Nursing '05, are among a consortium of researchers from BC universities evaluating the province's prescribed safer-supply program. 
Urbanoski says some 6,500 people in BC accessed safer supply in some way over the first two years. Many of those people lived in cities along the densely populated corridor around Vancouver and southern Vancouver Island.
"That's a small fraction of the people that we know could benefit," says Urbanoski, also an associate professor in the school of public health and social policy. "But I don't know if we would have seen that scale up without COVID."
Rather than engage with the risky illicit-drug market, people enrolled in the prescribed safer-supply program can access safer pharmaceutical alternatives to opioids such as tablet hydromorphone, fentanyl patches or oxycodone. Urbanoski says analyses conducted by study co-lead Bohdan Nosyk and his team at Simon Fraser University have shown that prescribed safer supply protects against mortality.
"In the strictest sense, we could say prescribed safer supply is working if people are still alive because it's not meant to be treatment," she says. "It's different than what has been done before."
Urbanoski and Pauly's research is focused on whether access to prescribed safer supply is improving participants' quality of life and mental health. So far, the answers are complex. 
A longitudinal study of 350 participants, which will be extended to another 750 people over coming years, found those factors hadn't changed much in the three-month period Urbanoski's team followed participants. "Maybe that's because it was too short a time period. Maybe more wrap-around services are needed," Urbanoski says. "We're going to continue to look at it."
Another finding was that less than half of participants reported that their dosage was high enough to stop withdrawal. When Pauly, a professor in UVic's school of nursing, conducted more in-depth interviews with participants, she says they reported a better quality of life when the prescription was the right drug and right strength to replace the illicit market. "I heard things like, 'I now have money to purchase food and feel happy to have food in my fridge.' Or, 'I'm not engaged in criminal activity as much to get substances,'" Pauly says. "It's important to recognize, we're probably saving people's lives when they get a prescription, and when they get the right prescription, we're improving their quality of life."
I remember, in the early days of my grief, hearing about this program and lamenting that it wasn't more widely available. Opioids weren't Ian's drug of choice; he'd struggled with cocaine use for many years. I remember being shocked when the coroner told us that although they found cocaine in his system, he'd died from a lethal dose of fentanyl. We'll never know if he meant to consume fentanyl that night or if his drugs were contaminated. He wanted to quit using, he told me so. But, like so many, he couldn't stop. 
I tell Pauly about my brother, and she shares her stories too, of people who can't access prescribed safer supply because they don't have a prescribing doctor or clinic. Of community members who have worked on her research team—and then one day, they're gone.
"These are people from every walk of life. It could be anybody. There's so much stigma and people often hide their use," Pauly says. "Imagine if one drink of alcohol could kill you. That's what we're talking about. You can die from accessing the drug market once."
Mail-in drug checking
At Substance, Miriam Sherman, the team's technician on duty, opens her laptop to show me the Paper Spray Mass Spectrometer's analysis of a mail-in sample from Port Alberni. Community partners at Substance's distributed model drug-checking sites in Port Alberni, Comox Valley, Campbell River and Duncan are trained to use portable spectrometers that give preliminary results about a client's drug sample's composition in a few minutes. They can also send the sample through the mail to the North Park's storefront for more detailed information provided by the Paper Spray Mass Spectrometer.
The screen shows a complex graph of red, blue and green lines representing different chemical compounds, including fentanyl, caffeine, sugar and benzodiazepines, the latter of which is added to "down" or prolong the drug's effects. Benzos are a central nervous system depressant that don't respond to naloxone, which has made reviving people who overdose much harder. 
Sherman, who is also a paramedic by training, points to the various lines in the graph. "There isn't a lot of fentanyl in it. It looks pretty benzo heavy," she says. "Last week, almost 60 per cent of samples contained benzos. Folks are not only physically dependent on fentanyl but benzos, too."
The graph speaks to the ever-changing nature of the toxic-drug crisis and the imperative for users to have accurate information. "This is nine-times the lethal dose for what we call an opioid-naïve person," Sherman explains. "With an unregulated supply, when people don't know what they're getting, it makes it harder to dose." 
The mail-in option has also opened harm-reduction services to another under-served demographic: men who use alone at home, as my brother did. Since 2016, around three out of four opioid-related deaths were men, with 30 to 50 per cent of those employed working in trades at the time of their death. The mail-in option allows clients to send samples and receive their results online using an anonymous numerical code through Substance's online portal. I wonder if my brother would have used such a service had he known about it. 
Bruce Wallace leans against a doorway and nods as Sherman expertly explains the test results. As he watches the day's first clients walk through the doors, Wallace says the public-facing store is playing a part in destigmatizing drug use. 
"People would prefer to live in a world where there is no need for substance-use and mental-health responses. That's unavoidable though," he says. "If we can stop viewing substance use as inherently problematic and start accepting substance use as part of society, we could start having services more relevant to people."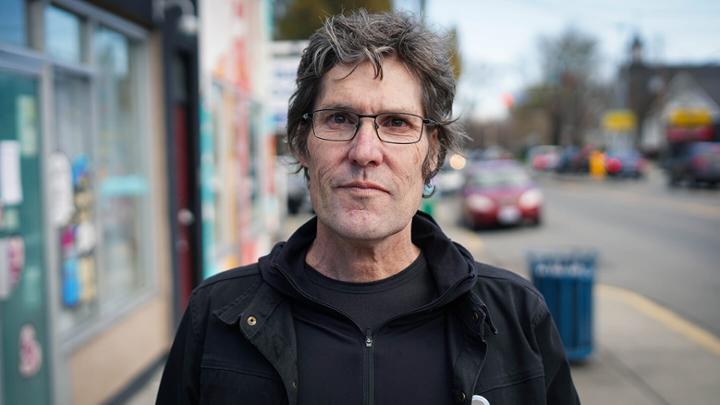 No one deserves to die
A woman we're calling Kate Neill (protecting her real name for privacy) has experienced first-hand the dangers of the toxic-drug supply. Neill, who is the artist behind Substance's window art, suffers from degenerative-disc disease, which causes her severe pain. When I meet her at a café near Substance, she arrives on a mobility scooter with her dog, Joey, on her lap. The tiny Shih Tzu is wearing a dog coat that says "Naloxone." 
We talk about her partner, Derek, who died in August from an overdose, just three days after he was released from jail. I can feel her grief at losing him, and she wipes tears from her cheeks as we talk. "I was so happy to have him back. We had plans and now I need to come up with new plans," she says. "I feel like it's the stigma that killed him, really."
Neill is among those accessing BC's prescribed safer supply. She has just visited the pharmacy for her medication. But while she appreciates having safe access to opioids, the dose isn't high enough, and Neill turns to the illicit market to treat her debilitating pain. She regularly uses Substance's services to check the concentration of what she's consuming and to ensure there are no benzos present. She likens the process to someone wanting to know the strength of alcohol they're buying. "That's even more important if it's opioids," she says. "Nobody deserves to die. No one deserves to be in pain, either. There are a lot of reasons why people end up using." 
It's easy to dehumanize people who use drugs, to paint them as a certain type of person. The reality is everyone is dying in this crisis. Some victims are first-time or recreational users. Some people struggle with their substance use. Some people relapse. I think of my brother. He'd been seeing a drug counsellor in the months leading up to his death. He'd applied for a coaching licence to train young people in mixed martial arts. When COVID first hit, he wrapped himself head-to-toe in garbage bags to give a struggling friend a pandemic-friendly hug. From the outside, he seemed to be doing well. Like Derek, he felt ashamed about his drug use and used alone. They didn't deserve to die.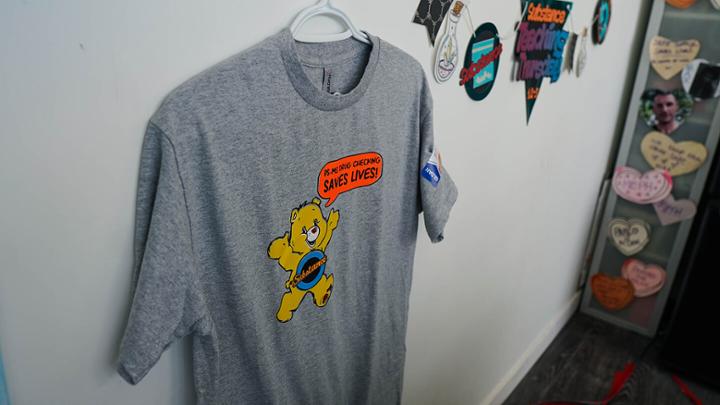 Still looking for answers
We are still so far from ending this crisis, and it is taking a huge toll—on front-line health workers, community groups, researchers, people who use drugs and the people who love them. Not to mention the lost potential of tens of thousands of people who have died. "It's really awful to be witnessing this, to be where we're at today, and to know that no one cause got us into this situation," says Urbanoski. 
Decriminalization, says Pauly, doesn't replace the toxic-drug supply. A limited number of people can access prescribed safe supply. Wait lists and high fees are barriers to treatment and recovery services. And many people don't have access to drug-checking services like Substance. "The solutions are not to the scale of the problem," Pauly says.
There are worrying signs the drug-poisoning crisis is becoming increasingly political. The Alberta government, for instance, has been critical of harm-reduction methods. Calling their approach "the Alberta model," the government is focused on abstinence-based treatment and recovery. Urbanoski, who also studies addictions treatment, says this kind of polarization is incredibly harmful. "People forget… harm reduction is going to be more effective to the extent treatment is available and treatment is going to more effective if there is harm reduction available," she says.
Or, as Pauly puts it, bluntly: "Treatment works best when people are ready. When they're not ready, we need to make sure they don't die."
What governments cannot do is stop the demand for opioids. UVic researchers say the missing piece is widely accessible safer supply. Providing safer supply through the medical system is one option. Community programs, such as compassion clubs, used in the past for medical cannabis, or a buyers' club, which helped HIV/AIDS patients access medication in the mid-80's, are possible alternatives to the toxic illicit supply. "There's a range of possibilities for what we can do," Pauly says. 
Leaving Substance that day, I can feel the grief in my bones. As I write this story, I am aware that the anniversary of my brother's death is approaching. I'll be with my family that day. We will celebrate Ian and grieve him at his favourite beach. I'll run up the sandhill where he used to train and look out at the Salish Sea, a view he loved. I'll think of people who have died in the same way. And I'll try to imagine a future where others don't have to mark such an occasion. 
—Stephanie Harrington, MFA '17