Ryan Hilperts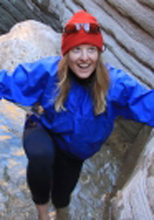 Position
Director
Redfish School of Change and Senior Academic Coordinator, UVic School of Environmental Studies
Credentials
Environmental Studies - MA (2010)
Ryan directs the Redfish School of Change, a 6-week field-based education program for university students committed to creating positive ecological and social change in the Salish Sea. The program brings together students from both sides of the international border to learn about leadership, ethnoecology, and community based learning while travelling by bicycle, kayak, ferry and foot throughout this region. The program is a unique partnership between GreenLearning Canada, University of Victoria School of Environmental Studies, and Western Washington University Center for Canadian and American Studies and Huxley College of the Environment.
Ryan also is a sessional lecturer for the School of Environmental Studies and the senior academic coordinator and undergraduate advisor, helping to shape the undergraduate experience and help with curricular development for the school.
My education in ES at UVic helped me understand this place that I live much more fully- through engagement with people, communities, and future colleagues. The three streams of the ES School really enriched my understanding of place, people, and how to live consciously and passionately in this unique region. It inspired the development of the Redfish School of Change's focus on the Salish Sea and its international focus.