Tracy Redies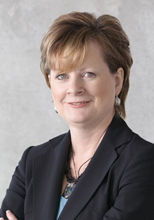 Position
MLA, Surrey-White Rock
Legislative Assembly of BC
Credentials
Economics and Pacific and Asian Studies - BA (1984)
Tracy was elected as MLA in the riding of Surrey-White Rock in 2017. 
Tracy has over 25 years general management experience in financial services in Canada, US as well as managing a global internet development financial services company. Her areas of expertise include strategic development and positioning, mergers and acquisitions, commercial banking; personal financial services, wealth management, e-business and IT. Tracy was formerly Director of BC Hydro, CEO of Coast Capital Savings Credit Union, Canada's second largest credit union, and EVP, Personal Financial and Wealth Management for HSBC Bank Canada. In 2013, Tracy was named CEO of the Year in recognition of her leadership.
Tracy has served on a number of boards, including the University of Victoria board of governors, the Surrey Memorial Hospital Foundation board, and as a corporate director for BC Hydro. As a member of the Premier's Women's Economic Council for BC, Tracy worked to improve economic outcomes for women in leadership positions.
Subsequent education: MBA, International Trade and Finance, University of British Columbia (1989), MSC, London Business School (1989)