Environment & resource stewardship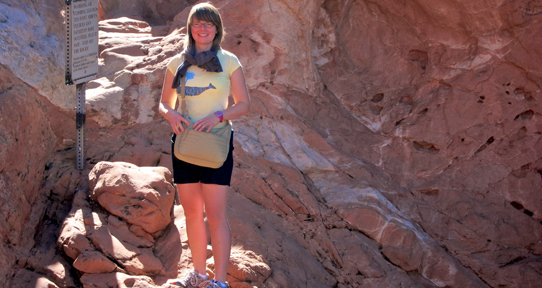 My MSc in Geography gave me an understanding in the area of climate variability and change and hydrologic modelling which was of great interest to Pacific Climate Impacts Consortium.
Arelia Werner
Hydrologist, Pacific Climate Impacts Consortium (PCIC)
What are grads doing?

Dr. Jennifer Veitch - Senior Research Officer, National Research Council of Canada, Director of Division 3 (Interior Environment and Lighting Design); Adjunct Research Professors of Psychology and Neuroscience at Carleton University
Degree: PhD. in Environmental Psychology, University of Victoria, (1992)
"As part of a multidisciplinary government research institute, I study the effects of the physical environment on human behaviour and well-being, particularly the effects of lighting quality and office design on office workers. Our group is also interested in the energy consumption that results from the choices people make in buildings, particularly when they have individual control over lighting or temperature. Our work results in journal articles, book chapters, and reports in non-technical articles and presentations for practitioners and the general public."
Quote: "I completed my PhD in environmental psychology at UVic under the supervision of Dr. Robert Gifford. More than 20 years later, I use daily the knowledge and skills—and most importantly, judgement—that I learned at UVic in my research at the National Research Council of Canada—Construction Portfolio. I also credit non-academic activities for building career skills. Today, a large part of my job consists of seeing my research through the translation process into real buildings, something I understand better because of my experiences at UVic, where I served as Vice-President of the Graduate Students' Society during the construction of the George and Ida Halpern Graduate Centre."
Read more
Hide
---

Diana Cooper - Inventory Officer, Inventory Section in the Archaeology Branch at the Ministry of Forests, Lands and Natural Resource Operations, Government of British Columbia
Degree: Anthropology, B.A. (1991)
"My degree gave me the skills in map reading, writing as well knowledge of the province of British Columbia which has been very useful for my career. In addition, experience doing archaeological measurement, reporting and methodology during my degree helped to familiarize myself with the types of records that accompany archaeological investigations."
Quote: "My degree in Anthropology provided me with a strong theoretical background in the concepts of culture and inequality which I apply in my job every day. My focus on the anthropology of children and youth also provided me tools to think about the diverse ways in which childhood is practiced and negotiated transnationally. My degree also gave me a strong set of methodological tools and ethics for working with diverse groups of youth and has enabled me to become a full-time youth worker with an amazing job at a local non-profit organization."
Read more
Hide
---

Jennifer Davison - Senior Economist, Renewable Energy Development Branch, Ministry of Energy and Mines, B.C. Government
Degree: Economics, B.A.  M.A. (2003)
My current position with the Renewable Energy Development Branch involved developing and implementing standards for renewable energy in and reduced carbon emissions from transportation fuels.
Quote: "After graduating high school and attending the University of Toronto for one year, I decided academic life wasn't for me. Ten years later, I started at UVic in the Economics program and never looked back. I completed both my undergraduate and graduate degrees there, as well as 8 co-op terms (2.5 years) of federal and provincial government employment. Co-op terms gave me the skills and confidence to work with senior government and industry officials on such challenging and high profile public policy issues as offshore oil and gas, low carbon transportation, the Canada-US softwood lumber dispute and industry competitiveness."
Read more
Hide
---

Kevin Creery - Planning Analyst, Resort Municipality of Whistler
Degree: Environmental Studies and Geography B.A. (1999)
As a Planning Analyst, I review process development and rezoning applications and prepare related reports and recommendations. Other responsibilities include conducting research, negotiating changes with owners and architects, liaising with developers and the public, and presenting applications at Council meetings, open houses and public hearings.
Quote: "Geography and Environmental Studies is a great background for land use planning and policy development. I get to use my degree everyday looking at surveys, maps, aerial photos and development studies. My Geography degree is also useful for not getting lost snowboarding and mountain biking in Whistler, B.C."
Read more
Hide
---

Gwendal Castellan - Energy Specialist, Tourism Vancouver
Degree: Geography B.Sc. (1999)
Subsequent Education: BCIT (2012)
Prior to his position with Tourism Vancouver, Gwendal was employed as an Energy Advisor, Thermographer with City Green (Vancouver). Gwendal also produced and filmed a documentary, Long Road North, about his 19-month long bike trip halfway across the world.
Quote: "For me studying Geography at the University of Victoria was the original multi-disciplinary learning environment. I always find myself in positions interpreting the information we receive from different sources about world around us and communicating back in a way that can be digested. Whether it was planning Radarsat satellite image acquisitions or communicating through film how my journey half way around the world by bicycle changed my perspectives of the world, my study of geography was a strong foundation. In my current capacity as an Energy Specialist at Tourism Vancouver, I see geography informing how I strive to be an agent of change. I have the tools to communicate the relationship between the more immediate tangible benefits of energy retrofits for businesses and the long term impact of energy conservation on our environment."
Read more
Hide
---

Elle Bardol - Spatial Data Analyst, British Columbia Ministry of Energy and Mines, Petroleum and Natural Gas Branch
Degree: Geography B.Sc. (2012)  
"As a Spatial Analyst, I lead technical projects to support research planning activities by conceptualizing, designing, developing and executing advanced spatial analysis and presentation that integrates data from diverse sources."
Quote: "At the University of Victoria, I was introduced to important geographic theories that I put into practice every day. I also received excellent support from my professors, teaching assistants, co-op staff and support staff while developing my GIS skills in the lab and in my co-op placement."
Read more
Hide
---

Keith Holmes - Spatial Scientist, Hakai Beach Institute
Degree: Geography B.Sc. (2007), M.Sc. (2013)
Keith works at the Hakai Beach Institute in partnership with the Spatial Pattern Analysis and Research (SPAR) Lab at UVic. He works at the Hakai Research Station on Calvert Island (on the Central Coast of BC) with an enthusiastic crew of scientists and partners from other universities. His work involves a number of projects from Sea Otter monitoring, kelp forest mapping, bathymetry and oceanography models, and forest productivity mapping.
Prior to completing his MSc, Keith worked on a CIDA project mapping and monitoring the health of Iraqi marshes. At the end of the project, Keith created an "Atlas of the Iraqi Marshes." Check out Keith's website.
Quote: "The greatest benefit I had from my degree was the vast community of researchers I now have to collaborate with. The relationships I have made not only provided me with a more intimate and broad understanding of topics, but also gave me the connections I needed to be hired. If you are passionate and have skills then let people know by either volunteering or participate on a project that interests you. Eventually when the right job comes up the connections and experiences you have made will go a long way to ensure you get hired. To get the most desirable jobs it is all about who you know, so get known."
Read more
Hide
---

Mark Boysen - Sustainability Coordinator, Planning Department, District of Saanich
Degree: B.Sc. Geography, (1997)
Subsequent Education: M.A., Environment and Management, Royal Roads University , 2009
"After graduating from UVic, I spent 10 years in environmental management consulting and then went on to do my Master's in Environment and Management. I am currently the Sustainability Coordinator in the Planning Department at the District of Saanich. In this role, I lead multi-party department sustainability programs in our operations in the community with a focus on the changing climate. The role includes policy development and practical implementation of climate mitigation and adaptation planning and actions, green energy solutions and sustainable community development."
Quote: "My Geography degree gave me a range of skills and understanding that eventually led to my current role. This position requires a combination of social and scientific skills the the Geography program helped me to develop early on."
Read more
Hide
---

Arelia Werner - Hydrologist, Pacific Climate Impacts Consortium (PCIC)
Degree: M.Sc. Geography, (2006)
I started my work with PCIC in 2006 as a co-op student while working towards my M.Sc. in Geography at UVic. The understanding I gained in the area of climate variability and change and hydrologic modelling for my M.Sc. project was of great interest to PCIC and my work is focuses on these topics to this day.
---

Bruce McKean - Principal at B.A. McKean and Associates
Degree: Political Science, Geography, History B.A. (1970)
Quote: "After two years with CUSO in Papua New Guinea, 10 years with Foreign Affairs (with postings in India, Thailand and Egypt), 13 years with Natural Resources Canada (leaving as Director of the International Division) and 13 years as Director, Sustainability, for the Nickel Institute, I am now a consultant to the global mining and metals industry on all things related to corporate social responsibility and sustainability.  It has been an unpredictable and rewarding journey, and light years away from my wandering BA in Political Science, History and Geography.  There is a common thread, however: the understanding of the world and the use of language was reinforced and honed during my years at UVic.  It has allowed a career of bridge building between governments and industry, engineers and NGOs.  The world needs people who can interpret and communicate between disciplines, the sort of life skill that perhaps the humanities does not formally teach but which can prepare you for when the need arises.  An undergraduate degree in the social sciences: preparation for life."
---

Lindsay Chase - Urban Planner; Registered Professional Planner (RPP) and Member of Canadian Institute of Planners
Degree: B.A. Geography (1997)
Subsequent Education: Master of City Planning (MCP), University of Manitoba (2000)
Lindsay Chase is the Director of Development Services for the Town of View Royal. She manages and regulates land use through the review of development applications and the creation of long-term planning policy.
Quote: "My degree in urban geography allowed me to understand the relationship between people and the built environment. [The UVic Geography Department] was a supportive environment where I could interact with professors to explore questions about the historic and current influences that shape the communities that we live in."
Read more
Hide
---

Heather Bauer - Climate Action Analyst,Climate Action Secretariat, Ministry of Environment, Province of British Columbia
Degree: Geography BSc. (2009)
Subsequent Education: After graduation, Heather Bauer received additional training in facilitation, web design, online community management, writing and leadership.
"I am involved in outreach and citizen engagement at the Climate Action Secretariat, which is an agency that works across government and with stakeholders (including industry and communities) to reduce carbon emissions and prepare for climate change. Open government and citizen engagement is a fairly new approach to governance, which respects the need for citizens to be active in helping government make good decisions about providing services and ensuring sustainable prosperity."
Quote: "As a geographer, I am trained to see the world as a whole. Climate change requires a holistic and inclusive approach to seeking solutions. It is a very scientific field in many respects, but it is even more about human behaviour. I was trained to think critically about reality, and beyond that, how different people perceive reality. I also have a skill set that includes spatial and temporal analysis, which helps me to understand problems and opportunities in a strategic way. Of course, digital tools have a significant role in nearly every discipline and I find I am highly valued for my advanced knowledge in online communications, networking and facilitation."
Read more
Hide
---