Business, finance & entrepreneurship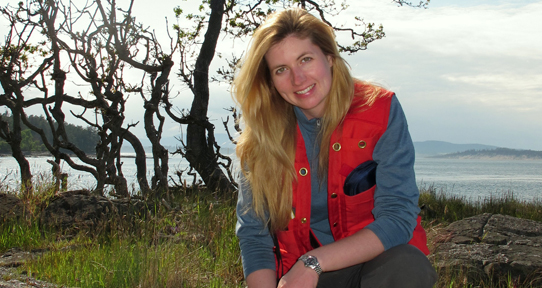 The multi-disciplined education that I received in Geography and Environmental Studies from the University of Victoria has helped me on my career path as it gave me a "big picture" perspective from which I approach my conservation and environmental work.
Shyanne Smith
Consultant, Quercus Consulting
What are grads doing?

Tracy Redies - President and CEO, Coast Capital Savings Credit Union
Degree:  Economics and Pacific and Asian Studies, B.A. (1984)
Subsequent Education: MBA, International Trade and Finance, University of British Columbia (1989), MSC, London Business School (1989)
As President and CEO of one of Canada's largest credit unions, Coast Capital Savings, Tracy Redies manages $12.3 billion in total assets, more than 454,000 members and 56 branches in the Metro Vancouver, Fraser Valley and Vancouver Island regions of BC. Coast Captical has one of the highest customer growth rates int eh industry, with nearly 20,000 new customers in 2011.
---

Ryan Gerhardt - Co-Founder, VP of Business Development, RingPartner
Degree: Economics B.A. (Hons) (2008)
Ryan is a Co-Founder and VP of Business Development of RingPartner, a pay-per-call performance marketing network which delivers high quality leads to top tier advertisers via click to call technology. Previously, Ryan was president of Tap for Tap, Director of Mobile at Neverblue Media, and gained experience with the BC Ministry of Small Business and Revenue.
Quote: "The Victoria tech industry is booming and is now its largest sector driving over $3 billion in revenue. Opportunities are endless and I highly encourage students to reach out to local businesses and professionals for mentorship and career guidance. Take risks and never shy away from a challenge."
Read more
Hide
---

Kelsey Ramsden - President, Belvedere Place Development
Degree: Economics B.A. (2000)
Subsequent Education: M.B.A. Ivey School of Business
Kelsey Ramsden is Canada's Top Female Entrepreneur, ranked #1 by Profit and Chatelaine Magazines 100 list in 2012. She has founded and run businesses as diverse as construction and children's toys. She is President of Belvedere Place Development, a land development and construction firm, and Spark Play, a monthly play subscription service.  She is also a speaker, consultant and coach.
Quote: ""I had a plan for what I needed from my undergraduate degree and I worked my plan. I was a bit of a 'wayward student', but grit and determination got me through my degree and subsequent MBA. So my advice is to focus on what you need for where you want to go."
Read more
Hide
---

Jennifer Randall Nelson – Partner, Bloom Communications, Co-founder, BabyGoRound.
Degree: Political Science B.A. (1990)
Subsequent Education: M.A. Communications, McGill
Jennifer has an established reputation as a communications professional in Vancouver. She has worked with a range of companies, both in-house and as a consultant, creating effective communications solutions for clients including UBC and the Canadian Cancer Society. She worked as a senior communications manager at VanCity before forming Bloom Communications in 2004. She is also committed to giving back to her community and has helped many charity organizations.
Quote: "My political science degree from the University of Victoria helped shape the direction of my future career path. Although I did not pursue a career in politics, I did learn that I enjoy analytical thought and I also enjoyed strategy and working with people. University prepared me to deliver high results, to write effectively, to challenge myself. I now have challenged myself to start a new charity called BabyGoRound. This is a volunteer venture, but many of the principles of politics apply — let everyone have a voice; create a strategy; and seek community input. All of these principles enabled me to successfully launch BabyGoRound."
Read more
Hide
---

William Ng - VP, Finance, Revenue Wire Inc.
Degree: Economics, B.A. (1986)
Subsequent Education: Chartered Accountant (1992)
In addition to financial reporting and management, I am also responsible for risk and payment in the global e-commerce market, including the development of payment strategy, management of foreign exchange, and online fraud prevention. In 2007, I received the Community Service Award from the Institute of Chartered Accountants of BC in recognition of outstanding contributions to the community.
Quote: "Work hard and enjoy what you do. There are no shortcuts to success."
---

Tom Koltai - President, TK Business Development & Solutions Inc.
Degree: Economics B.A. (1981)
Tom has 25 years of corporate experience, including successive leadership positions with Molson Breweries and Clearly Canadian Beverage Corporation, culminating in the position of Chief Operating Officer. He now helps clients in the beverage, hospitality, construction, and technology sectors across Canada and in the U.S. in various aspects of business development, restructurings, operations, contract negotiations and government relations.
Quote: "During my first two years at UVic I definitely vacillated between Law and Business Administration. One semester at UBC in third year quickly convinced me that UVic was more to my liking. An early Economics course had tweaked my interest. Thirty two years later, I can attest that this was the best decision I ever made in my life. I've employed the skills gained throughout my business life. More importantly, my education has enabled me to be an active and informed citizen. Economics theory presumes an informed citizenry; an economics education has a considerable effect towards producing it."
Read more
Hide
---

Donald Drummond - Matthews Fellow on Global Public Policy, Queen's University, formerly Senior vice president and Chief Economist at TD Bank
Degree: Economics, B.A. (1976)
Subsequent Education: M.A, Economics, Queen's University, (1977)
Don Drummond is an Adjunct Professor and  the Matthews Fellow on Global Public Policy at Queen's University. Prior to taking this position, Mr. Drummond was the Senior Vice President and Chief Economist with the TD Bank (2000-2010). Mr. Drummond has also held a series of senior positions with the federal Department of Finance, as Assistant Deputy Minister of Fiscal Policy and Economic Analysis, Assistant Deputy Minister of Tax Policy & Legislation and Associate Deputy Minister.
Quote: "I was fearful when I arrived at Queen's University for a Masters in Economics that having obtained a B.A. from a smaller university I would be at a disadvantage relative to other students from larger institutions. I was pleasantly surprised to discover exactly the opposite. The B.A. program in Economics at UVic provided me with a very solid background. And this proved to be the case throughout my career. The professors at UVic had unique abilities to apply economic concepts to real life issues. It was from their teachings that I developed a lifelong love of public policy."
Read more
Hide
---

Robert Malatest - President, R.A. Malatest & Associates Ltd.
Degree: Economics, M.A. (1987)
As President of one of Canada's largest independent Canadian owned market research and program evaluation firms, Mr. Malatest has overseen the growth of the Company from a single office in 1985 to an organization that employs over 150 staff in 5 offices across Canada. Mr. Malatest is a leading authority in terms of the development and administration of performance measurement systems for public sector programs and services. He has also managed numerous large, complex multi-million dollar evaluations for a variety of public sector clients across Canada.
---

Shyanne Smith - Consultant, Quercus Consulting
Degree: B.Sc. in Geography and Environmental Studies, University of Victoria (2000)
Subsequent Education:  M.Sc. in Geography, University of Guelph, (2007)
"I worked as the Executive Director Garry Oak Ecosystem Recovery Team, an environmental non-profit organization,  for a number of years before I began running a consulting business. I focus on species at risk inventory and recovery planning, but also take on a variety of other projects including vegetation surveys and sampling, ecological restoration, strategic planning, non-profit program development and conservation planning. I am based out of British Columbia but am currently working on projects in the Northwest Territories."
Quote: "The multi-disciplined education that I received in Geography and Environmental Studies from the University of Victoria has helped me on my career path as it gave me a "big picture" perspective from which I approach my conservation and environmental work. I have found this to be invaluable when working on today's complex issues and problems, and helpful in finding innovative and novel solutions."
Read more
Hide
---

Alexa Duwors - Sales Manager, CMP
Degree: Political Science, History (minor) B.A. (2005)
Subsequent Education:  M.A.I.I.C, International and Intercultural Communication, Royal Roads University (2013)
In this role, I manage three marine (boat industry) brands and I am responsible for managing and developing sales for all existing and new US and Caribbean/SA accounts in conjunction with our rep agencies.
Quote: "My degree in Political Science has provided me with a well rounded education based on critical thinking, research, writing and analysis. As a result, at work I am able to problem solve, communicate clearly and visualize both in detail and abstraction. During my Political Science degree I also had the chance to become involved in several departmental extracurricular activities such as the Model UN Club and Model Parliament. These organizations provided valuable lessons in team work, patience and diplomacy. The social sciences also provide excellent inter disciplinary knowledge which I have used both at work and towards my Masters degree."
Read more
Hide
---

Wynona Giannasi - Partner, Howegroup Public Sector Consultants Inc.
Degree: Psychology B.Sc.; Master's of Public Administration
Wynona runs a boutique public sector consulting practice based in Vancouver. She provides project management, stakeholder engagement, communication and evaluation services to a variety of government and non-profit organizations. As Wynona explains it, "I have the opportunity to work with a wide range of dedicated people, from front line health care providers to senior clinical and administrative leaders and internationally recognized physicians and researchers."
Quote: "My undergraduate degree started me on the pathway to thinking critically, balancing decision making through scientific evidence with inherent human nature. After working in the non-profit sector for three years, my M.P.A. allowed me to further develop my interest in quality improvement through a concentration in performance management courses. I call on this knowledge every day to balance qualitative and quantitative reasoning in an ever changing, often political environment."
Read more
Hide
---

Bruce McKean - Principal at B.A. McKean and Associates
Degree: Political Science, Geography, History B.A. (1970)
Quote: "After two years with CUSO in Papua New Guinea, 10 years with Foreign Affairs (with postings in India, Thailand and Egypt), 13 years with Natural Resources Canada (leaving as Director of the International Division) and 13 years as Director, Sustainability, for the Nickel Institute, I am now a consultant to the global mining and metals industry on all things related to corporate social responsibility and sustainability.  It has been an unpredictable and rewarding journey, and light years away from my wandering BA in Political Science, History and Geography.  There is a common thread, however: the understanding of the world and the use of language was reinforced and honed during my years at UVic.  It has allowed a career of bridge building between governments and industry, engineers and NGOs.  The world needs people who can interpret and communicate between disciplines, the sort of life skill that perhaps the humanities does not formally teach but which can prepare you for when the need arises.  An undergraduate degree in the social sciences: preparation for life."
---

Erika Syrotuck - Human Resources Assistant, Seeker Solutions
Degree: Political Science, Commerce (minor), B.A. (2010)
Subsequent Education:  Anthropology, M.A., York University (2001)
---

Katrina Nash - Founder at Getting Stuff Done; Partner at North Star Creative; Marketing Manager at Generation i
Degree: Political Science B.A.
Katrina founded Getting Stuff Done, which supports organizations in growth by working with clients to create strategic PR and marketing plans, social media campaigns and assist with administrative processes. As a partner at North Star Creative, Katrina specialized in creating rich, unique brand experiences to captivate audiences around the globe. As a Marketing Manager at Generation i, Katrina works with small community-based organizations to meet the basic humanitarian needs of vulnerable children in Iraq with the long term goal of aiding children in other post-conflict or war torn regions of the world.
Quote: "The biggest takeaways from my degree in Political Science are definitely strong writing skills, the ability to think critically and build sustainable relationships with clients, associates and vendors."
Read more
Hide
---

Greg Conner - Vice President of Human Resources & Communications of HP Advanced Solutions Inc.
Degree: Psychology B.A. (1987)
Subsequent Education:  Master's of Public Administration, University of Victoria (1993)  
Greg began working with League in 2012 and has more than 20 years of human resources, employee recruitment, union relations and performance planning experience in British Columbia, working as the Executive Director of Human Resources at Camosun College and in varioushuman resource positions with the B.C. Government and for the last 10 years in the private sector.  During his time with Camosun College, Greg led and achieved an equitable and organizationally enhancing settlement with union support staff within a strict zero compensation fiscal mandate, which has been lauded as one of the most progressive ever negotiated in the sector. Greg also teaches as a sessional in both the Business and Public Admin programs at UVic.
Greg was awarded VIATeC's Executive of the Year award in 2012.
Quote: "My Psychology degree provided me with me a deeper understanding of the behaviours and actions of both individuals and groups, which has directly led to my success in my chosen field of Human Resources."
Read more
Hide
---

Andrea Duke, CHRP - People Management Analyst, Shared Services North America, Vale
Degree: Psychology and Biology B.Sc. (2009)
Subsequent Education:  Certified Human Resources Professional
"I am part of a team responsible for various Human Resources transactions and services for approximately 7, 000 employees across Canada. After developing an interest in organizational psychology, I completed two co-op work terms in Human Resources. After graduation I completed an 8-month management trainee internship in Brazil with Vale through the UVic AIESEC chapter. I then moved to Toronto with Vale and worked in recruitment and have recently had the opportunity to work in another area of H.R."
---

Dr. Erich Mohr - Chairman and CEO of MedGenesis Therpeutix Inc.
Degree: M.Sc. in Neuroscience, Ph.D. in Clinical Neuropsychology , University of Victoria
Erich Mohr, Ph.D., R.Psych, is the Chairman and CEO of MedGenesis Therapeutix Inc. which he founded in 2005. Dr. Mohr, a Professor of Medicine and Psychology at the University of Ottawa until 1997 has over 21 years of experience in experimental therapeutics of CNS disorders. He is credited with over 150 publications, books, book chapters and abstracts and has edited the Handbook of Clinical Trials: The neurobehavioral approach. Dr. Mohr has chaired and/or served on several regulatory advisory panels for the approval of new products for the treatment of neurodegenerative disease and is the former Chairman and Chief Executive Officer of CroMedica Global Inc. (merged with PRA International in 2002) and the co-founder of several biotechnology companies. His most recent position was with PRA International, where he served as Chief Scientific Officer. PRA is one of the top 5 contract research organizations in the world and is listed on NASDAQ. Over the course of his career, Dr. Mohr has overseen and/or participated in dozens of clinical development programs resulting in a number of approved drugs.
---

Shel Brodsgaard - Sports Performance Analyst for Toronto FC in the Major League of Soccer, also the Owner/ Operator of Denman Island Soccer Camps, and Island Keeper Clinics
Degree: Psychology B.A. (1998)
As a Sports Performance Analyst I am responsible for monitoring player development as well as international scouting of players and opponents. This requires me to use analysis software specific to soccer and create reports for the exercise psychologist to track and monitor players output during all matches. I also create reports for the coaching staff based on trends and statistics researched in the match analysis.
Quote: "My education at UVic has been a blessing, as in my field I have dealt with diverse groups of people. It is with this understanding and experience from my formal education at the University of Victoria that I was better suited to recognize areas of need and come up with favourable solutions to assist people, families, children and communities. Through the game of soccer I have been able to experience the world (traveling far and wide) and transfer these experiences back to youth thank to the very special education and training I received during my time at UVic purusing my degree in Social Sciences."
Read more
Hide
---

Darin Gunesekera - Social Entrepreneur
Degree: Economics, B.A. (1971)
Darin works with various social entrepreneur organizations, including the Wiros Lokh Institute Trust (Sri Lanka) and Capital Markets for the Marginalized Inc. (which he founded). He invented the Social Real Estate Investment Trust (S-REIT) method that bring partners together and, using market-based social strategies, helps people move into new, modern homes and apartments and receive ownership titles in their homes, as well as shared title in common areas like shops and preschools. Darin's work in the field of affordable housing solutions is internationally recognized. Darin is an Ashoka fellow and was selected for the UN-HABITAT Good Practices Award in 2009.
Quote: "After finishing my degree in Economics, I returned to Sri Lanka and began setting up a stock market. I had never worked in the field but I was able to apply first principles and values that I had learned at the University of Victoria. The stock exchange was meant to make a social contribution—geared towards the people of Sri Lanka. I then set up a system in Kenya and was the first Secretary of the African Association of Stock Exchanges.
Thereafter, I started a second career in Sri Lanka. It was a novel financial system to enable new and decent housing to hold the poorest inner-city slum dwellers. This launched me into a career as a Social Entrepreneur. I think that one really has to have a University education in Sociology and Economics courses to really appreciate what 'Social Entrepreneur' means in real life. I believe it is vital for the future."
Read more
Hide
---

Steven Myhill-Jones - CEO of Latitude Geographics
Degree: Geography B.Sc. (1999)
Steven's Bachelor's degree in Geography and associated co-op experience served as the foundation for starting Latitude Geographics while still an undergraduate student. The company has evolved into a web mapping software company, employs ninety people, and helps customers around the globe use geographic information to make better decisions about the world around us.
Quote: "While your education should definitely be a time of personal discovery and learning, be sure to also reflect on how you can go on to leverage your choices to add value and make a difference in the world."
Read more
Hide
---