Education & learning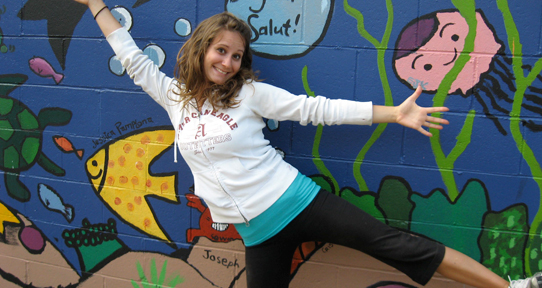 My degree in Anthropology provided me with a strong theoretical background in the concepts of culture and inequality which I apply in my job every day.
Jenny Shaw
Education and Employment Counsellor, Victoria Immigrant and Refugee Centre society
What are grads doing?

Jenny Shaw - Education and Employment Counsellor, Victoria Immigrant and Refugee Centre society
Degree: Anthropology, B.A. (2007), M.A. (2010)
Quote: "My degree in Anthropology provided me with a strong theoretical background in the concepts of culture and inequality which I apply in my job every day. My focus on the anthropology of children and youth also provided me tools to think about the diverse ways in which childhood is practiced and negotiated transnationally. My degree also gave me a strong set of methodological tools and ethics for working with diverse groups of youth and has enabled me to become a full-time youth worker with an amazing job at a local non-profit organization."
---

Tim Loblaw - Coordinator, Teaching & Learning Enhancement, Bow Valley College
Degree: Anthropology & Linguistics B.A. (1986)
Subsequent Education: Ed.D. Lifelong Education, University of Nottingham; M.Ed. University of Calgary, Diploma, CTSR, Southern Alberta Institute of Technology.
Immediately after graduating Tim worked in the Ethnology Department at Glenbow Museum in Calgary. He then pursued a career in broadcast media advertising before returning to post-secondary education as an instructor and subsequently as a coordinator of an institution's teaching and learning enhancement programs.
Quote: "I found I consistently applied my anthropological lens to my work in advertising. Although my post-graduate research degree and the field of lifelong education may seem removed from anthropology, I am still engaging in social research; the connection is there."
Read moreHide
---

Donald Drummond - Matthews Fellow on Global Public Policy, Queen's University, formerly Senior vice q President and Chief Economist at TD Bank
Degree: Economics, B.A. (1976)
Subsequent Education: M.A, Economics, Queen's University, (1977)
Don Drummond is an Adjunct Professor and  the Matthews Fellow on Global Public Policy at Queen's University. Prior to taking this position, Mr. Drummond was the Senior Vice President and Chief Economist with the TD Bank (2000-2010). Mr. Drummond has also held a series of senior positions with the federal Department of Finance, as Assistant Deputy Minister of Fiscal Policy and Economic Analysis, Assistant Deputy Minister of Tax Policy & Legislation and Associate Deputy Minister.
Quote: "I was fearful when I arrived at Queen's University for a Masters in Economics that having obtained a B.A. from a smaller university I would be at a disadvantage relative to other students from larger institutions. I was pleasantly surprised to discover exactly the opposite. The B.A. program in Economics at UVic provided me with a very solid background. And this proved to be the case throughout my career. The professors at UVic had unique abilities to apply economic concepts to real life issues. It was from their teachings that I developed a lifelong love of public policy."
Read moreHide
---

Mark Brown - Elementary School Teacher, Grade 6
Degree: B.Sc. Biology and Environmental Studies
Subsequent Education: B.Ed. University of Victoria
After graduating with a B.Sc. in Environmental Studies and Biology Mark worked as an "At-Sea Observer" with Archipelago Marine Resources and as a Sea Kayaking Guide. He subsequently returned to UVic to get a B.Ed. in Education. His experience in Social Sciences has contributed to his teaching. As Mark explained it, "I remain curious about the world and I honour the curiosity of Grade 6 students who come into my classroom. Every year I get better at asking better questions with the kids, and then enjoying the learning yielded...which was the title of my Sociology 100 textbook, 
Asking Better Questions
."
---

Dr. Brian Stevenson - President and Vice-Chaencellor, Full Professor, Faculty of Business Administration (with tenure), Lakehead University, Thunder Bay Ontario
Degree: B.A. Political Science (Honours) and Philosophy (1984); M.A. Political Science (1986)
Subsequent Education: Ph.D., Department of Political Studies, Queen's University (1992)
Dr. Stevenson has had an extensive academic and professional career. Prior to taking his position at Lakehead university in 2010, Dr. Stevenson held positions at the University of Winnipeg and the University of Edmonton and the InstitutoTecnológico Autónomo de México (ITAM) Mexico City, Mexico. He has also worked as a Public Policy Scholar at the Woodrow Wilson International Centre for Scholars, Washington D.C. (2006), where he conducted research on Canada-US relations. Dr. Stevenson has also worked as a Senior Policy Advisor to the Minister in the Officer of the Minister of International Trade in the Department of Foreign Affairs and International Trade, Ottawa O.N.
Quote: "The undergraduate and Master's education that I received at UVic provided me with the research and critical skills necessary to do my Ph.D. at Queen's as well as the practical skills to work at Foreign affairs and the Organization of American States in Washington. As a University President now, I appreciate even more the unique and personalized experience that UVic provided me. I could not have received a better education anywhere else."
Read moreHide
---

Dr. Erich Mohr - Chairman and CEO of MedGenesis Therpeutix Inc.
Degree:  M.Sc. in Neuroscience, Ph.D. in Clinical Neuropsychology , University of Victoria
"Erich Mohr, Ph.D., R.Psych, is the Chairman and CEO of MedGenesis Therapeutix Inc. which he founded in 2005. Dr. Mohr, a Professor of Medicine and Psychology at the University of Ottawa until 1997 has over 21 years of experience in experimental therapeutics of CNS disorders. He is credited with over 150 publications, books, book chapters and abstracts and has edited the Handbook of Clinical Trials: The neurobehavioral approach. Dr. Mohr has chaired and/or served on several regulatory advisory panels for the approval of new products for the treatment of neurodegenerative disease and is the former Chairman and Chief Executive Officer of CroMedica Global Inc. (merged with PRA International in 2002) and the co-founder of several biotechnology companies. His most recent position was with PRA International, where he served as Chief Scientific Officer. PRA is one of the top 5 contract research organizations in the world and is listed on NASDAQ. Over the course of his career, Dr. Mohr has overseen and/or participated in dozens of clinical development programs resulting in a number of approved drugs."
---

Dr. Sut Jhally - Founder and Executive Director, The Media Education Foundation, North Hampton Massachusetts; Professor of Communication, University of Massachusetts
Degree: Sociology M.A. (1980)
Subsequent Education:  Ph.D. Communication, Simon Fraser University, Canada (1984)
Sut Jhally is one of the world's leading scholars looking at the role of advertising and popular culture on social control and identity construction. Sut Jhally recieved a B.A. (Hons.) in History/ Sociology and an M.A. in Sociology from the University of York (England) came to the University of Victoria to complete a second M.A. in Sociology  (180) before going on to complete his Ph.D. in Communication as Simon Fraser University in 1984.
---

Ocean Fan Lu - Instructor, Economics, Camosun College 
Degree: Economics, B.Sc. (2003), M.A. (2006)
I arrived in Canada in 1999 and began my studies at the college level. In 2001, I transferred my college credits to University of Victoria and completed a BSc Economics and then an MA in Economics. While thriving in my academic studies, I took the advantages of UVic's co-op programs, and had two co-op jobs with the Government of British Columbia. From 2005-2010, I worked as an Economics Analyst, then Population Analyst, and then as Senior Statistic Analyst at BC Statistics. However, I always felt that teaching was my real calling, and I began teaching at Camosun College in 2010 and am now a permanent member of the Economics faculty.
---