Art, culture, entertainment & sport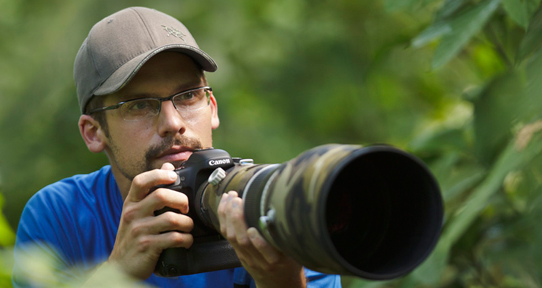 Pursuing my degree in Environmental Studies allowed me to stay connected to the natural world and to continue to develop my writing skills. There are many paths that my degree could have led me down. I chose to follow my heart and do something that I am very passionate about.
Glen Bartley
Environmental Studies M.A., Wildlife photographer and author
What are grads doing?

Sam Dunn - Film Director, Musician, Anthropologist
Degree: Anthropology, B.A. (1998)
Subsequent Education:  Anthropology, M.A., York University (2001)
Sam Dunn is the world's foremost heavy metal anthropologist. After completing his B.A. in Anthropology  at the University of Victoria, Sam went on to pursue a master's degree in Anthropology at York University.
Thereafter, he directed his first documentary film, Metal: A Headbanger's Journey (2005), which premiered at the Toronto International Film Fesitval and won a Gemini Award. The film launched Banger Films Inc., a film and TV production company that specialized in feature documentaries and life concerts, including Juno dominated Iron Maiden: Flight 666 (2009) and Grammy-nominated and Juno-winning Rush: Beyond the Lighted State (2010).
---

Jenny Huston - Radio DJ
Degree: Psychology B.A.
Subsequent Education: Higher Diploma in Arts Administration, University College Dublin
Jenny is a radio presenter with more than seventeen years experience in Ireland and internationally. She started her broadcasting career at her university radio station, and has since worked on several radio and TV projects, most recently as the host of the Jenny Huston Show on RTÉ 2fm in Ireland. Jenny has developed a reputation for her in-depth knowledge of rock history and dedication to exposing emerging Irish and international talent. She has interviewed hundreds of artists, broadcasted from major music events, authored a book on Irish bands and delivers training for professionals on talk radio contributions through her business 'Broadly Speaking'.
Quote: "It has been my experience that having an academic degree is far more advantageous for students wishing to enter a career in Broadcasting than a broadcasting degree or diploma alone. Radio DJs that know only music are often referred to as "jocks" in the industry where as a DJ that is capable of talk radio as well as music radio is referred to (in a more flattering light) as a presenter. In order to confidently present or contribute to talk radio radio programmes one needs first hand experience of a subject from which to draw examples. Having a depth of knowledge in another field makes for a more interesting and well rounded presenter, researcher or producer. When listening to a current affairs programmes the most common repeat guests are Economists, Psychologists and Political Scientists."
Read more
Hide
---

Dr. Sut Jhally - Founder and Executive Director, The Media Education Foundation & Professor of Communication, University of Massachusetts
Degree: Sociology M.A. (1980)
Subsequent Education: Ph.D. Communication, Simon Fraser University, Canada (1984) 
Sut Jhally is one of the world's leading scholars looking at the role of advertising and popular culture on social control and identity construction. Sut Jhally recieved a B.A. (Hons.) in History/ Sociology and an M.A. in Sociology from the University of York (England) came to the University of Victoria to complete a second M.A. in Sociology  (1980) before going on to complete his Ph.D. in Communication as Simon Fraser University in 1984.
---

Rachel Lewis - Chief Operating Officer, Vancouver Whitecaps FC
Degree: Sociology B.A.(Hons.)  (1996)
Subsequent Education: M.B.A, University of British Columbia
Rachel Lewis has been in the field of sport and event management for nearly a decade, joining Vancouver Whitecaps FC in 2003 as director of event management and stadium development. In 2007, she assumed the role of chief operating officer. Prior to joining Whitecaps FC, Lewis spent three years with Vancouver's PGA Tour Stop, the Air Canada Championship. As tournament director, she was responsible for overseeing all day-to-day operations. Lewis also represented BMO Financial Group as project manager for their sponsorship of the BMO Financial Group Canadian Women's Open.
---

Wayne Reeves - Chief Curator, Museum Services, City of Toronto
Degree:  Geography B.A. (1984)
Wayne is responsible for managing over 150, 000 artefacts and 1.1 million archaeological specimens. He oversees the development of exhibitions at 10 of Toronto's historic site museums.
Quote: "My degree made me more curious about the world."
---

Shel Broadsgaard - Sports Performance Analyst for Toronto FC in the Major League of Soccer & Owner/ Operator of Denman Island Soccer Camps and Island Keeper Clinics.
Degree:  Psychology B.A. (1998)
As a Sports Performance Analyst, Shel is responsible for monitoring player development as well as international scouting of players and opponents. He uses analysis software specific to soccer and create reports for the exercise psychologist to track and monitor players output during all matches. He also create reports for the coaching staff based on trends and statistics researched in the match analysis.
Quote: "My education at UVic has been a blessing, as in my field I have dealt with diverse groups of people. It is with this understanding and experience from my formal education at the University of Victoria that I was better suited to recognize areas of need and come up with favourable solutions to assist people, families, children and communities. Through the game of soccer I have been able to experience the world (traveling far and wide) and transfer these experiences back to youth thank to the very special education and training I received during my time at UVic purusing my degree in Social Sciences."
Read more
Hide