Communicating in an emergency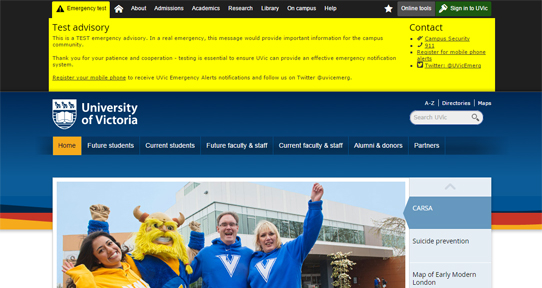 Where to get more information
Check the UVic website at uvic.ca for updates and information. During an emergency you will see prominent yellow advisories with information, instructions and a link to the emergency information page.
The UVic community radio station, CFUV, will also provide information in a major event. Tune in to 101.9 FM.
If the emergency is isolated to your building, follow the verbal directions of your Building Emergency Coordinator or Floor Emergency Coordinator, who will be wearing safety vests.
UVic Emergency Alerts notification system
In a major event that threatens life safety, or affects many people or buildings, the university will use the UVic Emergency Alerts notification system.
Register for an emergency text message at uvic.ca/alerts.
Follow us on Twitter: @uvic. Please retweet the message to help spread the word.
You will automatically receive Alerts messages via your UVic voicemail and email accounts. The email message will include the subject line: UVic Emergency Alerts.
Digital signs on campus will display a message.
The Alerts system may not be used if life safety is not a factor, and an event only affects a small number of buildings or people.
Who to call
The UVic emergency information line will provide a recorded message in a large or prolonged event. Call 250-721-8620. This line is available toll-free from within North America at 1-888-721-8620. Depending on the emergency, the emergency information line may be directed to knowledgeable staff in an Emergency Call Centre.
Please remember that in an emergency, security officers will be handling MANY calls and will be prioritizing them according to urgency.
Reporting an emergency
If you see something, say something—call the Campus Security emergency line at 250-721-7599 to report an emergency, unusual behaviour or personal safety concern.
Contacting your family
After an earthquake or other major disaster, local phone service may be limited, so you should arrange with someone outside your area to be your family contact. Choose someone away from BC or US coastal areas.