Searching sewage for pandemic signals
Alf Wilson, Science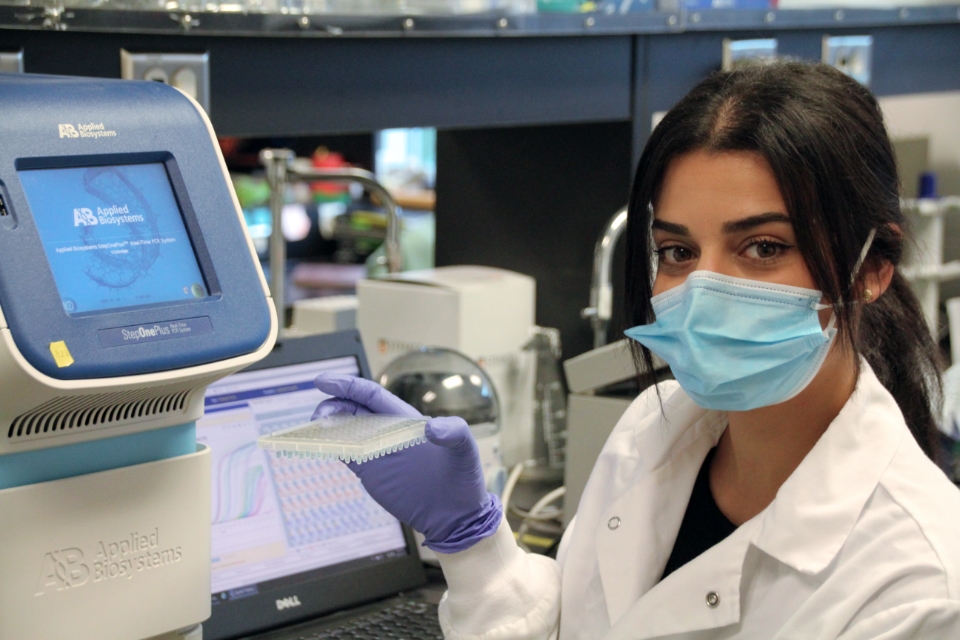 A team of UVic engineers and scientists has developed a reliable way to test if Covid-19 is present in smaller communities: by sampling their sewage. The extensive collaboration was jointly initiated by UVic professors Heather Buckley (Civil Engineering, Chemistry) and Stephanie Willerth (Mechanical Engineering, Division of Medical Sciences) with Pani Energy founder and CEO Devesh Bharadwaj (UVic Mechanical Engineering alumnus).
Prior to their work, wastewater surveillance of Covid-19 had only been done using sewage-treatment plants that service millions of people. Those early publications were slim on experimental details and didn't disclose any estimates of the accuracy of their results, known as 'experimental uncertainty.' None had reported attempting this for smaller communities.
So, what happens when we have one-hundred thousand, or even just ten thousand people? We knew we could do it right, but there are a lot of operational parameters.

— UVic chemistry professor emeritus Tom Fyles, Pani Energy
Variations between sewage-plant treatment methods presented a major complication. Thanks to team partners in Victoria Capital Regional District (CRD) and Regional District of Nanaimo (RDN), samples were collected from influent (incoming wastewater), not concentrated sludge. While this avoided treatment-type differences, influent sampling methods at each facility differed. It also meant that samples were exceptionally dilute. Further complicating things some community members use septic fields, so they are not contributing to the sewer system. This could skew comparisons with community case-counts (from PCR testing).
Lead author, Nadia Masri (Willerth Lab Manager, UVic), tested the samples provided by each of the Vancouver Island municipalities. Step one: concentrate any viral RNA in the dilute influent samples to detectable levels. But Masri's team had to develop their own procedures.
There's no 'gold standard' – or any standard protocol – for wastewater sampling and viral RNA concentration. We chose and modified our method to deal with the extremely dilute samples. But we also had to consider rainfall, collection methods and times. Wastewater is affected by everything!

— Nadia Masri, Willerth Lab Manager, UVic
Ultimately, they were able to detect covid-19 in these smaller communities. Professor Kiffer Card (Health Sciences, Simon Fraser University) ran the epidemiological analysis. Masri and Fyles explained that detected concentration trends were observed but could not be used predictively to advise timing of increased mitigation measures.
"Heading into the project, we were asking if we can use wastewater as an epidemiological tool to track the number of community cases and inform predictions," recalled Fyles. "Coming out we realized that we have a 'yes/no' test to detect the presence of covid – like a community-wide antigen test. Once cases exceed around 16 out of every 100,000 people, we can correlate it to covid-19 in the community, but only with about 75% accuracy."
The research was a complex, interdisciplinary collaboration, including multiple faculties and schools (UVic, Simon Fraser University, and the University of British Columbia), two separate municipal districts (Nanaimo and Victoria), four waste water treatment plants, and a private company (Pani Energy).
But the collaboration didn't end there. Researchers in wastewater-based epidemiology and surveillance were sharing research findings and advising each other using an online messaging platform – effectively in real time
Everyone – around the world – was sharing their breakthroughs on Slack. It made the research more efficient. 

— Nadia Masri, Willerth Lab Manager, UVic
Information sharing like this is highly unusual and speaks to the sense of urgency realized throughout engineering and scientific communities. The shared goal: to rapidly develop tools that inform policy makers on when to increase mitigations to decrease the spread of this dangerous pathogen.
Check out the paper here:
www.sciencedirect.com/science/article/pii/S2666765722001454