Going back doesn't mean going backwards: return to UVic as a new career pivot
Alf Wilson, Faculty of Science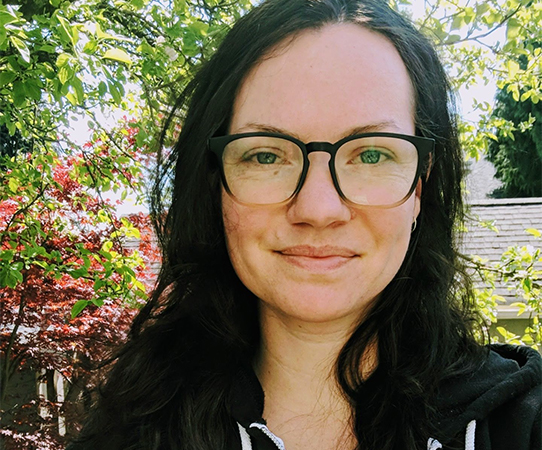 A conversation with Victoria McDonald
Victoria McDonald, with supervisor Colin Goldblatt and collaborator Kelly McCusker, recently published her undergraduate honours project in the prestigious journal Nature Geoscience. It is a rare distinction to be published in a journal of this calibre and to do so as an undergraduate is even more impressive.
McDonald's path has not been a straight line. While it may have seemed like there were some backward steps, she acquired key skills and knowledge along the way. McDonald left her undergrad in third year due to low grades. She left UVic to work in geographic information system (GIS) software development. McDonald was soon configuring servers and software that allowed her international clients to answer large-scale questions. After a few years she realized that developing and supporting GIS systems was adjacent to her passions. She wanted to be the one asking—and answering— the big questions.
"I was less and less happy with the direction I was heading. I didn't want to be the one developing the tools; I wanted to be the one using them." explains McDonald, "I decided it was time for a change. So, I asked myself: do I pivot within GIS or step back and look more widely? I realized, if I'm going to start over, then I have the opportunity to decide what I really want to do."
Having acquired a valuable skillset, McDonald's pivot surprised many. But she decided it was better to chase what she really wanted: to ask profound questions about the Earth and figure out the science needed to find answers.
McDonald quit her job and returned to UVic to complete an undergraduate degree. She decided not to continue with a math major, and changed programs.
"I thought about geography, but that felt too close to the GIS work I'd just left," explains McDonald. "Earth and Ocean Sciences seemed like it could set me up for the work I wanted to do – hard quantitative science – rather than leaning on my past work and education."
Colin Goldblatt was then the School of Earth and Ocean Sciences (SEOS) undergraduate advisor. He devised a plan with McDonald: incorporate her math as a minor while pursuing a SEOS major. And Goldblatt had a research project that needed McDonald's extensive programming skills.
Goldblatt offered McDonald an NSERC Undergraduate Student Research Award (USRA) to apply current climate models over most of the Earth's history. 
"Colin just showed me where to start and let me go. I had the autonomy to figure out how to deploy climate models on a super computer. It was a little overwhelming at first, but it was great – I had to dive into the error logs and was troubleshooting servers again. But I got the climate models working!" 
McDonald's experience configuring GIS servers was key.
"I felt like I was really bringing a lot to the table. It was so collaborative and I felt really supported," says McDonald. "I felt like my industry acquired skillset meshed nicely with Colin's knowledge and we worked so well together. " 
McDonald completed her undergrad with an impressive honours project that was published in Nature: Geoscience. 
Since graduating from UVic, McDonald has moved on to graduate studies in Atmospheric Sciences at the University of Washington, considered the most prestigious climate science program in North America. 
McDonald reflects on earlier difficult times. 
"It has felt at times like I have been failing – I didn't initially succeed at UVic, then later I quit my job. Instead of seeing those times as failures, I see them as acquiring new skills. It wasn't a waste of time – those skills are useful moving forward."  
McDonald remains grateful to Golblatt and collaborator Kelly McCusker (who did a postdoc at UVic) for their support and the opportunity to prove herself. 
To those struggling on their path, McDonald offers encouragement. 
Don't be afraid to try new things. Don't be afraid to make a change if something in your life isn't working for you.
—Victoria McDonald, UVic alum
"I didn't know anything about GIS before I started working in that industry – I came to it from taking my first programming courses. Climate modelling wasn't even on my radar when I decided to return to UVic. And now? I'm working with NASA, flying airplanes through snowstorms! Which isn't what I thought I would study when I was applying for graduate school." 
McDonald continues, "You don't know what opportunities are going to present themselves – what doors are going to open for you until they do. So just start somewhere – don't feel like you have to know what the end goal is before you start. Try something and see what path it takes you down." 
When asked where she sees herself in the future she responds with a smile. 
"I am just in my second year of five and have no idea yet where this path will take me. The kind of work I end up doing might not even exist as a job yet! I don't have specific goals. So, when an opportunity presents itself I'm not going to be afraid to take it because it doesn't align with my goals." 
But McDonald definitely has a clear idea of the kind of work she wants to do.  
"I want to spend time thinking about big questions and advance what we know about the Earth. I don't want to silo myself into having limited options because there are a lot of different and valuable ways to approach those kinds of questions and that kind of work."