UVic Welcomes 2017 Schulich Leader Winner Saba Askari
 By Robyn Quinn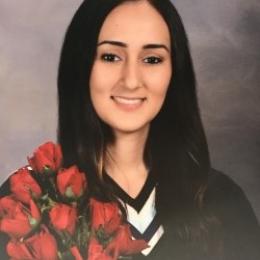 For Saba Askari, receiving the prestigious Schulich Leader scholarship was a message from the universe. It meant that her determination and hard work, along with her parents many sacrifices were paying off. "My parents immigrated from Iran to give us opportunity," says Saba. "We weren't always financially stable. It looked like I'd have to live at home, go to a school nearby and work almost full time. Now, I'll get the full experience of living in residence and focusing on my studies at UVic!"
The Schulich Leaders Scholarship program was launched in 2012 by entrepreneur Seymour Schulich and is awarded annually to 50 undergraduate students pursuing undergraduate degrees in STEM across top Canadian universities.
Although high school was sometimes difficult for Saba she didn't let that dampen her spirit. In addition to receiving the Outstanding Scholar award, Exemplary Student award, Outstanding Citizen award, and plaques commemorating her achievement in Math, English, and Science,  she served as President of her school's Diversity Club, on student council, and was an active member of numerous school clubs, including a writing club, where she is writing a contemporary science-fiction novel.
Outside of school, Saba launched "Water for Our World," a small foundation that creates and sells handmade silk‑screened hats with proceeds going towards water sanitation services in Ashanti, Ghana. 
Saba discovered the good news about the Schulich Scholarship while in chemistry class at Seycove Secondary School in North Vancouver. She felt compelled to check her UVic profile online. As she scrolled down and saw the message, it was overwhelming. "I thought, oh my gosh, this is real!" She forced herself to wait until class ended to call UVic to double check, who confirmed she was indeed a 2017 Schulich Leader.
For Saba and her parents, this scholarship means that their daughter will not only go to the university of her choice but that she will be financially secure- a gift that means that this bright, determined student brimming with potential will not have to worry about money and will have the freedom to concentrate on excelling in her academics and extracurricular activities. " UVic's smaller campus means that I can make close friendships in my program," says Saba.  "I can't wait to get started."