UVic Science welcomes Acting Dean Kathryn Gillis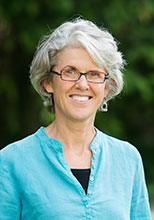 The Faculty of Science is pleased to welcome Professor Kathryn Gillis as Acting Dean. Dr. Gillis assumes the role while Dean Rob Lipson is on administrative leave from July 1, 2015 to June 30, 2016.
Dr. Gillis is a Professor in the School of Earth and Ocean Sciences and has served as Associate Dean in the Faculty of Science since 2011. She joined the University in 1994 as an Assistant Professor and has served as Associate Director of CEOR (2001-2004) and Director of SEOS (2004-2011).
"As a long-term member of the Faculty of Science, I have enjoyed watching the Faculty's reputation for leading-edge research and outstanding academics grow and flourish," says Gillis. "I look forward to working closely with our academic units to continue to build on these successes."
Dr. Gillis is an earth scientist whose research focuses on the marine environment and, in particular, the geochemical cycles that result from interactions between the oceans and the solid earth and bear on broad issues such as the long-term carbon cycle. She has served on national and international committees as a representative of her discipline or Canada, including the Integrated Ocean Drilling Program and National Science Foundation Ridge Steering Committee. Nationally, she has served as the Canadian Scientific Leader for the Integrated Ocean Drilling Program.