Student Interview: Christopher Lee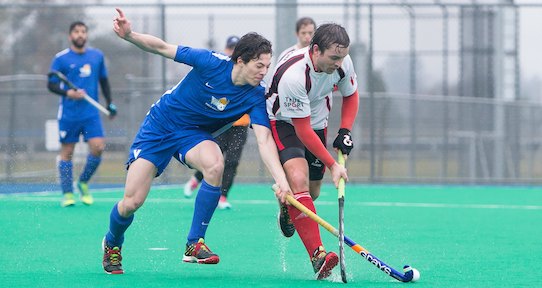 As an undergraduate student athlete in Biology, Christopher Lee is almost always on the go. If he's not training or at a game, he's often studying on the 3rd floor of ECS.
And that's not all. Lee also volunteers at the BC Cancer Agency ambulatory care unit organizing patients to see their oncologist, he's part of the Vikes Varsity council, and he's completing an honours project.
So it's particularly impressive that Lee was recently awarded the Provost Award – the award given to the student athlete with the highest grade-point average. He maintained a perfect 9.0 GPA in his Biology program, while also excelling as a field hockey forward.
How does he manage it?
"I don't sleep much," he admits. "But also, it helps that I really enjoy everything I do. It all takes time, but I'm looking forward to it."
One favourite class is Chemistry 213 Practical Spectroscopy: "The analyses we did just felt like a big puzzle." Another is the Molecular Basis of Cancer: "Professors Julian Lum and Patrick Walter helped solidify my desire to get into cancer research."
To that end, Lee is completing his Honours project with Stephanie Willerth (Mechanical Engineering and Medical Sciences) and Francis Choy (Biology) looking for ways to reprogram glioblastoma cells into functional neurons as a potential treatment for this particularly aggressive form of cancer.
Being successful in multiple arenas has meant that Lee has become adept at managing his time. "I can't skip practice, even if I have a test the next day. You have to plan for that."
For those student athletes who want to follow in his footsteps, his advice is "Find a program that you are interested in. You aren't going to have a lot of downtime, so you have to enjoy what you are doing."