School of Earth & Ocean Leaders named Honorary Research Professors
Two exceptional research leaders in Earth and Ocean Sciences were recently appointed as Honorary Research Professors in the Faculty of Science.
Kelin Wang and Nathan Gillett are the first researchers to be awarded this distinction in the Faculty. Dean of Science Rob Lipson established this designation to recognize truly exceptional adjunct professors involved with the research taking place at UVic and to strengthen their connection to the Faculty and the University. Honorary Research Professor appointments are recommended by the ARPT committee of the nominating unit and decided upon by the Dean of Science. Appointments last a term of 5 years.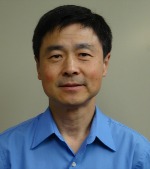 Dr. Kelin Wang is a Senior Research Scientist with the Geological Survey of Canada (Pacific Geoscience Centre). He is a world leader in the study of the geodynamics of subduction zones and related earthquake and tsunami hazards, plus a range of other topics linked to the thermal, mechanical, and hydrogeological processes of Earth's lithosphere. He has published about 200 papers, gathering around 10,000 citations. He is Editor-in-Chief for the journal Tectonophysics, and has served on Editorial Boards for the Journal of Geophysical Research, Geology, Journal of Geodynamics, Science in China (Earth Science), and Earthquake Science. He was formerly the Secretary of the Canadian Geophysical Union (CGU) and Chair of the International Professionals for the Advancement of Chinese Earth Sciences. In 2015 he was awarded the J. Tuzo Wilson Medal, the CGU's highest career honour. Last year he also presented the prestigious Birch Lecture at the American Geophysical Union (AGU) conference. Earlier this year he was elected an AGU Fellow, an honour reserved for only 0.1% of the AGU's 62,000 members each year.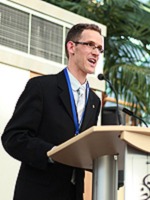 Dr. Nathan Gillett is the Manager of and a Research Scientist with the Canadian Centre for Climate Modelling and Analysis (CCCma), the Environment and Climate Change Canada research lab responsible for developing and applying Canada's earth system model to analyze past climate change and project future climate change. His research focuses on the detection and attribution of anthropogenic climate changes, the climatic influences of ozone depletion, and the global carbon cycle (particularly the long-term fate of anthropogenic carbon emissions).  He has published more than 90 papers with over 10,000 citations. Dr. Gillett has been a Lead Author for chapters of both the Fourth and Fifth Assessment Reports of the Intergovernmental Panel on Climate Change and the 2010 and 2013/14 WMO/UNEP Scientific Assessments of Ozone Depletion.  He is a recipient of the Canadian Meteorological and Oceanographic Society's President's Prize for Research, the National Oceanographic and Atmospheric Association's Oceanic and Atmospheric Outstanding Scientific Paper Award, and the UVic Craigdarroch Research Award. He has served as an editor of Journal of Climate and organizer of many international workshops and meetings.