Chemistry PhD candidate wins 3 Minute Thesis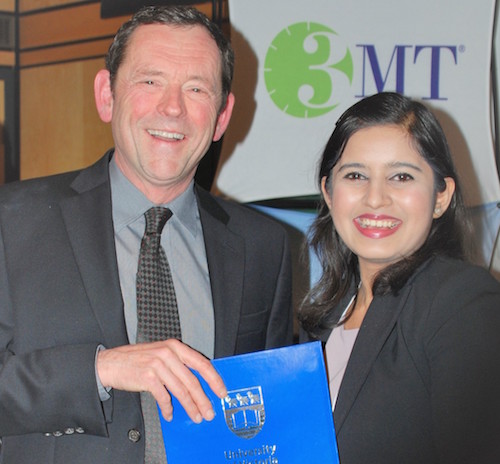 Chemistry PhD candidate Armita Dash took first prize at UVic's 3-Minute Thesis (3MT) finals held earlier this month.
3MT is a research communication competition that challenges graduate students to present the complexities of their research in an engaging and accessible way. The competition happens before an audience, and competitors are allowed to use only one static slide. This year the finals were held as part of this year's Ideafest festival.
Supervised by Frank van Veggel, Dash's thesis, titled "Concussion: Targeting the Evil Protein," details the hunt for an early diagnostic approach for concussions. The approach uses a nanoparticle-based marker that she designed. The marker targets a protein called tau that is abnormally deposited in brains of patients suffering from concussion or mild traumatic brain injury.
"I feel confident that I can explain my research concisely in a way that a non-academic person can comprehend it effectively," says Dash. She advises people considering taking part in the competition to go for it. "You get to know the surprising breadth and scope of research your competitors are doing."
Dash will be competing in Canada's Western Regional 3MT Finale held at the University of Saskatchewan this April.