Biology Co-op in Tanzania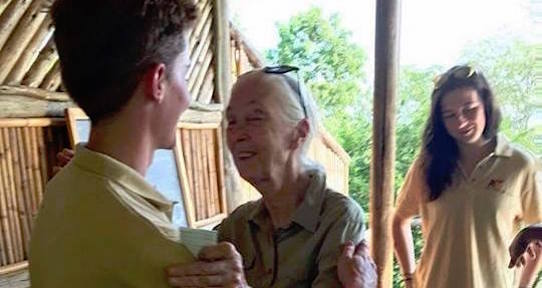 Justine Cowitz (4th year, Major in Biology and minor in Statistics) and Alex Papp (3rd year, Major in Biology and minor in Environmental Studies) have been spending the past couple of months in rural Tanzania completing a voluntary co-op with The Kesho Trust. They spoke to us via email about their international co-op experience so far:
What are you doing in your co-op?   
Justine and Alex: We are working in the Saadani National Park region, with the Kihembe Environmental Learning Centre, where we research projects that help the village and surrounding communities find environmentally sustainable livelihood options.
Population growth is putting an increased strain the area's environment. We are working with the community to find sustainable practices that will allow them to preserve their forests and resources for future generations, while earning a living and support their families today. This starts with community discussions that we host to get input on projects that can be run by the community once we leave.
We've been exploring a variety of projects based on these discussions. We submitted a proposal for a tree nursery project, and are hoping to put in a funding proposal for a mushroom farming project. Working with the village's youth, we are setting up funding proposals for a youth run community radio station that will broadcast environmental programs. When we spoke to school children about the radio project, we ended up developing a small bird watching club that will meet on Saturday mornings. We also recently visited a local Tanzanian university to talk to professors to investigate options based on input we received from the village.
All of our work here could not get done without the help of the local volunteer Penina Mairo, a graduate from the University in Dar es Salaam in Wildlife Science and Conservation, who has experience working with communities in the Saadani area. She is our life-line as she translates everything for us and she supplies us with essential local knowledge.
What was meeting Dr. Jane Goodall like? 
Justine and Alex: It was surreal. Dr. Jane is an ambassador for the Kihembe project and she completed her studies on ape behaviour in Ghombe National Park, here in Tanzania. Meeting her was unexpected - she was invited to visit the tent camp where we were living at the time. We all had lunch together and were able to talk with her for the afternoon. 
Over lunch, she moved seats so that she could speak with us – an incredible gesture. She told us about her work with her Roots and Shoots youth program and spoke about her passion for conservation and environmental action, emphasizing how important it is to change people's hearts about environmental issues rather than focusing on changing their minds. It is with the heart that a person will take action and feel empowered to make change.
She's worked with youth around the world, and has seen how simply telling a child that they can make a difference can give them a sense of empowerment can be impactful in their life. It was inspiring for the two of us moving forward with our work here in Tanzania and when we return home to Canada.  
Before she left she gave us each a hug and a kiss on the cheek and we felt like melting. We still wonder if the entire thing was a dream. 
Have you been able to apply what you've learned in the classroom at UVic in this experience?
Justine and Alex: Researching skills have been important, especially when we visited the university and spoke with the academic community. We were also able to provide some environmental education to people here – but the amount that we have learned from being here not only in a biology context, but in a life and communication context is extraordinary.  
Our education in biology also helps us be curious about the wildlife that surrounds us. This can be critical when you are covered in insects in the evening and rather than freaking out we take advantage of the learning opportunity presented with such dense biodiversity!
What advice would you give to students looking for similar opportunities?
Justine and Alex: Begin building skills outside of the classroom setting. This will not only help your co-op applications, but will make you more effective in any work environment. Choose an activity or two that you genuinely enjoy, whether it's a club, work-study, volunteering or intramurals, and immerse yourself. The skills that we gained through our previous activities have been huge assets to us here.
Since arriving in Tanzania, we've encountered a multitude of unexpected challenges: transportation issues, water shortages, confusion due to cultural differences and the language barrier. While day-to-day challenges can sometimes bog us down, we gain empowerment when we overcome these barriers. The skills that we acquire here will be put to use wherever we go next.  
We are extremely lucky to have this opportunity to connect with another culture, while being engaged in work that we feel passionately about. We advise those seeking similar opportunities to consider the challenges as well as the rewards of an international co-op!
Development of the Indigenous International WIL program was made possible with funding from the Queen Elizabeth II Diamond Jubilee Scholarships (QES) program, a partnership between Universities Canada, the Rideau Hall Foundation, and Community Foundations of Canada, with financial support from the Government of Canada, provincial governments, and the private sector.
Learn more about the UVic Co-op and Career program, Biology Co-op and international
co-op opportunities.