Biochemistry student named ACE and UVic Co-op Student of the Year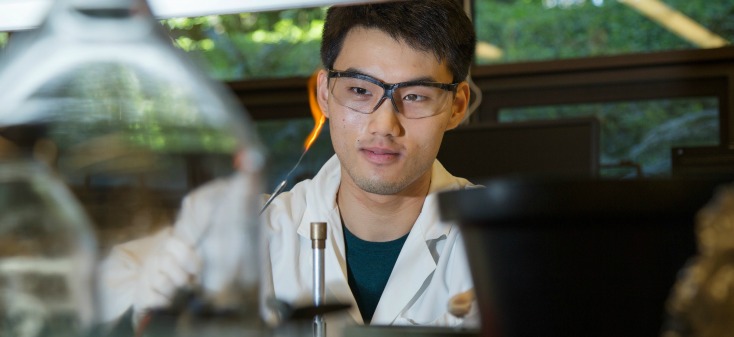 Congratulations to biochemistry student Paul Kim, who was recently named the Association for Co-operative Education (ACE) British Columbia and Yukon Co-op Student of the Year for the University Category, as well as UVic's Co-op Student of the Year for Optional and Professional Programs!
From The Ring: 
Paul Junhyuck Kim has always been motivated to better the world around him. Inspired to contribute to the field of public health by a family member's battle with cancer, the fourth-year biochemistry student has channelled his energy into contributing to the field of public health, and has proven himself to be a dedicated student, disciplined researcher and inspiring leader during his time at UVic.
Kim secured his first co-op work term performing research at the Centre for Microbial Diseases and Immunity Research (funded by the Centre for Blood Research). After receiving a Science Undergraduate Research Award from UVic, he was offered the chance to work alongside Dr. Julian Lum at the BC Cancer Agency Deeley Research Centre, where he conducted research involving lymphocyte infiltration in tumour microenvironments—research that could contribute to streamlining cancer treatments in the future.
"My work term at the Deeley Research Centre was one of the first opportunities I had to create an impact in a field that I'm truly passionate about," he says. Having watched people close to him struggle with the disease, he jumped on the chance to make a difference in leading cancer research.
Kim's work not only added a great deal of understanding on basic lymphocyte biology, but also provided Lum's lab with a strong backbone for future research grants. "Paul's performance and work were nothing short of outstanding, and his contributions to the lab have been enormous," says Lum. "He's demonstrated outstanding passion, drive, commitment and integrity."
For Kim, experiential learning has been a crucial aspect of his university education.  "Through co-op, I learned that the only way to bridge the gap between my university education and the fast-paced environment of a research lab was to work in that setting," he says. "Applying my university education to groundbreaking research helped me to see the bigger picture of my degree."
As a vocal proponent of co-op on and off campus, Kim is eager to continue building strong relationships and working on collaborative projects in future work terms. "Working with inspiring researchers has developed me into a lifelong learner," he says. "I am looking forward to creating synergies through co-op that will ultimately generate large-scale impact in the medical field."