UVic chemists partner with local pharmacy on mobile drug detector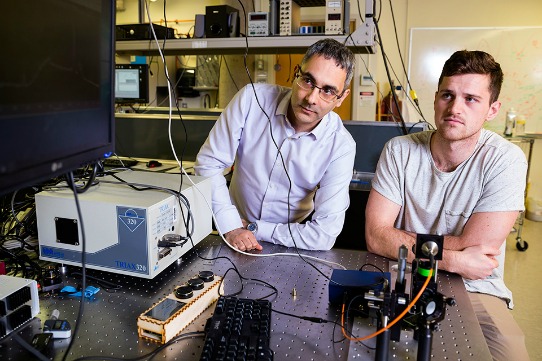 With British Columbia's drug overdose epidemic reaching record levels, health care providers are seeking new methods and tools to contain the crisis.
So last summer, when University of Victoria biophysical chemist Dennis Hore received a phonecall from a local pharmacist proposing an innovative partnership, he saw an opportunity to help.
The pharmacist, Alain Vincent of STS Pharmacy, specializes in assisting people in Victoria's downtown with substance use issues. He wanted a way to detect and measure the levels of drugs that his clients were bringing in, particularly fentanyl, a deadly opioid involved in many of BC's nearly 1,000 drug overdose deaths last year.
Since that call, Hore and his student Nic Medgyesi have been working with Vincent to develop an inexpensive mobile device that uses Hore's expertise in vibrational spectroscopy and instrument design and Vincent's insights into the problems that frontline health workers face when assisting drug users.
"The device we're developing aims to measure how light, in the form of a laser, interacts with a tablet," says Medgyesi, who's been working to build and test early prototypes. "Each drug has a unique molecular fingerprint, so we should be able to determine which drugs are present, and at what concentration."
Measuring concentration levels is key to reducing the epidemic of fentanyl overdose. Fentanyl is 50 to 100 times more potent than morphine and difficult to measure accurately or safely without highly specialized equipment, making recreational users of the narcotic particularly vulnerable to overdose.
The researchers now have a promising prototype. Over the next few months, Hore and Medgyesi will begin trials with STS Pharmacy to get a better idea of the device's capabilities.
"While we're starting with detecting and measuring just a few drugs, there's the potential to build a database of information about an array of substances," says Hore. "We're aiming to build a tool that could be used by a range of health and social service providers." The initial research was funded by a Natural Sciences and Engineering Research Council Engage Grant.