2021 Honours Fest
Alf Wilson, Faculty of Science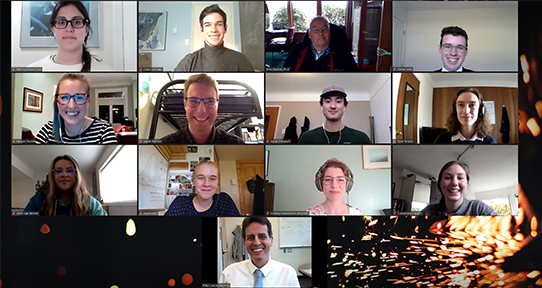 On February 25, 2021, 55 Honours students across six departments and schools of the UVic Faculty of Science presented their research at the tenth annual Honours Fest. Usually this is a conference-style poster session with in-person presentations. This year Honours Fest went online showcasing outstanding undergraduate research. Over 100 students, staff, and faculty from across campus signed in to learn more about remarkable student projects, ranging from SARS-CoV-2 Epitope Expression in Bacteria to AI at CERN.
Two semesters of intensive research culminated for each student as a pre-recorded three-minute poster presentation. Although conditions were very different from previous years, all presentations were impressive and very well received.
Over 40 professors judged the poster presentations to choose winners for the Boehm Family Award of Excellence in Science (top three) and one top presenter for each unit. For the first time, the Canadian Botanical Association offered two additional prizes for students involved in forestry related research. 
Students were judged not only on the science (hypothesis, goals, design, implementation, analysis, and conclusions) but also on their presentation skills (overall poster quality, presentation, and ability to explain complex research).
Thanks to the generosity of Dr. Fritz Boehm, for his continued generous sponsorship of the event since its inception in 2011. Substantial cash prizes are awarded to the overall top three students, as well as a top presenter in each department and school. His contributions support our emerging scientists, helping Canada stay at the forefront of research and development. 
2021 Honours Fest recipients
Winners of the Boehm Family Award of Excellence in Science
| Award | Recipient | Project |
| --- | --- | --- |
| First place | Coen del Valle (Mathematics and Statistics) | A Complete Existence Theory for Signed Graph Designs |
| Second place | Cassandra Purdon (Earth & Ocean Sciences) | Bubble Dynamics in the Labrador Sea: Assessing Accuracy of Gas Exchange Models Through Comparison with N2 Measurements |
| Third place | Lindsey Frederiksen (Chemistry) | Hydrosilation Mechanistic Analysis via ESI-MS and UV-Vis spectroscopy |
Top presenters for each unit
| Award | Recipient | Project |
| --- | --- | --- |
| Biochemistry & Microbiology | Monica Alvaro Fuss | N-Myc Suppresses Innate Immune Signaling in High-Grade Serous Ovarian Carcinoma |
| Chemistry | Atzin San Roman | Monitoring the Hydrolysis of Organotrifluoroborates |
| Earth & Ocean Sciences | Jacob Dingwall | Characterising Environmental and Anthropogenic Drivers of Underwater Noise in the Amundsen Gulf, NWT |
| Math & Statistics | Tyler Schulz | Equilibrium States of Right Arithmetic Systems |
| Physics & Astronomy | Jakob Rimmer | Artificial Intelligence at CERN |
| Biology | Megan Davies | Discovering the Habitat Preferences and Distribution of Deepsea Sole (Embassichthys Bathybius) on Northeast Pacific Seamounts |
| Biology - Canadian Botanical Association | Parker Volk | The Root of a Solution: Lavender Root as Treatment for Iron Overload |
| Biology - Canadian Botanical Association | Taylor Holt | Sclerenchyma in Decurrent Needles- Does it Confer Resistance to Weevils? |
If you would like to learn more about how you can support Honours Fest, scholarships or student bursaries, please contact sciencedev@uvic.ca.
If you would like to learn more about how to get involved as an alumni of the faculty, please contact stemalum@uvic.ca.