2019 Honours Fest Winners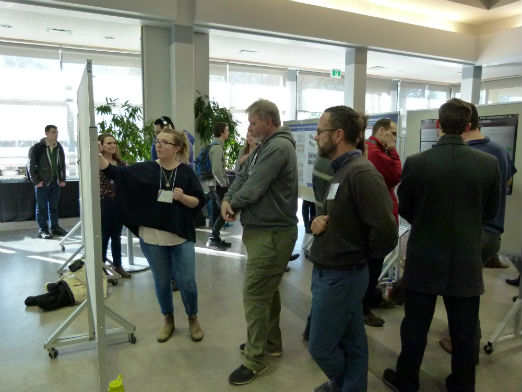 Last month, thirty-six Honours students throughout the Faculty of Science presented their research at the eighth annual Honours Fest, a conference-style poster session that showcases outstanding undergraduate research. Honours Fest is the culmination of two semesters of gruelling research, and an opportunity for students to show what has been occupying their time and brainpower.


Students, staff, faculty and other lovers of science from across the campus and Victoria gathered to learn more about remarkable student projects, ranging in topic from ocean acidification to intermittent fasting.


Thanks to the generosity of
Dr. Fritz Boehm
, students who place in the top three, as well as the top presenter in each department and school win generous cash prizes. Students are judged in three areas: scientific thought and creativity, their communication skills in presenting the research, and the quality of the poster and its ability to explain complex research in a logical way. 
The top Presenters for each unit are: 
| Unit | Award Winner | Poster |
| --- | --- | --- |
| Biochemistry & Microbiology | Brandon Moeller | Investigating the potential role of thymic eosinophils in oral tolerance |
| Biology |  Konrad Suesser | The effects of intermittent fasting on synaptic plasticity in the dentate gyrus of the hippocampus in Sprague Dawley rats |
| Chemistry | Chelsea Wilson | The road to inhibiting CBX6, the epigenetic protein driving aggressive liver cancer |
| Earth & Ocean Sciences | Elena Savidge | Characterizing an earthquake triplet in Iran using InSAR imagery |
|  Math | Etienne Leclerc | The switching operation on mixed graphs  |
|  Physics & Astronomy | Alex Tofini  | Active stabilization of an optical cavity, for experiments in strong photon-photon interaction  |
Top Three Winners of the Boehm Family Award of Excellence in Science: 
First Place

Wylee Fitz-Gerald

(Schulich Leader)

Dynamics of dissolved oxygen in the Labrador sea as observed by robotic profiling floats
Second Place
Lucas Polson
The temperature dependent effects of particle detectors
Third Place
Tyler Makaro
A stochastic climate model for tropical coastlines
Congratulations to all the students who took on the challenge of a Science Honours project!