2017 Honours Fest Winners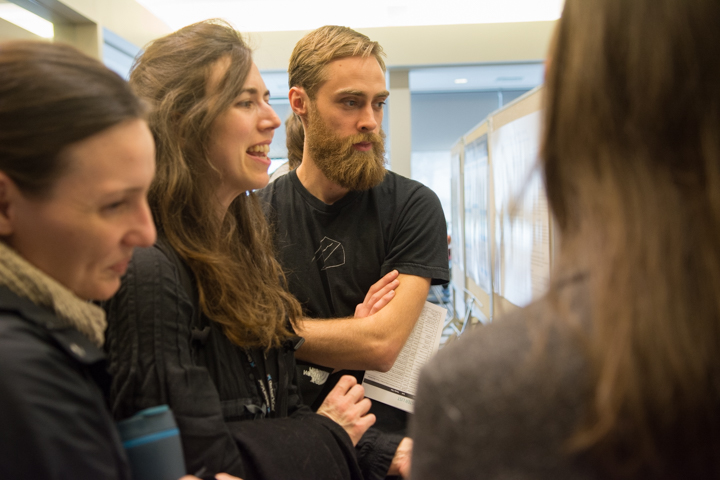 Last week, Honours students throughout the Faculty of Science presented their research at the 6th annual Honours Fest, a conference-style poster session. Honours Fest is the culmination of two semesters of grueling research, and an opportunity for students to show what has been occupying their time and brainpower.
Students, staff, faculty and others lovers of science from across the campus and Victoria gathered to learn more about remarkable student projects, ranging in topic from the shape of trees in ancient forests to the role of B cells in prostate cancer.
Thanks to the generosity of Dr. Fritz Boehm, students who place in the top three, as well as the top presenter in each department and school win generous cash prizes. Students are judged in three areas: scientific thought and creativity, their communication skills in presenting the research, and the quality of the poster and its ability to explain complex research in a logical way. 

The 2017 Honours Fest Winners were:
| | | |
| --- | --- | --- |
| 3rd place | Flora Bowditch (Mathematics & Statistics) | The Eternal Graph Colouring Game |
| 2nd place | Hilary Evans (Earth & Ocean Sciences) | Harnessing the Heat of the Earth: Reclaiming an Old Mine for New Energy. |
| 1st place | Stephanie Monty (Physics & Astronomy) | The GeMS/GSAOI Galactic Globular Cluster Survey (G4CS) I: A Pilot Study of NGC 2298 and NGC 3201 |
Top Presenters for each unit were:
Biochemistry & Microbiology

Angela Cheng

No stain, no gain: Differential immune profiles across molecular subtypes of 

high grade

 serous ovarian cancer

Chemistry

Cassidy Conover

Beauty Beyond Blue: An Exploratory  Synthesis of New Indigo Derivatives 

Earth & Ocean Sciences

Theron Finley

Current deformation of the Olympic Orocline: a model for crustal fault activity in the Cascadia forearc.

Physics & Astronomy

James Lane

Constraining the progenitor of the Ophiuchus stream

Biology

Logan Moore

Investigating Spiroplasma infections in ants

Mathematics & Statistics

Mackenzie Wheeler

Cops and Robbers on Infinite Graphs

Congratulations to all the students who took on the challenge of a Science Honours project!