Research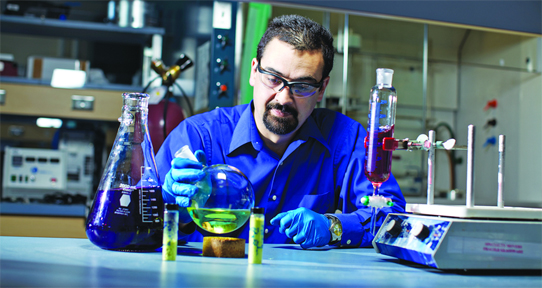 Chemistry research at UVic
Our research is based on the recognition that the exciting challenges in chemistry require new approaches that cross the traditional subdisciplines. We still teach introductory undergraduate courses using titles like analytical, inorganic, organic, or physical chemistry, but our research focus areas and the techniques we use to explore and create within them stretch and blur the traditional discipline boundaries.
Our research groups:
explore the interactions of molecules at surfaces to gain insights into biomedical materials, fuel cells, or to develop exquisitely sensitive sensors
exploit the power and speed of lasers to probe reaction kinetics and dynamics in systems ranging from the heavy hydrocarbons from oil sands to the migration of electronic information in spintronic materials
control the growth and the organization of spins, dyes, semiconductors, and luminescent centers within polymers and nanocrystals
design, synthesize, and evaluate new catalysts and new bioactive compounds based on novel insights from NMR, mass spectrometry, and bioassays
Explore our research topics and techniques and learn more about faculty research interests.
Faculty members will be happy to discuss their research interests with you directly — just contact them.