Unsupervised Alcohol Consumption on Municipal Properties in BC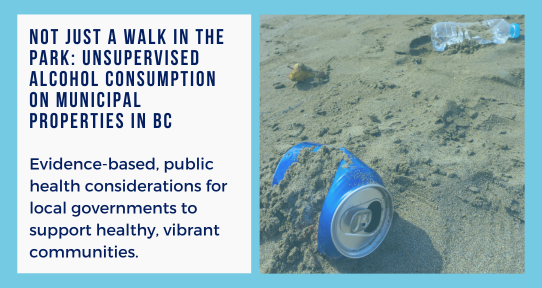 Background
Unsupervised public alcohol consumption began gaining momentum as municipalities were looking for ways to support local businesses and restaurants and provide environments where alcohol can be shared under social distancing orders during the COVID-19 pandemic. 
The pressure to open public spaces for drinking to mitigate local economic impacts to the hospitality industry has continued even as COVID-19 restrictions have eased or ended. Several municipalities in BC and the rest of Canada are now exploring, or have allowed, alcohol consumption in public spaces, including parks.
Allowing unsupervised public consumption of alcohol carries several important public health implications, including potential increases in alcohol-related harm and related health and enforcement costs. As with recent considerations related to public cannabis consumption, it is important for these factors to be considered carefully along with potential benefits to local businesses.
With support from the BC Ministry of Health, CISUR developed several resources to support municipal leaders in decision-making related to the unsupervised public consumption of alcohol on municipal properties.
Resource library
Funder
BC Ministry of Health
Researchers