Participate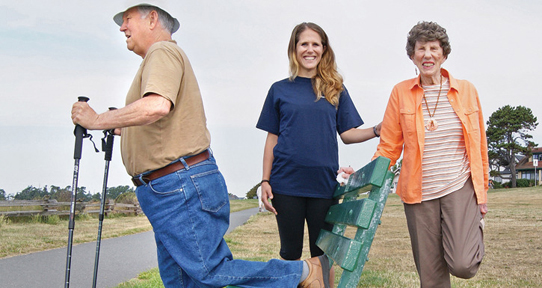 Are you interested in participating in health research in BC, but don't know how to get involved? REACH BC connects volunteer participants with researchers in the province who are conducting clinical trials or other studies focused on health-related issues. Through the confidential and secure REACH BC platform, interested individuals are asked to provide information about themselves, their research interests, any health conditions they may have, and their contact information. Once registered, they will be sent information about potential research opportunities. Volunteers can then connect with research teams to ask any questions they may have about a research study and to let researchers know if they're interested in participating. For more information on health research studies currently underway in BC, go to https://www.reachbc.ca/studies. For more information on becoming a volunteer for health research in BC through REACH BC, go to https://www.reachbc.ca/volunteers
In collaboration with colleagues at the University of Victoria and UBC, IALH Research Fellow Mariko Sakamoto (Nursing) is conducting a project entitled
Dementia Friendly Communities: Including the Perspectives and Experiences of People with Dementia Who Live Alone
. This is a community-based action research project which will engage directly with people with dementia who live alone. The goals of the project are to: a) develop an in-depth understanding of the community-related needs of people with dementia who live alone; and b) explain and demonstrate how communities can be dementia friendly and support the social inclusion and well being of individuals with dementia living alone. For more information or to participate, contact Dr. Sakamoto at
msakamoto@uvic.ca
or by phone at 604-727-6099.
Approximately 13.6% of Canadians 20 years of age and older live with osteoarthritis. Arthritis in lower extremities, particularly osteoarthritis, can cause pain, stiffness and weakness which can change the way people walk (also referred to as gait). Gait disorders caused by arthritis, such as limps or shuffling, can cause strain and pain in other joints and weakness in muscles around the hip and knee can affect balance. This, in turn, can increase the risk of injuries and falls and reduce mobility and quality of life.
IALH Research Fellow Marianne Black (Mechanical Engineering), and a team of undergraduate students in a 4th year biomedical engineering class are looking for individuals 50 years of age and older with knee pain (patient advisors) to assist them in designing a wearable foot sensor that can correct for gait disorders. It is anticipated that the sensor will be capable of detecting abnormal gait patterns and providing real-time feedback to correct them. Patient advisors will be asked to provide some user-centered design feedback through two surveys. The first survey will contain questions to inform initial project design. The second will seek opinions on the prototype design. Each survey will take approximately 30 to 60 minutes to complete. For more information or to participate, contact Dr. Black at
marianneblack@uvic.ca
or by phone at
250-853-3177.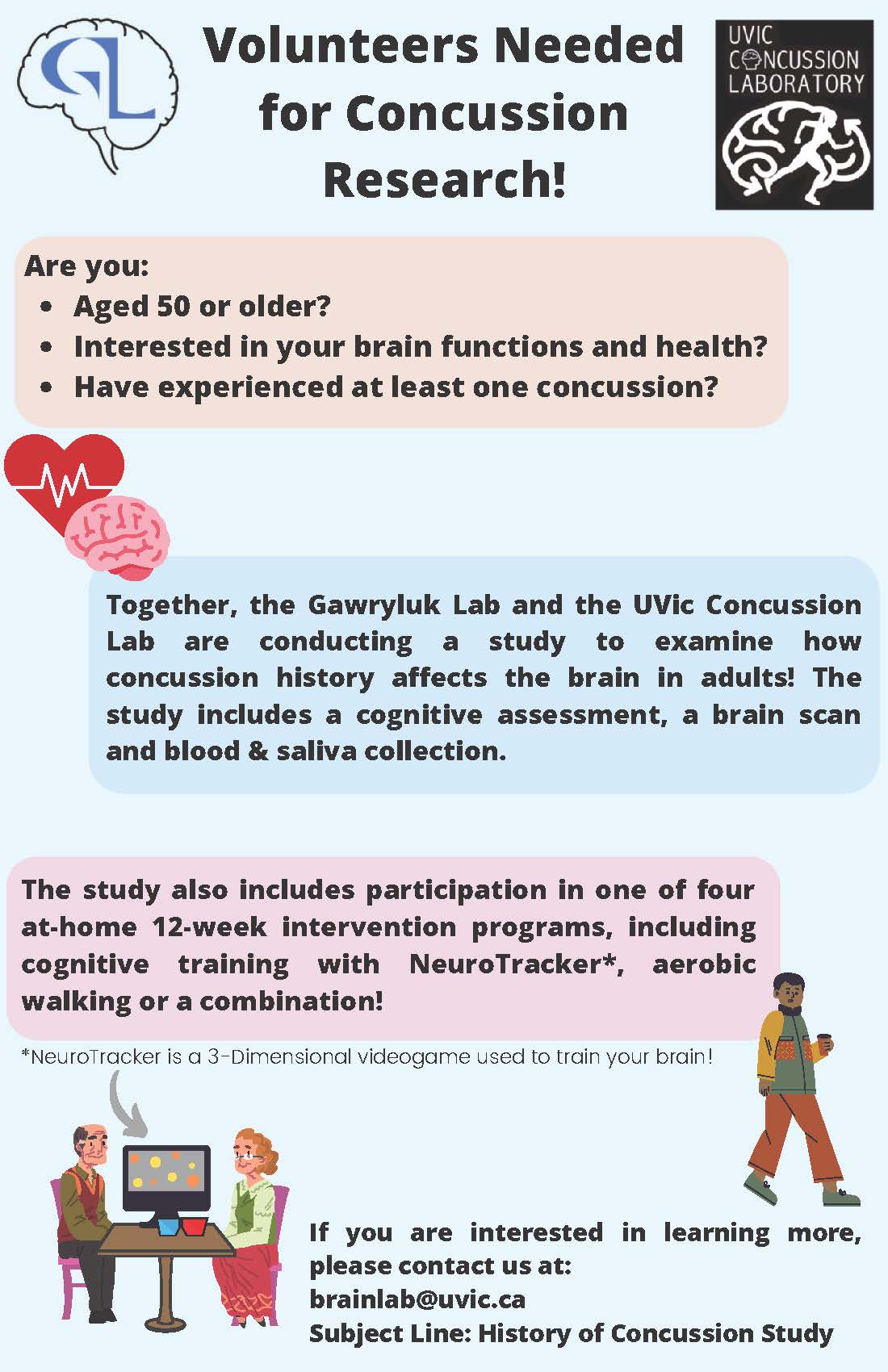 Taylor Snowden-Richardson, a third year PhD year student and IALH Student Affiliate is recruiting participants for a study exploring how concussions impact long-term brain health. To be eligible, participants must:
be between 50 and 90 years of age;
have had at least one concussion, a minimum of 3 years prior to study intake;
have normal or corrected vision;
have low weekly aerobic activity (defined as less than 1 hour per week); and
be physically able to engage in 30 minutes of aerobic walking at a time.
The study is being conducted in collaboration with IALH Research Fellows Dr. Brian Christie (Division of Medical Sciences) and Dr. Jodie Gawryluk (Psychology and Division of Medical Sciences). It involves the use of Magnetic Resonance imaging (MRIs), blood and saliva collection and cognitive assessments as well as a 12-week intervention program. For more information, contact brainlab@uvic.ca using the subject History of Concussion Study
IALH Associate Member, Dr. Richard Sawatsky, a Professor in Nursing at Trinity Western University is seeking Canadians aged 18 years and older to participate in an anonymous survey as part of a research study that will develop measurement tools for people's health.
The goal of the study is to create health questionnaires that are relatively short, accurate, and customized to reflect each person's unique lived experiences, culture and social situation. To do this, it is important to first understand how people with diverse experiences and backgrounds answer the same questions. From this, an understanding of which questions are most relevant to each person is obtained. Your participation will help ensure a diverse response. For more information and to participate, go to
https://cambianservices.com/widget/organizations/84e52758-3cc6-4c68-9c9a-ac374bb03d09/questionnaireWidget/8fefbc97-9ef9-465e-bfc6-a233a65020a6
.
Yichun Zhao is a graduate student working with IALH Research Fellow Sowmya Somanath (Computer
Science) and Associate Professor Miguel Nacenta (Computer Science). Together, they are conducting
research to evaluate an interactive system designed to improve diagram accessibility for people with vision loss.
To be eligible, individuals must:
Consider themselves to be blind, visually impaired, or partially sighted;
Rely on the auditory channel, or auditory combined with other sensory channels to access information from a computer;
Have experience using touch-screen devices;
Be older than 18 years of age;
Reside in Victoria, Vancouver, Fraser Valley, or Kelowna BC, Canada.
More information can be found at https://chunthebear.github.io/diagram-accessibility-user-study-recruitment/. 
The Risky Behaviour Lab at the University of Victoria is conducting a study on smell loss and how it affects daily life and mental health across cultures. The researchers in this study are seeking individuals who: 
are between 22 and 60 years old of age;
have lived in Victoria for more than 6 months; and
have a normal sense of smell
This study requires participants to attend a 60-75 minute in-person lab study that would include smell testing sessions, self-report surveys, and short mental tasks. Participants will be offered a $25 honorarium for their time. 
For more information, or to participate, please contact Emily Spargo, Lab Manager, at riskybehaviourlab@uvic.ca. This study is being supervised by Dr. Brianna Turner, PhD. Dr. Turner is an Assistant Professor in the Department of Psychology at the University of Victoria and an IALH Research Fellow. 
Baeleigh VanderZwaag is a Masters Student in the Department of Psychology at the University of Victoria, and an IALH Student Affiliate.  
For her Masters thesis project, Baeleigh is looking for individuals to participate in an anonymous online survey to share their opinions on the usability of psychedelic drugs and psilocybin ('magic mushrooms') to aid concussion recovery. 
To participate, you must:
Be 18 years pf age or older;
Must be involved in sports at any level of competition as an athlete OR staff member (i.e., coach, trainer, admin); 
Must currently reside in Canada or the United States.
To participate, please visit tiny.cc/sportpsilocybinsurvey
For more information, contact Baeleigh at sportpsilocybinsurvey@gmail.com. This project is being supervised by Dr. Mauricio Garcia-Barrera, Director of the Cortex Lab at the University of Victoria and IALH Research Fellow.  

CanAssist at the University of Victoria is dedicated to helping people with disabilities improve their quality of life, with a focus on promoting independence and inclusion. CanAssist often requires people to test new technology prototypes and provide feedback on their effectiveness. This testing is done on a voluntary basis and there is no cost. In most cases, families testing a technology can continue to use the solution for as long as it continues to be useful.
For technology testing opportunities, please visit the CanAssist website.