Participate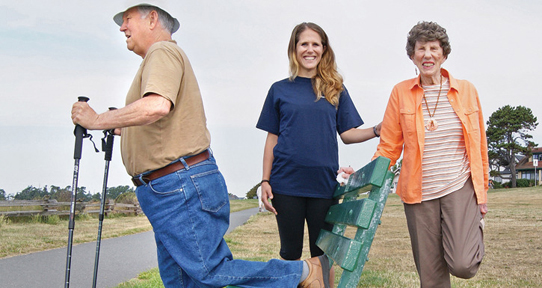 Are you interested in participating in health research in BC, but don't know how to get involved? REACH BC connects volunteer participants with researchers in the province who are conducting clinical trials or other studies focused on health-related issues. Through the confidential and secure REACH BC platform, interested individuals are asked to provide information about themselves, their research interests, any health conditions they may have, and their contact information. Once registered, they will be sent information about potential research opportunities. Volunteers can then connect with research teams to ask any questions they may have about a research study and to let researchers know if they're interested in participating. For more information on health research studies currently underway in BC, go to https://www.reachbc.ca/studies. For more information on becoming a volunteer for health research in BC through REACH BC, go to https://www.reachbc.ca/volunteers
Maddy McHugh is a research student at University of Victoria and is seeking participants for a study about age and climate change.
What is required to participate?
Participants must be aged 65 years and older and live in Canada. Participants will respond to an online survey that will take approximately 30 minutes to completion. Participation is anonymous and all opinions are welcome.
If you are interested in participating, please contact:
This study is being supervised by:
Dr. Robert Gifford, FRSC, Professor, Psychology and Environmental Studies
What is the purpose of the research?
This research will help to create "journey maps" which are visualization of patients' stories and healthcare service encounters over time. You are being invited to help develop journey maps to explore opportunities to improve patient experiences when undergoing radiation therapy in older cancer patients. The journey maps will then be used as tools to inform the development of resources for clinicians.
Who is conducting the research?
Principal Investigator: 
Dr. Jae-Yung Kwon is a registered nurse and an Assistant Professor at the University of Victoria. Dr. Kwon can be reached at 604-729-2308 or by email at jykn1@uvic.ca
Am I eligible to participate?
To be eligible to participate in this research, you:
Have been/were diagnosed with cancer at 65 years of age or after 
Received radiation therapy as part of your cancer treatment
Are a resident of British Columbia
What is required to participate?
If you would like to take part in this study, you will be asked to participate in a two-hour interview in the development of journey maps to help clinicians better manage the cancer journey of patients.
For your participation in this study, as a sign of appreciation, you will be given a $50 gift card for Save-on-Foods or Safeway.
Please contact Dr. Kwon or Research Assistant Melissa moyniha3@student.ubc.ca, if you think you might like to take part in this study.
Jordan Monks is a student in Public Health and Social Policy at the University of Victoria and is an IALH Student Affiliate. Jordan is seeking participants for a research study Exploring the Social Determinants of Health Associated with Sexually Transmitted Infections in Older Women. The purpose of the study is to explore social barriers and facilitators (including social determinants of health) associated with sexually transmitted infections (STI's) among older women (60+) in British Columbia, Canada. 
Am I eligible to participate?
To be eligible to participate in this study, you must:
Identify as a woman
Are at least 60 years of age or older
Have had at least one sexual partner since turning 60 years old
Live in British Columbia
What is required to participate?
Participation in this research study will involve answering questions that have been influenced by a preliminary literature review as well as consultations with a community advisory group.  The survey should take approximately 20 minutes to complete.
This study is being supervised by Dr. Nathan Lachowsky, Dr. Kelli Stajduhar and Dr. Leah Tidey. For any questions, please contact Jordan Monks at jordanmonks@uvic.ca or Dr. Lachowsky at nlachowsky@uvic.ca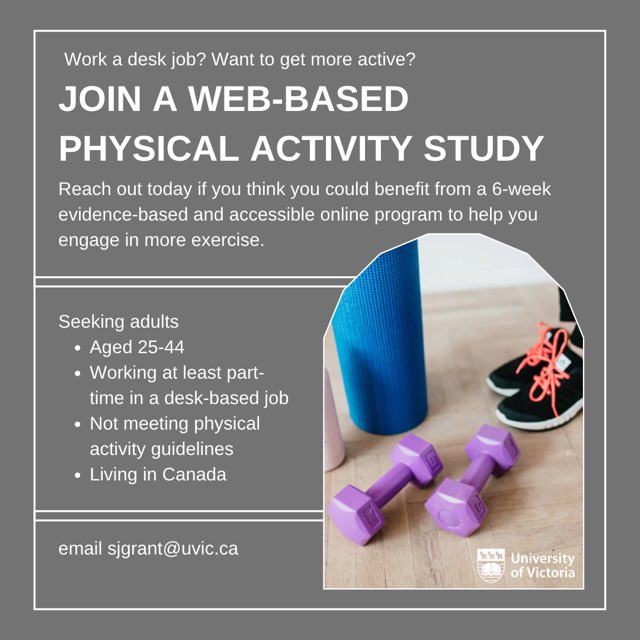 The Behavioural Medicine (BMED) lab is a research lab within the School of Exercise Science, Physical and Health Education at the University of Victoria, Canada. Directed by IALH Research Fellow Ryan Rhodes, the BMED Lab's mission is to produce and disseminate innovative and population-relevant physical activity and health research of the highest calibre within an environment that fosters collaboration, community, pride, and life balance. 
The BMED Lab is currently recruiting for a web-based Physical Activity study for Canadian Professionals aged 25-44 who are working at least part-time in a desk-based job and looking to get more active. Participants will gain access to a tailored online platform designed to support busy professionals, evidence-based lessons, as well as strategies and tools to help achieve physical activity goals. This is an opportunity to work towards better mental and physical health while contributing to research aimed at improving future health promotion programs.​ 
Am I eligible to participate?
To be eligible to participate in this study, you must:
Be aged 25-44
Living in Canada
Working at least part-time in a desk-based job
Not meeting physical activity guidelines
For more information, please contact Research Coordinator Stina Grant at sjgrant@uvic.ca 
IALH Student Affiliate, Maybins Lengwe, a doctoral student in the Department of Computer Science is looking for participants for a study entitled Visualization of Event Schedules Involving Constrained Prescriptions. The purpose of the research is to understand how people read and interpret calendars that are annotated with medication entries.
What is required to participate?
Individuals will be asked to participate in a one-hour interview session on Zoom. During the interview, they will be presented with three calendars that reflect the schedule of an individual with various activities and one or more medication schedules. Participants will be asked questions about the calendars and their responses will be recorded.
Am I eligible to participate?
To be eligible for this study, potential participants must be:
a) between 35 and 65 years of age; and
b) taking medications alongside a busy schedule OR assisting someone managing medications with a busy schedule.

To recognize their contribution, participants will receive a $20 Amazon gift card.

The study is being supervised by Dr. Jens Weber (jens@uvic.ca) and IALH Research Fellow Dr. Charles Perin (cperin@uvic.ca) and has been approved by the Human Research Ethics Board at the University of Victoria (Approval #22-0033).
If you have any questions or would like to participate in this study, please contact the researcher directly at mlengwe@uvic.ca
What are assistive technologies?
Assistive technologies are used to support a person to do the things they need to do to maintain or improve their level of independence.
Why is this study being done?
This study aims to improve the use and access to assistive technologies for older adults in British Columbia. The study also aims to develop better ways of assessing the challenges people experience when using assistive technologies. Bringing older adults, their family members, and other caregivers together to talk about assistive technologies will be helpful for health care workers and others. 
Am I eligible to participate?
If you are an older adult using or wanting to use an assistive technology of some kind, you are invited to share your experiences about such things as ease of access and use, as well as any challenges.
For older adults, you must be 55+ years and living independently. Family members include anyone who is currently providing care and support to an older adult family member. Friends, neighbours and other informal caregivers are also invited to participate if you provide regular support to an older adult. Interested participants must be 19 years or older. You should also be able to complete the interview in English.
What is required if I choose to participate?
You will have the option to participate in an initial interview about assistive technologies (up to 1-hour). You may also choose to be part of a group session or participate in other project activities. These will be done either online or over the phone.
Who is conducting this research?
The co-leads of the research study are Dr. Denise Cloutier and Robin Syme. Dr. Denise Cloutier is a Professor in the Department of Geography. She is also a Research Fellow with the Institute on Aging and Lifelong Health. Dr. Cloutier can be reached at dcloutier@uvic.ca. Robin Syme is the Executive Director of CanAssist. 
For more details about the study, download the poster or contact Dr. Gord Miller, Project Coordinator, at kissat@uvic.ca or by calling 250-893-5869

CanAssist at the University of Victoria is dedicated to helping people with disabilities improve their quality of life, with a focus on promoting independence and inclusion. CanAssist often requires people to test new technology prototypes and provide feedback on their effectiveness. This testing is done on a voluntary basis and there is no cost. In most cases, families testing a technology can continue to use the solution for as long as it continues to be useful.
For technology testing opportunities, please visit the CanAssist website.