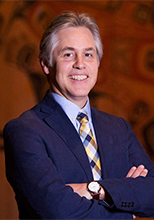 Position
Faculty of Law champion
Credentials
BA, MA, JD, LLM, PhD, LLD, FRSC
Dr. John Borrows, BA, MA, JD, LLM, PhD, LLD, FRSC, is Canada's pre-eminent legal scholar and a global leader in the field of Indigenous legal traditions and Aboriginal rights. John holds the Canada Research Chair in Indigenous Law at the University of Victoria as well as the Law Foundation Chair in Aboriginal Justice and Governance.
John teaches in the area of constitutional law, Indigenous law and environmental law. His research focuses on advancing the understanding of Indigenous laws and customs. John's work influenced the Truth and Reconciliation Commission of Canada and the Supreme Court of Canada has cited his research. John is Anishinabe/Ojibway and a member of the Chippewas of the Nawash First Nation in Ontario.
In May 2017, the Right Honourable David Johnston, Governor-General of Canada, presented John with the prestigious 2017 Killam Prize in the Social Sciences for his "contributions as a global leader in Indigenous law, and substantial and distinguished scholarship and commitment to furthering our knowledge about Indigenous legal tradition."
John's publications have received several awards. His book, Recovering Canada, The Resurgence of Indigenous Law won the 2003 Donald Smiley Award for the best book in Canadian political science. In 2011 John earned the Canadian Law and Society Best Book Award for his Canada's Indigenous Constitution. For a second time, John received the Donald Smiley Award in 2017 for his book Freedom and Indigenous Constitutionalism.
John is the recipient of a National Aboriginal Achievement Award in Law and Justice, a fellow of the Trudeau Foundation, a fellow of the Canadian Society of Arts, Humanities and Sciences and the Royal Society of Canada, Canada's highest academic honour.
In 2012, he was declared an Indigenous Peoples Counsel by the Indigenous Bar Association, for his honour and integrity in the service to Indigenous communities.
John holds honourary doctorate degrees from Dalhousie University and the Law Society of Upper Canada "for his leadership in Indigenous law."
Groundbreaking research, field work and engagement with Indigenous communities impact John's students. More than 200 Indigenous students have graduated from the University of Victoria law school. John's proposal for an unprecedented four-year program to earn a dual Indigenous Law/Common Law degree led to the September 2018 launch of the Canadian Common Law (JD) and Indigenous Legal Orders (JID) joint degree program at UVic, the first of its kind in the world.