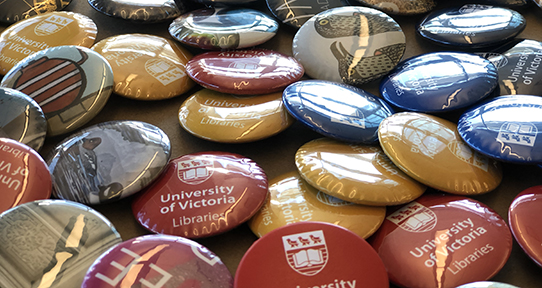 Ideafest 2019 
Welcome to the 21st century library: from analogue to digital
Modern university libraries offer much more than just books. Discover the 21st century library at this all-ages, family friendly event. Activities include a chance to try an Oculus Rift 3D headset (ages 13+), 3D printing demos, children's book making activities and a technology petting zoo.  There's also the chance to see rare pop-up books from Special Collections and meet the digital forensic experts who can recover files from your old floppy disks.
Here is a sneak peak of what we are planning for this family-focused fun event on Saturday, March 9 from 10 am-2 pm:
Tech petting zoo & 3D printing
Come and play with some of our interesting technology including a 3D scanner, 3D printers, 360 cameras, digital recorders and more.
Make your own book
Kids and adults will be taught to assemble, sew and bind pages and covers into their own books. You can take them away as blank notebooks or decorate them with inks, stamps, and stickers.
Retro-computing room
A display of working examples from our digital archaeology collection including PCs from the 80s and 90s. Try your hand at some of our retro video games.
Floppy clinic
Our digital forensics expert can recover files from old and obsolete media formats. Bring in some of your old floppies, and we'll do our best to bring your data back to life.
Virtual Reality room (12+ years of age)
Experience immersive virtual reality with our Oculus Rift headset.
Pop-up books from our Special Collections
Check out rare pop-up books and Victorian children's literature from our Special Collections. 
Button making
Use our button maker to create a personalized pin-on button to take home. Draw your own design, or choose an image from our collection.
Children's literature showcase
Many people don't know that UVic Libraries have a great collection of contemporary children's books. Browse some of our new titles or use a community card to take them home.
Historic BC textbooks
Browse our unique collection of textbooks used in British Columbia's public schools since the province joined confederation in 1871. With their large readership these textbooks have touched the lives of many citizens for nearly a century and a half.
Computing electronics
Our computing electronics expert will show you some of the different projects that our students have created using Arduino and Raspberry Pi kits. Great for learning electronics at home!
Graphic novels
Browse a selection of graphic novels from the libraries' collection, or borrow them using our community card.
Community card sign-up
Get access to our extensive collection of books, DVDs, and musical scores with a UVic Community Card.
Click here to visit the Ideafest website.
---

UVic Author Celebration
A recognition of scholarly publishing at UVic
Each year, UVic faculty, staff, students, alumni and retirees produce an incredible amount of intellectual content reflecting the breadth and diversity of research, teaching, personal and professional interests. 
UVic Libraries and the university bookstore celebrate UVic community authors in an annual event.
Author Panel:
 Host: Jim Forbes, Director of Campus Services
 Moderator: Jonathan Bengtson, University Librarian
Proud to be part of Ideafest 2019
---
---