Lost digital art recovered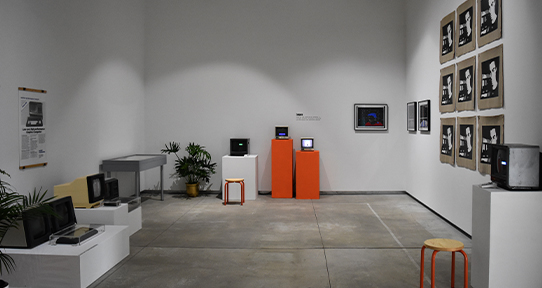 From September 6 through October 21 at the InterAccess media arts centre in Toronto, the exhibition "Remember Tomorrow: A Telidon Story" celebrated an almost forgotten era in Canadian digital art making. Four interactive displays, multiple videos playing on a large, rec-room sized TV, projected slides and wall art all showcased the work of 15 artists working in an obscure Canadian technology called "Telidon" back in the 1980s.
Once thought to have been lost forever, these early examples of networked, interactive digital art and the computing hardware and software required to view them, were painstakingly restored by University of Victoria Librarian John Durno over a period of several years. Beginning in 2015 with the Telidon artworks of the late, Victoria-based Glenn Howarth housed in Special Collections & University Archives, John's restoration work has since grown to include artists and artworks from across Canada.
This was the first major gallery exhibition of these restored works, and appropriately held at InterAccess, which as "Toronto Community Videotex" was the central hub for Telidon art making in Canada in its early days. Curated by Shauna Jean Doherty, the exhibition commemorated the 40th anniversary of the founding of the centre.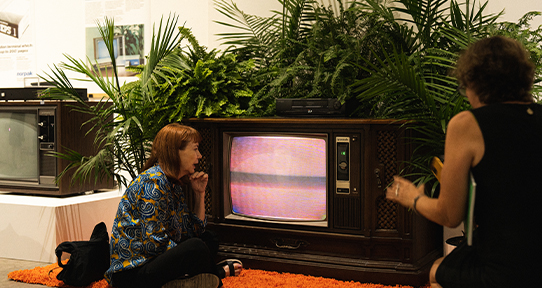 The exhibition opening on September 6 drew a large crowd, with three of the four founders of InterAccess in attendance. A talk given by John on the evening of September 8 provided some historical context and discussed the challenges of rebuilding technologies long thought to be unrecoverable due to their extreme obsolescence and obscurity.
In the week following the opening, John travelled to Venice to present his Telidon restoration work to an international audience at the Re:Source Media Art History conference, hosted by Ca' Foscari University. During his presentation, he was pleased to share a group of Telidon artworks selected for inclusion at the 1986 Venice Biennale, that had unfortunately not been shown due to technical difficulties. Thanks to John's efforts the works finally had their Venice premiere, albeit 37 years later than originally planned.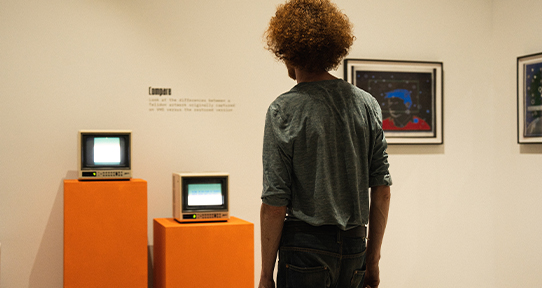 Although the gallery exhibition is over, a web exhibition of Telidon Art, generously funded by Digital Museums Canada, is expected to premiere in late 2023 or early 2024, bringing the restored Telidon artworks to a much wider audience than ever before.
Photos: Maksym Chupov-Ryabtsev