Events and exhibits
Each year, UVic Libraries hosts events and exhibits to showcase the knowledge and talents within the Libraries and UVic community. Check this page for details about our current exhibits and upcoming events.
Broken Promises exhibit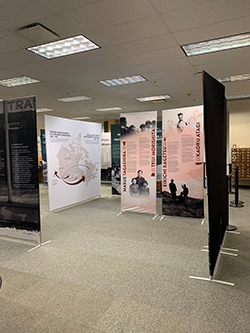 From October 1 to December 22, 2023, UVic Libraries and the UVic Centre for Asia-Pacific Initiatives are hosting the Landscapes of Injustice's Broken Promises exhibit on the main floor of the Mearns Centre for Learning – McPherson Library.
A collaboration with the Nikkei National Museum and Cultural Centre and the Royal BC Museum, the exhibit recounts stories of Japanese Canadian dispossession and internment in the 1940s, and the lasting impacts of the policies aimed at all people of Japanese descent living in coastal BC.