Broken Promises exhibit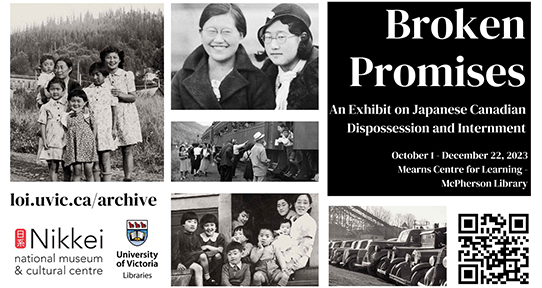 From October 1 to December 22, 2023, UVic Libraries and the UVic Centre for Asia-Pacific Initiatives are hosting the Landscapes of Injustice's Broken Promises exhibit on the main floor of the Mearns Centre for Learning – McPherson Library. A collaboration with the Nikkei National Museum and Cultural Centre and the Royal BC Museum, the exhibit recounts stories of Japanese Canadian dispossession and internment in the 1940s, and the lasting impacts of the policies aimed at all people of Japanese descent living in coastal B.C.
"In 1942, the Canadian government forcibly removed 21,460 Japanese Canadians from British Columbia's coast. People boarded trains bringing only what they could carry. Officials promised to protect the rest. Instead, Japanese Canadians were dispossessed: everything was stolen or sold." (Broken Promises, 2020)
The capstone of the Landscapes of Injustice project's seven year multi-institutional, community engaged research, Broken Promises puts names and faces to a dark chapter of Canadian history. It is a reminder of the power of racism, the many Canadians who were complicit in this injustice, and the legacies of dispossession that persist to this day. The exhibit is open to the public, and free to visit.