Current exhibitions
Before your visit, review our current Covid-19 Safety Protocols
---
Piers
September 28 - December 22, 2022
Legacy Downtown | 630 Yates St.
Lekwungen territory
Piers is a group exhibition showing contemporary artwork ranging across media by 18 artists spanning generations, nationalities, and backgrounds, exploring how artists' practices change through teaching, learning, and mentorship.
| | |
| --- | --- |
| Exhibition booklet | Artist Bios |
| | |
Artists:
Katie Bethune-Leamen, Cedric Bomford, Lauren Brinson, Yan Wen Chang, Megan Dickie, Laura Dutton, Annika Eriksson, Daniel Laskarin, James Legaspi, Christopher Lindsay, Evan Locke, Danielle Proteau, Hollis Roberts, Arlene Stamp, Jennifer Stillwell, Beth Stuart, Grace Tsurumaru, Paul Walde.  
Image: James Legaspi, still from magnolia, 2020, HD video, 18 minutes 13 seconds.

Legacy Maltwood is located on campus at the Mearns Centre – McPherson Library
---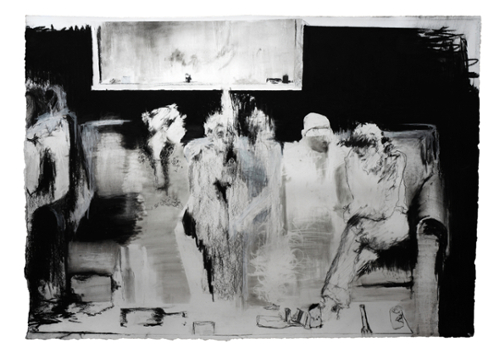 Shaping Relations, Tethered Together
November 25, 2022 - August 25, 2023
Legacy Maltwood Gallery | On campus in the Mearns Centre – McPherson Library
Lekwungen territory
Curated by Mel Granley.
Shaping Relations, Tethered Together dives into Legacy's permanent collection to explore ideas of togetherness and that which cultivates relationships. Each work examines a different facet of the relationships people form with one another, the world around us, and our relationships with ourselves. Tenderness and the importance of connection are meditated on throughout the exhibition, through a diverse selection of media and artists.
Showing at the Legacy Maltwood Gallery on campus, please come visit this eclectic show and spend some time with us.
Opening Reception 
Friday, November 25 | Mearns Centre – McPherson Library | Room 025 | 4 - 6 pm
---
Image: Rain Cabana-Boucher, French exit (detail), 2021.
Located on campus, First Peoples House displays artwork from the university's collection through rotating exhibitions.
---
Qw'an Qw'anakwal -
To Come Together
Artist Portraits
Jan 22, 2022 - ongoing
First Peoples House | UVic Campus
Lekwungen territory
8:30 am to 4:30 pm Monday to Friday
Visitors are permitted to view the exhibition but must follow COVID-19 protocols.
Visit the exhibition website
Curated by Andrea Walsh, Smyth Chair in Arts and Engagement
Amanda LaLiberte's photo portraits showcase 12 Coast Salish artists who participated in the Visiting Artist Program hosted by the UVic Department of Anthropology.
Image credit: Amanda Laliberte, 2021.