Memorial Scholarship Fund Honours the Life of UVic Law Alumna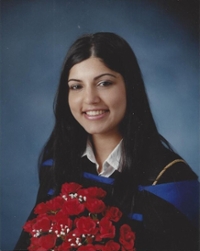 The family and friends of UVic Law alumna Rehana Meghani are raising money for the newly established Rehana Meghani Memorial Scholarship Fund.
Meghani was a strong believer in equality for all and she dedicated her life to social justice causes. She was an advocate for those most marginalized and underprivileged. While completing her Juris Doctor degree at UVic, she was actively involved with many not-for-profit organizations, including UNICEF and Access Justice. Meghani graduated from UVic's Faculty of Law in 2011 and in October 2012, she passed the New York State Bar Exam to pursue her aspiration of a legal career in New York.
February 24, 2014 marked the one-year anniversary of Meghani's passing at the young age of 31. She represented the true definition of resilience, selfless and boundless love, and integrity. She turned passion into action and was a strong advocate for her beliefs.
To honour her life, Meghani's family and friends have created a lifetime scholarship fund at UVic Law. The Rehana Meghani Memorial Scholarship will be awarded to an entering Juris Doctor law student with a background in development work and social justice.
Meghani was proud to be an alumna of UVic Law. She formed many close relationships throughout her time at law school and she is remembered and missed by all who knew her at the Faculty.
"I was honoured to have been one of Rehana's teachers and then to serve as one of her referees. She was a very special person," says UVic Law Dean Jeremy Webber. "I am so very pleased that you have established this scholarship in her memory." 
The campaign first launched on the anniversary of her passing and the initial funding target was exceeded within just eight days. The immediate success of the campaign is a testament to who Meghani was and how many lives she touched.
There are approximately 20 days left to donate to the campaign. We would like to see the fund continue to grow, as an increasing endowment size will lead to a larger annual scholarship.
To donate and share Meghani's story, please visit www.rehanameghani.com. You may also donate directly through the UVic Law website or by contacting Erin Hallett, Alumni Relations and Annual Giving Officer, at lawalum@uvic.ca or 250.853.3518.