UVic Law wins the 2014 McIntyre Cup Western Canada Mock Trial Moot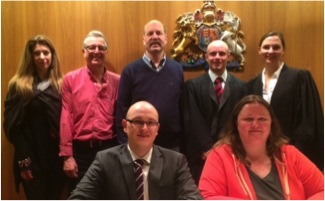 UVic Law competed in the 2014 McIntyre Cup Western Canada Mock Trial Moot on Friday February 14. The UVic Law team was assigned the role of defence counsel in a case of criminal negligence causing death. After a grueling trial involving four witnesses, and the anxiety of waiting for a jury verdict, the accused was acquitted.  The UVic Law team tied for first place finish in the competition. They will be competing in the National Sopinka Cup in Ottawa March 14 and 15, 2014. The Mock Trial Moot competition is a trial with witnesses conducted before a Judge and Jury.
Cadeyrn Christie started the trial very strongly with an application, excluding nearly all incriminating evidence against the accused, and continued with a stellar cross-examination of a rather slippery witness. He finished off this performance with a solid direct examination of the accused, where he confidently responded to a number of unexpected objections from opposing counsel.
Kaitlyn Chewka was also very strong in her cross and direct examinations. She made an astute objection that revealed that the Crown had put a partial inconsistent statement to a defence witness, and forced the Crown to read the entire sentence, which portrayed a dramatically different picture that helped the defence's case. Kaitlyn had an amazing closing, addressing all the new issues that came out in the evidence, and helping the UVic Law team cruise to the first place finish.
Cadeyrn and Kaitlyn were ably assisted by Tyler Gloux, the team's researcher. The team coaches are Clare Jennings, David Sissons, Robert Claus, and Michelle Daneliuk. Congratulations to the team members and coaches!