Dean Jeremy Webber elected Royal Society of Canada Fellow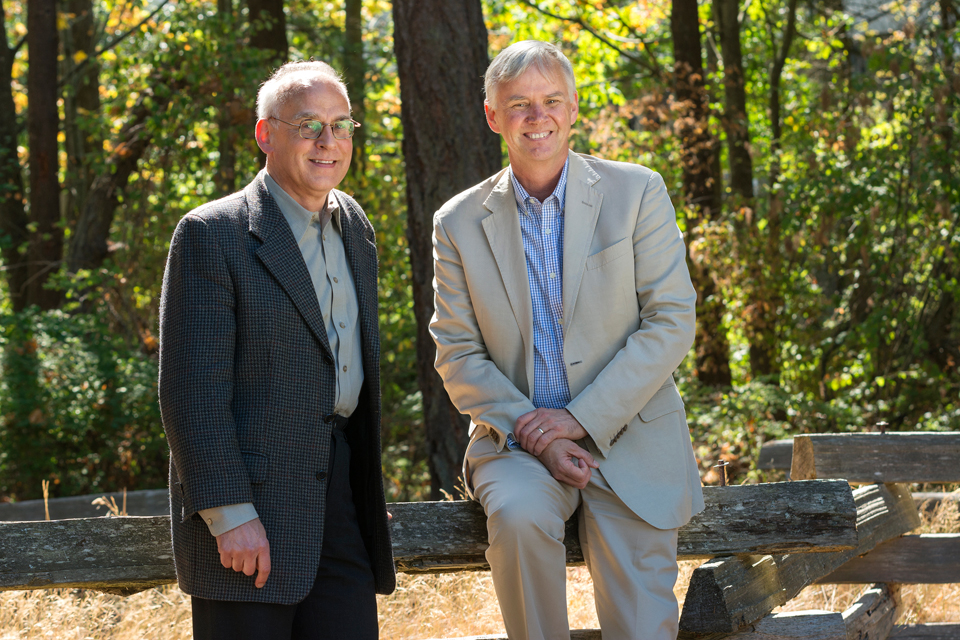 (L-R) Harald Krebs and Jeremy Webber
An internationally acclaimed expert on constitutional law and one of Canada's best known music theorists are the University of Victoria's two newest Fellows of the Royal Society of Canada (RSC).
Election to the academies of the RSC is Canada's highest academic honour and signals that the scholar, scientist or artist has made remarkable lifelong contributions to their field and to public life.
Jeremy Webber, who currently serves as dean of UVic's Faculty of Law, is a world-renowned scholar and author in the areas of cultural diversity, constitutional theory and Indigenous rights.
"The great task of any society," he says, "is how to affirm principles to govern society—how to maintain mechanisms for making decisions that can claim to be legitimate—in the face of continual disagreement over what those principles should be."
Webber has written extensively on labour relations, Indigenous rights in Canada and Australia, the relationship between Quebec and the rest of Canada, issues of nationhood and cultural minorities, and questions of constitutional design and interpretation.
Dealing with our cultural, political, moral and religious differences can be difficult at times, but it is also exhilarating and essential," he says. "It forces us to reconsider preconceptions. It reveals aspects of our lives that we might otherwise overlook. It challenges us to find ways to live together peacefully and respectfully."
Harald Krebs (music) is recognized internationally as an expert on musical meter and rhythm, especially in 19th-century German art song known as Lieder. His work in music theory highlights under-researched and little-understood music of the 19th and early 20th centuries.
"It's a great pleasure for me to open people's ears to unfamiliar music, and to aspects of familiar music that they had not previously considered," he says.
Krebs's publications on the life and music of the neglected 19th century German composer Josephine Lang, for example, have made her music more internationally known, and have inspired analytical work on the music of other female composers.
His research on the metrically complex music of Robert Schumann culminated in the prize-winning monograph Fantasy Pieces, which has become one of the most influential books in the field. His theory of meter has been applied to classical music, as well as to jazz, techno and rock.
At the core of Krebs's work is his talent as a pianist, which he shares regularly with the broader community of music-lovers on and off campus. He was named a UVic Distinguished Professor in 2010.
A total of 71 UVic scholars, scientists and artists—including current, former and adjunct faculty members—are Fellows of the Royal Society of Canada.