UVic Law takes 1st place at Canadian Client Consultation Competition
The UVic Law team has won first place at the Canadian Client Consultation Competition in London, Ontario. The competition was held on March 5, 2016 at Western University. Steve Perks, one of the team coaches said that our team "came through in a field of very strong Canadian teams". It will therefore be going to the international competition, which Canada is hosting at the University of Windsor from April 27-30, 2016. Teams from over 25 different countries will be competing.
The members of the team are Alex Ciccone, Lan Nguyen and Reina Mistry. Its coaches are Steve Perks, Andrew Pirie and Nicole Smith. Alex, Lan and Nicole attended the competition.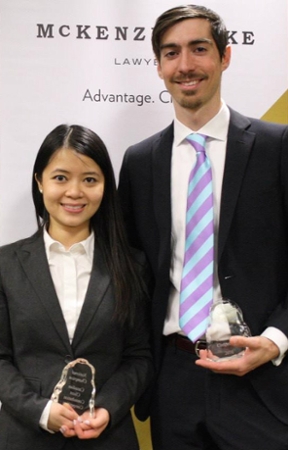 Lan Nguyen and Alex Ciccone won first place in the competition.
The Canadian Client Consultation Competition has been running since 1985. More details about the competition and rules can be found here.