A banner year for mooting teams
The season is not over yet, but so far our mooting teams are having an amazing year!
The UVic team won the BC Law Schools Moot in early February. The mooters were Tanya Maas, Spencer Toffoli, Amanda Haberstock, and Rebecca Whitmore, with Melissa Rumbles as researcher. Kelly Doerksen, James Legh, and Michael Mark were the coaches.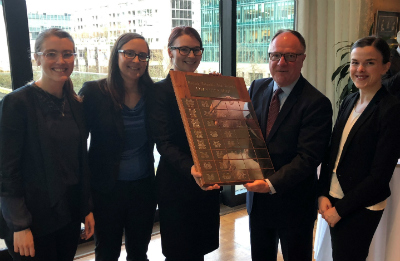 From left: Rebecca Whitmore, Amanda Haberstock, Spencer Toffoli, Chief Justice Bauman (of the BCAA), and Tanya Maas.
The Canadian Client Counselling Competition was held in Edmonton February 24-25. UVic teams placed both first and second out of twelve teams. Rachel Sproule and Blake Bouchard made up the first-place team, and will represent Canada at the International Client Consultation Competition at Maastricht University, Netherlands, April 11 – 14. Sarah Manifold and Grace Campbell also excelled, competed in the finals, and placed second. Jason Uswak was researcher. The coaches were Nicole Smith, our retired colleague Andrew Pirie, and Steve Perks.  This is the third win in a row for UVic.
The Wilson Moot was also held the weekend of February 24-25 in Toronto. Zachary Burrill won best oralist.
From left: Graham May; Zachary Burrill; Leah Greathead (coach, head of Constitutional and Administrative Law in the BC government); Nicola Virk; Bronwen Black; and Laura Churchman (researcher). Photo credit: Graham May 
And the Fox Intellectual Property Moot was also held the weekend of February 24-25. Again we did very well. Our Appellant team (Andrew Tigchelaar and Gigi Pao) won Runner Up Best Factum. Bob Howell (who coaches the team) reports that all four members of our Fox Moot team made a really good showing.