Research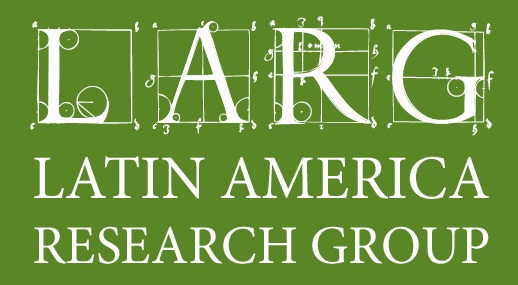 The Latin America Research Group (LARG) is a forum for the study of Latin America. We bring together faculty as well as graduate and undergraduate students working on Latin America from a number of disciplines including anthropology, business, environmental studies, Indigenous education, geography, Hispanic studies, medicine, music, philosophy, political science, public administration and sociology.
LARG aims to foster academic exchanges and research initiatives. We hold an interdisciplinary workshop every two years with the support of the Latin American Studies Program. LARG also sponsors a lecture series every term hosted by the Centre for Global Studies and a diversity of cultural events related to Latin America.
Please contact: Beatriz de Alba-Koch, Coordinator for more information.
9th Latin American Research Group workshop
March 26, 2022

CALL FOR PAPERS
This open-topic workshop promotes research exchanges amongst faculty and graduate students. All disciplines welcome. Please send abstracts for 20-minute presentations in English, Spanish, or Portuguese by January 30, 2022 to Beatriz de Alba-Koch at
latam@uvic.ca.
---
LARG workshop programs:
---
To see a larger copy of the image, click on the image.
| | |
| --- | --- |
| Dean Krull opening the Workshop. | Professor Gauthier introducing Professor Heyman. |
| Professors de Alba-Koch, Heyman, and Gauthier. | Professors McBee, de Alba-Koch, Restrepo and Russek. |
| Student participants Nunez and Gallivan. | Participants viewing student research posters. |
---
To see a larger copy of the image, click on the image.
Lansdowne Scholar, John Sullivan, delivering his lecture
at the First Peoples House.

Thomas Heyd discussing adaptation and development in Latin America.

Beatriz Alba-Koch introducing Ambassador Sergio Florencio
and Claudio Lucarevshi's special presentation on science
and technology in Brazil.

Workshop attendees during coffee break.

Carlos Gustavo Halaburda's talk on 19th century Argentinian literature.
---
Opening remarks by Prof. Sikata Banerjee, Associate Dean of Humanities.

Prof. Beatriz de Alba-Koch, from the University of Victoria, during her talk on Spanish poet Bernardo de Balbuena."

Prof. Bargellini answers questions after her address on the missions of Northern New Spain.

Barbara Fraser from UBC presenting on the love poems of Pablo Neruda.

Prof. Beatriz de Alba-Koch and Prof. Clara Bargellini.

Prof. Clara Bargellini, from the National University of Mexico, keynote speaker of LARG's 4th workshop.

Irina Goundareva (UBC), Prof. Silvia Colás (UVic), Belkis Barrios (UBC), Tiana Vekic (UBC) and Alejandra Escudero (UBC).
Read the abstracts of the presentations.
Images from 2009 Workshop
---
Dr. Denise Brown, from the University of Calgary, spoke about space, gender and power relations in a Maya community.

Julian Yates (Geography) presented a paper on recycling techniques in a Brazilian urban community."

Dr. Michelle Bonner (Political Sciences) spoke about media and politics in Chile.

The keynote address was delivered by Dr. Eric Hershberg who teaches in the Department of Political Science at Simon Fraser University.

Manuel Campirano (Hispanic and Italian Studies) on Argentine filmmaker Eliseo Subiela.

Ashley Akins (Latin American Studies) talked about her ongoing work in Perú.

Gabriela Pereira (Anthropology) delivered a paper on the situation of Archaeology in Latin America.

Anne-Mette Hermansen (Anthropology) closed the workshop with a paper on Cuba's tourism industry.

Read the abstracts of the presentations.

Images from 2007 Workshop

---

To see a larger copy of the image, click on the image.

| | |
| --- | --- |
| Dr Mario Tapia, keynote speaker of the 2nd workshop. | Dr. Tapia´s address dealt with biodiversity and sustainable development issues. |
| Dr. Jutta Gutberlet´s research deals with urban agriculture in Cuba. | Barbara Fraser spoke about Isabel Allende´s novel The House of Spirits. |
| Dr. Thomas Heyd delivering his paper. | Faculty, students and members of the audience at the end of the workshop. |