EU Study Tour & Internship Program Field School registration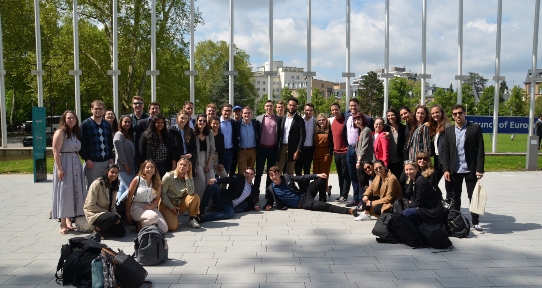 All participants in the EU Study Tour and Internship Program must first be approved by their home institutions.
Once approval is confirmed, UVic program staff will communicate detailed instructions for fee payment and registration. 
For those wishing to participate in the internship component: you must indicate on your application form whether you wish to be considered for a placement and complete the required information. The fee is $800 and must be paid in order for program staff to secure a placement on your behalf. UVic student application deadlines may be viewed here. We strive to find the best internship match for each applicant; however due to the competitive nature of the selection procedure, we cannot guarantee specific placements.
Study Tour Application and Registration:
Application to the EU Study Tour and Internship Program is a multi-step process: 
Applicants seek approval to participate from their home institutions
Once approved, they may complete the online application form linked below; for those interested in the internship component, a CV and cover letter in Europass format will be required at this time. 
The EU Study Tour program coordinator will then communicate detailed instructions for registering as a visiting UVic student, or as a non-credit seeking student, depending on the applicant's home university and status.
UVic Students must submit an online application, including a letter of intent and CV in Europass format (see link to templates above) by April 1, 2022 to be considered for admission to the program. All UVic applicants are considered for a travel grant, funded by the Jean Monnet Centre of Excellence. 
Students from outside UVic: Once approved by their home university, non-UVic undergraduate and graduate students must apply by April 1 via this online application
The EU Study Tour program coordinator will then communicate detailed information regarding registration in the EUS 390A or EUS 390B course and submission of program fee(s). 
Program fees:
As the Study Tour component is virtual this year, participants will only be responsible for the following fees:
UVic tuition for EUS 390A if enrolling for credit (tuition information can be found here)

Note that the EUS390 course is a prerequisite for all interns

New student fee for some non-UVic participants (applied to tuition fee if subsequently registered for EUS390A course for credit)

Graduate students must become visiting students at UVic; however, under the Canadian University Graduate Transfer Agreement, they are not required to pay additional tuition fees. 

Program Fee for Optional Internship: $800 

program fee required before a placement can be arranged
if a placement is arranged and the participant declines it, there is no refund of the internship program fee. 
Other fees: 
For all participants: course registration or other fees pertaining to students' home institutions.
For prospective interns (*do not make any travel arrangements until the details of your placement are confirmed!*) 

Return airfare to Europe
Airport transportation to and from city of placement (most are in Brussels)
Lodging in city of placement
Passport and entry visa processing fee (if applicable)
Meals and incidentals
Please inquire with your home institution regarding available travel grants!
For more information, contact eustudytour@uvic.ca.