EU Study Tour & Internship Program registration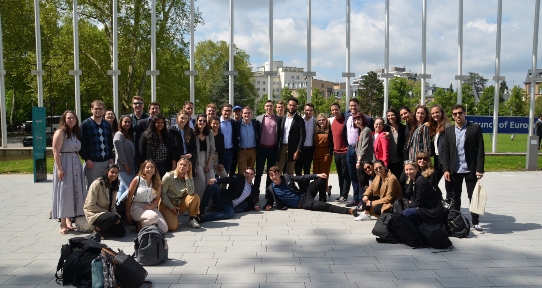 *This page is intended for non-UVic study tour applicants. For UVic applications, please visit the UVIC Applications page
All participants in the EU Study Tour and Internship Program must first be approved by their home institutions.
After approval is confirmed, follow the steps below:
Study tour application and registration steps:
Apply through your home institution (visit the Network for European Studies page for contact details. If there is no contact listed for your university, please contact Dr. Conrad King at Kwantlen Polytechnic University)
Once approved by your home institution, please complete and submit this online registration form by January 26, 2023
Detailed instructions for the Internship Program will follow by email. The Internship Program registration deadline is February 7, 2023
In due time, further necessary steps will be communicated to you (e.g. registering as a UVic visiting student for the purposes of the study tour)
EU study tour cost overview:
European Studies (EUS) program fee, between $3200 and $3500 (+3% credit card processing fee, if applicable)
Tuition for the course associated with the EUS program

Carleton students: tuition for the applicable Carleton course
UBC students: tuition for the applicable UBC course
All other undergraduate students: tuition for UVic course EUS 390A (tuition information may be found here)
All other graduate students: $0 (Under the Canadian University Graduate Transfer Agreement, visiting graduate students are not required to pay additioal tuition fees) 

Return airfare to Brussels
Meals while on the study tour (accomodation is covered through the EUS program fee)
Additional costs:
UVic visiting student fee

Students must becoming a 'visiting student' at UVic (for liability management reasons) and the associated cost is approximately $80 to $120 for undergraduate students, including those from Carleton and UBC; less for graduate students)

Incidentals while on the study tour
Travel airport to downtown Brussels (return)
Passport and entry visa processing fee (if applicable)
Additional fees once approved for the Internship Program:
Note: Students indicate on their registration form if they wish to be considered for an internship placement. They then complete the required information that is emailed after they register; and they confirm their interest by paying the internship fee. We strive to find the best internship match for each applicant, however, due to the competitive nature of the selection procedure, we cannot guarantee specific placements. If no internship offer can be made, the student will be reimbursed for the internship fees. However, if a placement is arranged and the participant declines it, there is no refund for the internship program fee. 
Internship fee ($800)
Transportation to and from placement city (majority of placements are in Brussels)
Living expenses, including lodging in city of placement