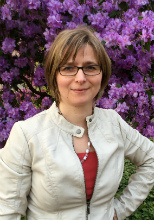 Position
Assistant Teaching Professor
English
Contact
Office: CLE D235
Credentials
BA (Lethbridge), MA (Alberta), MSt and DPhil (Oxford)
Area of expertise
Early modern literature, book history, women writers, digital humanities
Dr. McLean-Fiander is a lecturer in English and Director of Pedagogy and Outreach of the digital humanities project The Map of Early Modern London (MoEML) that maps the significant texts, people, spaces, and places of early modern London. She is also Co-Director of Women's Early Modern Letters Online (WEMLO), a freely available British Academy-funded digital union catalogue and editorial interface for women's correspondence from c. 1400-1700.
As a Commonwealth Scholar and SSHRC Fellow, she earned her doctorate at the University of Oxford on early modern women's paratext. She was also a Senior Library Assistant for Oxford's Bodleian Libraries and worked as a freelance editor for a number of years. At the Folger Shakespeare Library in Washington, DC, she completed an internship with the Curator of Manuscripts and participated in Early Modern Digital Agendas (EMDA), an NEH Institute to historicize, theorize, and critically evaluate current and future digital approaches to early modern literary studies.
Her research interests include early modern maps, letters, women writers, book history (particularly paratext), pedagogy, and digital humanities.
She has taught a wide range of literature and composition courses, including Shakespeare, early modern women's writing, critical commentary, survey courses, Victorian poetry, Canadian Literature, as well as political sociology and women's studies courses.