Professor Roger Joseph Bishop, BA, BLS, MA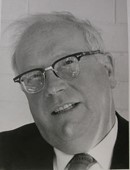 Photo Source UVic Library
It is with great sadness that we mark the death of Roger Joseph Bishop, Professor Emeritus and key figure in the establishment of the Department of English. When he died on 30 March 2016, Professor Bishop was just 41 days short of his 100th birthday.
Known to generations of students, faculty, and administrators as RJB, Bishop graduated from UBC in 1938 with first-class Honours in English, and from the University of Toronto with a BLS (Bachelor of Library Science) in 1941 and an MA in 1945. In 1941 he taught for a year as an Instructor at Victoria College in Craigdarroch Castle, before returning in 1945 as an Assistant Professor.
Bishop was Head of the fledgling English Department from 1945 to 1967; by the time he retired from the university in 1971, he had overseen the Department's move from Craigdarroch Castle to the Lansdowne campus and finally to its current Gordon Head location. During these years, he played a significant role in guiding the institution's transformation from 2-year college to modern university.
His impact on the university's history extended far beyond the walls of the English Department. Believing that "you can't have a college without a library," he energetically lobbied various generations of administrators to build the University Library's collections; his "Bishop shoeboxes" – lists of book orders for the library – became legendary. Influenced by his early training as a librarian, he was passionately committed to building Special Collections: he persuaded academic administrators and colleagues to invest in this dream and commissioned his young faculty members to search out additions to enhance the new university's library collections. He played an important role in acquiring manuscripts of John Betjeman, Robert Graves, and Herbert Read (Bishop's own records from his time as Head are also housed in the University's Archives). An avid book-collector, he was also generous with gifts from his own collection, donating treasures such as the three-volume first edition of Captain Cook's Voyages to the University Library's Special Collections.
Bishop's life-long passion for theatre led to the establishment of the present-day Department of Theatre. He was one of the moving spirits behind Shakespeare 64 when the then-English Department presented A Midsummer Night's Dream, The Alchemist, and Richard III. The following year, the newly-established Division of Theatre in the Department of English hosted the Renaissance Festival, staging both Twelfth Night and the recent A Man For All Seasons. In 1981, in gratitude for and in honour of his contributions to the Department of Theatre, the Faculty of Fine Arts named their new proscenium stage the Roger Bishop Theatre.
Bishop was first hired in 1941 as an instructor in Victoria College; he pursued graduate studies at the University of Toronto from 1942 to 1945, returning to Victoria as Head of the College's Department of English. His return coincided with a massive increase in enrolment caused by an overflow of returning veterans, and in January 1947 Victoria College moved to the Lansdowne campus (present-day campus of Camosun College), where it shared quarters with the Victoria Normal School.
In later years, Bishop remembered his time at the Lansdowne campus as "bliss to be alive," and the hospitality extended by Roger and Ailsa Bishop at their house on Vantreight Drive was legendary. He foresaw the transformation of the 2-year college into a full-scale university and continued to build the Library's collections while encouraging young faculty members like Ann Saddlemyer to complete the doctoral degrees they would need when – as he foresaw – Victoria College became an autonomous university.
Between 1963 and 1966, Victoria College achieved that university status, moving eventually to its current Gordon Head location. This transformation to university status coincided with a turbulent period of academic self-scrutiny and re-invention in universities around the world, and the new University of Victoria was not exempt. Friction occurred between traditional college culture and the new university culture, between the older liberal arts ideal of university education and growing demands for more professionalized, research-oriented models.
Professor Bishop stepped down as Head of the Department of English in 1967 and retired from the university in 1971. His legacy endures through the Department of English, currently ranked among the world's top 200. The Department continues to build on its research strengths for students and faculty alike, drawing on the Library's collections, particularly on the exceptional Special Collections that Bishop established and supported. The bursaries that he and his wife Ailsa created have helped many generations of English students to pursue their studies.
Roger Bishop was predeceased in 1994 by his wife, Ailsa. He is survived by three of his four nephews and their families, to whom we extend the Department's sincere condolences.
"During his long and magnificent service to the institution, from 1941 to 1972, Bishop earned the intense loyalty and affection of a host of friends – former students and faculty colleagues alike," wrote one such colleague, University Historian, the late Peter Smith. "A man of great zest and passion, who stubbornly refused to yield to the fashions of the sixties, he stands out as a heroic figure on the UVic landscape: an unredeemed and unrepentant autocrat."
A reception to celebrate Professor Bishop's life and his 100th birthday will take place on Saturday 14 May, at noon in the Fireside Lounge of the University Club.
Elizabeth Grove-White gratefully acknowledges the following sources in preparing this obituary:
Times-Colonist obituary by Judith Terry, 8 April 2016: http://www.legacy.com/obituaries/timescolonist/obituary.aspx?n=roger-j-bishop&pid=179552665.
Roger Bishop, "Lansdowne Days," The Ring Archive 1975, accessed 10 April 2016: https://ring.uvic.ca/docs/archive75-76/Ring2-13.pdf.
Edward B. Harvey and University of Victoria (B.C.), The Lansdowne Era: Victoria College, 1946-1963 (Montréal: Published for the University of Victoria by McGill-Queen's University Press, 2008).
Ian MacPherson, Reaching Outward, and Upward: The University of Victoria, 1963-2013 (Montreal: McGill-Queen's University Press, 2012).
Jane Morrison, "Oldest and Rarest," The Torch: The University of Victoria Alumni Magazine (Spring 2010), accessed 11 April 2016: http://web.uvic.ca/torch/interim/includes/pdf/Torch2010Spring.pdf.
Ann Saddlemyer, "Roger Bishop - University of Victoria Special Collections," accessed 10 April 2016: http://www.uvic.ca/library/about/support/donors/RogerBishop.php.
Peter L. Smith and University of Victoria (B.C.). Alumni Association, A Multitude of the Wise: UVic Remembered (Victoria, B.C: Alumni Association of the University of Victoria, 1993).
John Threlfall, "Acts of Community," The Torch: The University of Victoria Alumni Magazine (Spring 2013), accessed 10 April 2016: https://issuu.com/uvic_torch_alumni_magazine/docs/2013-spring/37.
"Bishop Resigns as Head of English," The Martlet Archive 1975, accessed 10 April 2016:
http://archives.library.uvic.ca/featured_collections/uvic_newspapers/martlet_1960/The%20Martlet_1967_01_19.pdf.