Connect with us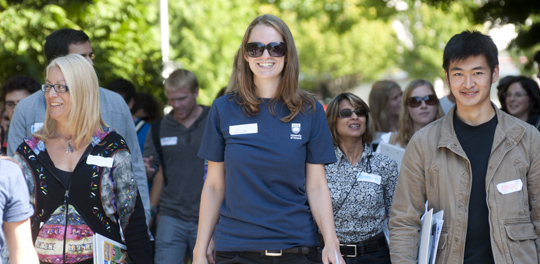 There are all kinds of ways that you can connect with UVic. Whether you're interested in coming to meet us and tour our campus, or you want to talk with a recruiter while we're in your neck of the woods, this is the page to find out more information.
---
Meet our recruiters
Our recruiters are your number one source for UVic information.
It's our job to answer any and every question you have, so don't be shy about getting in touch with your biggest goals, longest questions or deepest fears. We're here for you right now and all the way through your first day on campus.
Visit us
The best way to see what UVic has to offer is to visit us and experience it for yourself:
Once you've been to Victoria and felt what it's like to be a member of our community, you won't want to leave!
UVic at your school
We travel across Canada and around the world, meeting with students, parents and counsellors who are interested in learning more about what UVic has to offer.
Check our travel schedule to see if and when we'll be in your area, and get in touch with the recruiter who's coming to your area.
Tune us in
Join our Facebook community to connect with current and future UVic students, and tweet your questions to us with @MyUVic.