Celebrating UVic's First Sustainability Week with "Muggo" the Mascot
UVic's first Sustainability Week (October 6th to 10th) is a week full of fun ways for the campus community to get involved in sustainability issues. On October 7th FMGT in conjunction with the Office of Campus Planning and Sustainability unveiled "Muggo!" our new reusable coffee cup mascot. Muggo was in front of the Biblio having 'mug shots' taken and giving away free pizza to anyone with a reusable mug. Muggo will also be seen on campus throughout Sustainability Week encouraging everyone to 'save a tree and hug a mug!' by giving away free coffee coupons to whomever has a reusable mug. If you see Muggo on campus, get a mug shot! Just like our Waste Reduction Coordinator, Nadia Ariff.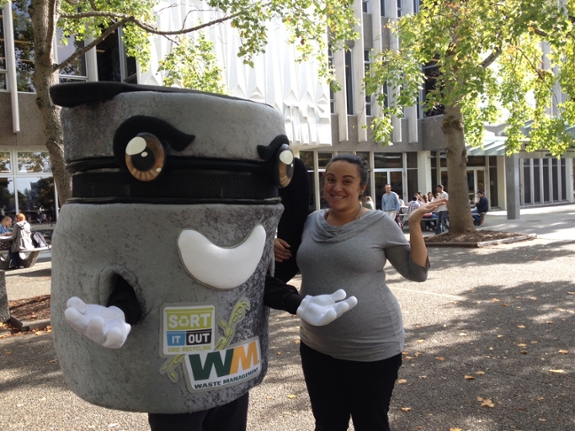 Facilities Management Waste Reduction Coordinator, Nadia Ariff getting a mug shot with Muggo!