Dr. Michelle Wiebe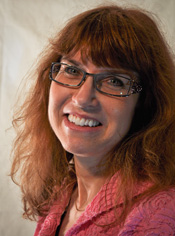 Assistant Professor, Art Education
EdD (Educational Leadership), University of Montana
MEd (Curriculum & Instruction: Art Education), University of Calgary
BEd (Secondary Art), University of Calgary
BFA (Visual Arts), University of Calgary
Office:  MacLaurin A198
Phone:  250-721-7894
Email:  mxw@uvic.ca
Faces of UVic Research:  Michelle Wiebe
Design education

Teacher leadership in the arts

Assessment in the arts

Creativity development

Typography and meaning
I am interested in the intersection between art making and art learning. Thus, I maintain my practice as an artist and work with students to help them develop their skills as both artists and educators. I have also worked as a Design educator and am interested in broadening the understanding of design amongst future educators. The nature of creativity and how to nurture it is so tied to understandings of what makes good design that it is also an area of research interest.
I am currently working on the impact of assessment on creativity development.  I am also embarking on research into the impact that type has on meaning making.
Current Graduate Students:
Po Lin (Edward) Chung, PhD Curriculum
Christie Diamond, PhD Curriculum
Jing (Jenny) Mao, PhD Curriculum
Shruti Tandon, PhD Curriculum
Samantha Wood, PhD Curriculum
Wiebe, M. (2015). The Connection Between Self-Assessment and Creativity. BCATA Journal, V. 56, N.1, pp. 52- 58.
Wiebe, M. (2011). Edison and the Creative Process. BCATA Journal, Vol. 53, Number 2, 2011.
Wiebe, M. (2011) Students as Designers: A Rationale for Design Education.
StARTing With (3rd ed.). Publisher: Canadian Society for Education Through Art.
Wiebe, M. (2010). Posters with a Purpose. BCATA Journal, Vol. 52, Number 2, pages 20-25.
I am available to speak on the following topics through the UVic Speakers Bureau:
Designing Effective Posters
Designing Personal Logos
How to Develop Your Creativity
If you are interested to have me speak on any of these topics, please visit the UVic Speakers Bureau to make a booking.