Dr. Kathy Sanford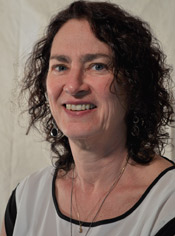 Professor, Language & Literacy
PhD (Secondary Education), University of Alberta
MEd (Secondary English Education), University of Alberta
Graduate Diploma (Secondary English Education), University of Alberta
BEd (Secondary Music Education), Univeristy of Alberta
Office:  MacLaurin A526
Phone:  250-721-7804
Email:  ksanford@uvic.ca
Faces of UVic Research:  Kathy Sanford
School integrated teacher education

Community engagement

Gender issues and education

New/digital literacies

Videogames and learning

Assessment for 21st century learning

Electronic portfolios

Qualitative research methodologies

Autoethnography
I have been interested in feminist scholarship and issues of gender for a long time, and have been President of the Canadian Association for the Study of Women and Education (CASWE), an association belonging to the Canadian Society for the Study of Education (CSSE).  I have been president of CSSE, and am currently the on-site Program Coordinator for CSSE in Victoria 2013.
I have taught both undergraduate courses in Language & Literacy, as well as Curriculum Studies courses at the graduate level (Issues of Assessment; Gender & Pedagogy).  I am very involved in teacher education, having served as Association Dean Teacher Education for a three-year period and have taught seminar and Professional Inquiry courses in the teacher education program.  My teaching is always connected to my research as I attempt to provide the best preparation for new and practicing teachers in a complex and challenging world. I am continually seeking ways to provide meaningful formative assessment opportunities to my students in order to enable success for all.
I have worked in formal educational institutions (schools and universities) for most of my career, and am currently working on exploring the ways in which learning happens in non-formal spaces, particularly in libraries, art galleries, and museums.
Research grants:
SSHRC Partnership Grant: Community first: impacts of community engagement CF:ICE
SSHRC Insight Grant -Youth Civic Engagement: Real Life Learning through Virtual Games Environments
SSHRC Standard Grant – An international study of contemporary adult non-formal educational practices in arts and culture institutions in Canada and Europe (co-investigator)
Completed Graduate Students:
PhD
Filler, Chris (2013)  Heart Knowledge: Towards (w)Holistic Ecoliteracy in Teacher Education
Madill, Leanna (2011)  Exploring parents' involvement/engagement with video games and their adolescent children
Fisher, Paige (2010)  The Stories we Planted: A Narrative Exploration of Evaluative School Experiences
Waye, Laurie (2010)  Learning how to work with instructors of international EAL graduate students to better support their students' development of academic writing skills 
Mimick, Kristin (2010)  An Exploration of how the Standards-based Education Movement is Impacting Educational Drama and the Practice of Teachers who use Educational Drama 
Achtem, Janice (2010)  Collectively coming to know: An ethnographic study of teacher learning in Toledo, Belize 
Martin, Judith (2009)  Relationships of power: Exploring teachers' emotions as experienced in interactions with their peers
Ritchie, Mathy (2009)  Intercultural computer-mediated communication exchange and the development of sociolinguistic competence
Yeo, Michelle (2007)  Teacher Conceptualizations and Con(texts) of Language and Literacy
MA
Cunningham, Brad (2012)  Throwing the book away: Incorporating students out-of-school literacies into a secondary English classroom
Balabuch, Allison (2011)  Exploring the Potential for Informal Language Instruction in the French Immersion Context
Maxwell, Aaron (2011)  An Appreciative Inquiry into the Strengths and complexities of the Cedar Hill Middle School learning community
Bonsor Kurki, Sarah (2011)  Investigating Adolescents' Critical Literacy Practices
Brach, Laurel (2011)  Getting Real: Exploring the Impact of On-screen Teachers on Real World
Merkel, Liz (2010)  Sore sports and skin grafts: Recovering the self(s) through autoethnographic inquiries of becoming (a teacher) 
Haddon, Lori (2010)  Gesture and Language as a System of Embodied Learning
Morgan, Christina (2008)  Exploring the Role of Technology in Moving Rural Based Educational Institutions from Resourced Based to Resourcefulness Based
Luo, Lixin (2005)  Meaningful Learning: A case study of Chinese International students at the University of Victoria
MEd
French de Meija, Rachel (2010)  To Err is Human: A Phenomenological Study of the Meaning of Mistakes as Experienced by Psychiatric Nurse Instructors
Yamada, Satako (2008  Tensions and decisions in academic writing: Multilingual students' text production through negotiations
Nielson, Anna (2008)  Behind the Minds of Bulgarian ESL High School Students
Piotrofski, Nadine (2008)  An Examination of gender differences in reading practices and preferences
Aileen, Carol (2007)  Conversations-not-had: Engaging girls at risk in critical discussions on education
Vincent, Mary (2007)  For a muse of fire: Writers workshop in a secondary school
Geres-Smith, Rhonda (2007)  Adolescent boys' beliefs about writing: The factors that influence their engagement
Woods, Kathy (2006  Understanding Young Adolescents' Literacies: Influences of Technology and Gender
Beiderwieden, Susan (2005)  The Public Image of Nursing: It matters – Nursing Students' Perspectives
Madill, Leanna (2005)  Adolescent males examining gender: Stereotypes, multiple masculinities and me
Soomet, Karen (2005)  Promoting Anti-Racism in the French as Second Language Classroom: Culture, Ideology and Critical Media Literacy
Fisher, Paige (2005)  E-Portfolio as a story of learning
Nilsen, Anne (2005)  The effects of student peer and/or self-assessment on learning
Hansen, Ulla (2005)  Curriculum which encourages adolescent empowerment and relevance through exploration of cultural identity
Mathias, Patricia (2004)  Has authority failed our students? A student perspective of the high school institution
Espedido, Maryanne (2003)  A full circle: A reflection of a gathering place for young women
Storr, Brenda (2002)  Changing Assessment practices: Examining the impact on instructors in an English as a second language program
Clover, D., & Sanford, K. Eds. (2013). Lifelong Learning, the arts and creative cultural engagement book. Manchester University Press.
Hammett, R. & K. Sanford. Eds. (2008). Boys, Girls, and the Myths of Literacy and Learning. Toronto: Canadian Scholars Press.
Sanford, K., & Merkel, L. (2012). Gendered Identity Exploration through new literacies. English in Middle and Secondary Classrooms. Ed. James, K., Dobson, T., Leggo, C.
Sanford, K., & Merkel, L. (2012). Literacy and Videogames. English in Middle and Secondary Classrooms. Ed. James, K., Dobson, T., Leggo, C.
Sanford, K., & Bonsor Kurki, S. (2012). Outsiders in the Videogame World: Where are the Girls? Frånberg, Gun-Marie, Hällgren, Camilla & Dunkels, Elza (Eds.) (2012) Invisible Girl. Umeå, Umeå University.
Sanford, K., Williams, L., Hopper, T., McGregor, C. (2012). Decolonizing Teacher Education: Indigenous Principles informing Teacher Education. inEducation 18(2).
Hopper, T., Sanford, K., Bonsor Kurki, S. (2011). Stitching Together a Teacher's Body of Knowledge: Frankie N Stein's ePortfolio. E-Learning and Digital Media, 9(1).
Sanford, K., Merkel, L., & Madill, L. (2011). "There's no fixed course": Rhizomatic learning communities in adolescent videogaming. Loading, 5(8).
Sanford, K. & Merkel, E. (2011). Complexities of Gaming Cultures: Adolescent Gamers Adapting and Transforming Learning. E-Learning and Digital Media, 8(4).
Clover, D. & Sanford, K. (2010). Adult education and lifelong learning in arts and cultural institutions A content analysis. Journal of Adult and Continuing Education, 16(2), 5-19.
Hopper, T., & Sanford, K. (2010). Program-wide E-portfolios: Creating new spaces for an "inside-out" approach to teacher education. Teacher Education Quarterly, 37 (1).
Sanford, K. (2010/2006). Gendered Literacy Experiences: The Effects of Expectation and Opportunity for Boys' and Girls' Learning. Reprinted in Bean, R., Heisy, N., Roller, C. Preparing Reading Professionals. International Reading Association, pp. 216-228.
Sanford, K. & Hopper, T. (2009). Videogames and Complexity Theory: Learning through Game Play. Loading Journal, 3(4).
I am available to speak on the following topics through the UVic Speakers Bureau:
If you are interested to have me speak on any of these topics, please visit the UVic Speakers Bureau to make a booking.