August 08, 2023
UVic Writing alumnus and tech innovator Daniel Sieberg wants to make the remote obsolete with a new tool that harnesses the magic of AI to help take the stress out of deciding what to stream.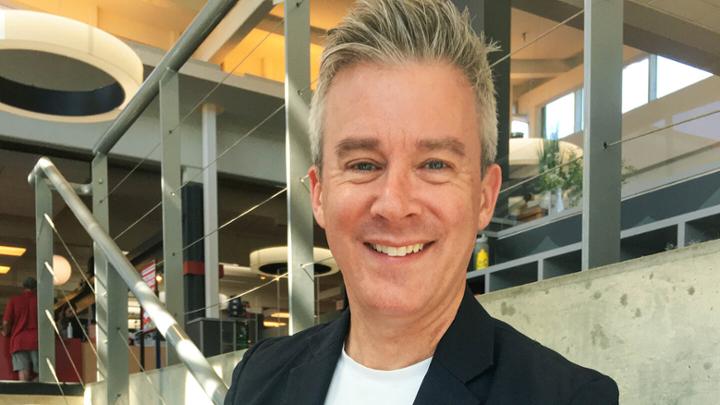 The year is 2004. It's Friday night, so you grab your laminated membership card, gas up the Camry and head to a local Blockbuster to find a coveted New Release or perhaps a classic film. Juicy Couture is on everyone's hips and the pop tunes of Britney Spears are on everyone's lips. That year, Shrek 2 will rule the box office, Napoleon Dynamite will bring back Tater Tots and Anchorman will become the film that launched 1,000 memes. But, for now—you need a movie recommendation. So, you find a trusted staff member in the familiar blue T-shirt and ask for help finding that perfect DVD to rent.
Back then late fees were feared and being kind meant rewinding. A few years earlier, Blockbuster made a fateful decision not to buy the upstart Netflix, a company that, to borrow from Anchorman, became "kind of a big deal." Entertainment was changing, first with DVDs rented by mail and from big, red vending machines before streaming arrived to rattle the foundations of the home video market like a box of Raisinets.
UVic alumnus Daniel Sieberg, who earned a BFA in Writing and film studies in 1998, knows about the intersection of technology, culture and business. Sieberg has a deep background as an Emmy-nominated news reporter, working for CNN, CBS and ABC, as well as years of experience at the executive level with Google, Huawei USA and Moody's Analytics. He recently earned a Certificate in Business Excellence from the Chief Marketing Officer program at Columbia Business School—all to help prime the pump for his latest endeavour, a start-up called The Streaming Guide, or TSG.
It's an AI-powered assistant that, much like the friendly employee in the Blockbuster store, gets to know you and your preferences. "The magic was the Blockbuster employee's ability to ask questions that would eventually get you to something that you felt was what you were in the mood for," says Sieberg, who is founder and CEO of TSG.
The tidal wave of streaming channels means we are faced with "the Paradox of Choice," a term introduced by psychologist Barry Schwartz in the book of the same name published (coincidentally) in 2004. The theory puts forward the idea that an abundance of options actually makes humans less happy and hampers our abilities to make decisions.
The Streaming Guide will be an AI decision-making engine that can ask the right questions to determine what you are in the mood for, consider factors such as weather, time of day and even who is in the room with you. The idea is to span news, entertainment and live sports.
"We're now humans looking up at this galaxy of options, throw in Spotify, YouTube, podcasts—we only have 24 hours in a day," says Sieberg. "We want to get out of your way as efficiently as possible. We want to make that experience as magical as possible." TSG's marketing tagline is: "The first destination for fans of streaming services."
The team at TSG is evaluating a number of partnerships to align with their vision that also offers each customer a "story room" that they can share with others. It's meant to be fun and visually appealing, à la Pinterest. As a first step, the guide might get to know you by asking your top five movies and books, eventually creating a "spatial graph" of what is interesting to you.
The AI component for TSG is based on Large Language Models (LLMs), deep learning algorithms that use massive datasets to predict and generate content and ideally offer a more nuanced, conversational AI.
"Could we create something that feels more like your buddy?" asks Sieberg. Another TSG objective is to eliminate the remote control. Since your voice interacts with your phone which then connects to a television, the device wouldn't be needed. TSG plans to offer an incentive to collect and recycle remote controls.
"The winning proposition for us is that streaming companies will want to come to us. Customers will want to come to us. We're in the centre. I don't know when that day will come, but we need to be able to say 'our customers love us' and that we're a sustainable tech company."
The venture is at an investment stage right now. The team is hoping to have a rudimentary proof of concept in the fall and launch their first quarter in 2024. Meanwhile, Sieberg is still involved in GoodTrust, a company he co-founded with Rikard Steiber, his co-author on Digital Legacy: Take Control of Your Digital Afterlife. The book, and the company, shares how to plan your digital afterlife, including managing assets such as photos, crypto, blogs and social-media accounts. The focus of GoodTrust has shifted recently toward traditional estate planning, to protect what matters to you in the real world and the digital one, says Sieberg.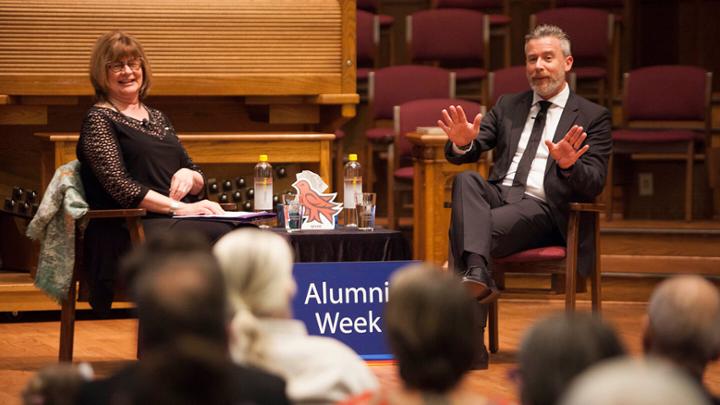 Sieberg's real world is busy and full. He has two daughters, Skye and Kylie, aged 10 and 12, whom he shares with his former spouse. A dual citizen of Canada and the US, Sieberg has visited 70 countries and currently lives in Brooklyn, NY. His fiancée, Natalie Turvey, is based in Toronto and leads the Canadian Journalism Foundation. The two met at a journalism festival in Perugia, Italy.
He believes his own experience as a journalist helps him tell the story of "why" when it comes to tech. After earning his Writing degree at UVic, and then a Masters in Journalism at UBC, Sieberg launched a career as a tech journalist (a specialization he chose hastily and somewhat randomly during a phone call with a grad advisor at UBC). He wrote for the Vancouver Sun, and eventually his focus on science and technology led to a job at CNN in Atlanta, where he landed a chance to appear on air to report breaking news about a computer virus. Soon, he found himself going for coffee with famed on-air personalities like Katie Couric and experiencing all the attention and rewards that come with such high-profile work.
Sieberg was a journalist for 15 years before becoming a senior marketing executive at Google in New York. He built teams built around tech, journalism and storytelling, while travelling to 25 Google offices. One of his memorable projects was a White House interview with President Barack Obama.
He cites former UVic Writing instructor Cameron Young as a key influence in helping him learn the craft of journalism. Young, known as an environmental writer, remembers Sieberg as a good guy, committed to his work. "He was definitely focused on working his way into the journalism world," says Young. "He had that confidence, that this was what he was going to be doing."
In Sieberg's 2011 book, The Digital Diet: The 4-Step Plan to Break your Tech Addiction and Regain Balance in Your Life, he predicted that our society would become completely absorbed by technology, and it seems he was right. A survey by Forbes Home suggests that in 2022, Americans spent an average of more than 13 hours a day with some form of digital media, and the average American devotes more than three hours a day to streaming video.
"I think that the mindfulness associated with consumption of technology is far greater than it was 12 years ago," Sieberg reflects. He visited British Columbia over the summer to visit family in Sidney and on Pender Island, and to have his daughters spend time with their grandparents. He is excited for this next chapter, recognizing that he is now at the centre of a tech story he once would have covered as a reporter. "I would say the sum total of my life has led me to this," he says.
—Jenny Manzer,BA '97